Tangkal Isu Rasisme Papua, PWI Kalsel Ajak Masyarakat Bikin Konten Menyejukkan
Indonesia Seeks to Counter the Hoaxes on the Issue of Racism in Papua
Reporter : Kevin Cesario
Editor : M. Achsan Atjo
Translator : Dhelia Gani

PUBLISHED: Kamis, 18 Juni 2020 , 18:11:00 WIB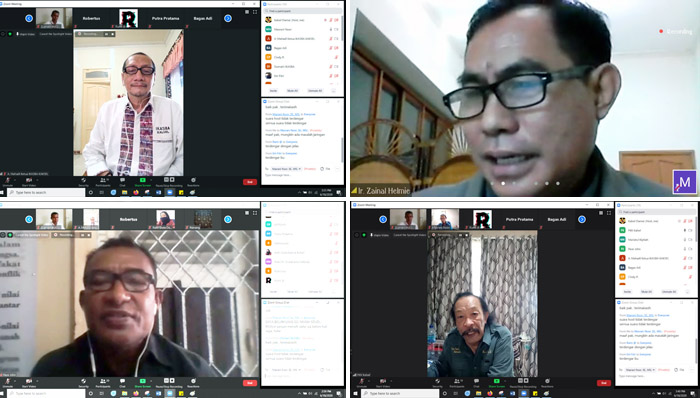 DISKUSI ONLINE: Ketua PWI Kalsel, Zainal Helmie [kanan atas]; Ketua Ikasba Kalsel, Aliansyah Mahadi MAP [kiri atas]; dan tokoh Papua di Banjarmasin, John [kri bawah] Foto2: istimewa
Banjarmasin, Kalsel [B2B] - Republik Indonesia [RI] dua bulan akan merayakan HUT Kemerdekaan RI ke-75, namun masih banyak ´pekerjaan rumah´ yang masih harus dikerjakan oleh Pemerintah RI, salah satunya adalah kasus rasisme Papua akibat hoax di media sosial [Medsos] harus ditangkal dengan konten-konten menyejukkan.
"Salah satunya contohnya adalah kasus kerusuhan di Papua yang dilatarbelakangi oleh kasus rasisme, akibat beredarnya informasi yang tidak jelas," kata Ketua Persatuan Wartawan Indonesia [PWI] Provinsi Kalimantan Selatan [Kalsel] Zainal Helmie.
Pernyataan tersebut disampaikannya ketika menjadi narasumber dalam Diskusi Online dengan tema "Semangat Kebhinnekaan Dalam Membangun Papua", yang diselenggarakan oleh Ikatan Kekeluargaan Antar Suku Bangsa [Ikasba] Kalsel, pada Kamis [18/06].
Zainal Helmie menambahkan, saat ini masyarakat lebih percaya dengan Medsos daripada kepada media massa arus utama [mainstream] padahal informasi di Medsos tidak dapat dipertanggungjawabkan.
"Akibatnya, banyak narasi-narasi kebencian yang dikembangkan untuk membodohi masyarakat, oleh karena itu menjadi tanggungjawab kita bersama untuk membuat konteks-konteks yang menyejukkan masyarakat," kata Zainal.
Ketua Ikasba Kalsel, Aliansyah Mahadi MAP menambahkan bahwa seluruh wilayah di Indonesia merupakan satu tubuh dalam bingkai Negara Kesatuan RI [NKRI]. "Jika Papua sakit, maka semua pihak juga akan sakit."
"Dengan kebersamaan yang kuat, saya yakin semua persoalan di Indonesia termasuk Papua akan mampu kita atasi bersama," ungkap Aliansyah.
Sementara itu, tokoh Papua di Kota Banjarmasin, John, mengakui bahwa wilayah Papua sudah terlihat pembangunannya, meskipun pengembangan sumber daya manusia [SDM] Papua masih belum maksimal.
"Papua merupakan terasnya Indonesia, sehingga harus dibangun dengan hati. Marilah semua pihak untuk membangun Indonesia hingga ke Papua," tambah John.
Banjarmasin of South Borneo [B2B] - The Republic of Indonesia will celebrate its 75th Independence in two months, but there are still many problems that still need to be addressed by the government, especially the case of Papuan racism because hoaxes on social media must be resisted with soothing facts, according to Chairperson of the Indonesian Journalists Association in South Borneo province.