TNI dan Polri Kerahkan Lebih Banyak Personel ke Papua
Indonesia Deploys more Troops as Papua Hit by Fresh Unrest
Editor : Ismail Gani
Translator : Novita Cahyadi

PUBLISHED: Kamis, 22 Agustus 2019 , 14:37:00 WIB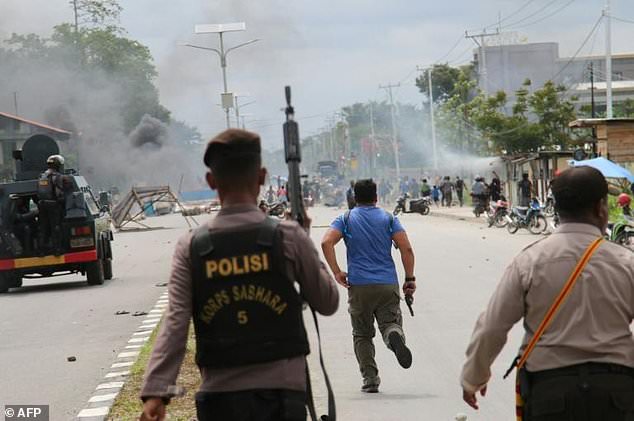 Foto: AFP/MailOnline
UNJUK RASA meletus lagi pada Rabu di Papua, mengakibatkan bentrok antara polisi dan pengunjuk rasa setelah lebih dari 1.000 personel keamanan dikerahkan untuk mengatasi tindak anarkis.
Pemerintah RI telah menyerukan agar masyarakat tetap tenang menyusul kerusuhan yang dipicu oleh penahanan puluhan siswa Papua di Jawa pada akhir pekan.
Pada Rabu, sebanyak 5.000 orang melakukan aksi unjuk rasa di sekitar kota Timika, di mana seorang wartawan AFP melihat para demonstran melemparkan batu ke gedung parlemen setempat dan mencoba merobohkan pagarnya.
Kerumunan massa, juga dilaporkan melempari toko-toko dan rumah-rumah dengan batu, namun bubar ketika polisi anti huru hara melepaskan tembakan peringatan.
Media Indonesia melaporkan polisi menangkap 45 orang, termasuk beberapa orang yang diduga sebagai provokator tindak anarkis dan merusak bangunan.
Ratusan orang juga berbaris melalui jalan-jalan kota Sorong, dan mengibarkan bendera Papua yang dilarang di kota Fakfak.
Polisi menembakkan gas air mata untuk membubarkan massa di Fakfak setelah mereka membakar sebuah pasar dan menghancurkan ATM dan toko-toko, lapor media setempat.
Menteri Koordinator Politik Hukum dan Keamanan [Menko Polhukam] Wiranto, bertolak ke Papua Rabu malam dalam upaya untuk memadamkan ketegangan, sementara Presiden Joko Widodo juga diperkirakan segera bertolak ke Papua.
Aktivitas masyarakat di beberapa kota di Papua termasuk Manokwari, tempat bisnis dan gedung parlemen lokal dibakar oleh para demonstran yang marah.
Pihak berwenang memburu lebih dari 250 narapidana yang melarikan diri dari Lapas di Sorong yang dibakar saat terjadi kerusuhan.
Beberapa petugas polisi terluka, kata pihak berwenang, dan ada laporan yang belum dikonfirmasi tentang demonstran yang terluka. Tidak ada kematian yang dilaporkan seperti dikutip AFP yang dilansir MailOnline.
VIOLENT protests erupted anew Wednesday in Indonesia´s restive Papua region, with a market torched and street battles breaking out between police and demonstrators as more than 1,000 security personnel were deployed to contain the unrest.
Jakarta has called for calm in its easternmost territory -- where an insurgency against Indonesian rule has simmered for decades -- following riots triggered by the detention of dozens of Papuan students in Java at the weekend.
On Wednesday, as many as 5,000 people protested in and around the city of Timika, where an AFP reporter saw demonstrators throw rocks at the local parliament building and try to tear down its fence.
The crowd, which also reportedly pelted shops and homes with rocks, dispersed as riot police fired warning shots.
Indonesian media reported police arrested 45 people, including some they accused of masterminding the protests and damaging buildings.
Hundreds also marched through the streets of Sorong city, and hoisted the banned Papuan flag in the town of Fakfak on the western end of the island, which is divided between Indonesia and the nation of Papua New Guinea.
Police fired tear gas to disperse crowds in Fakfak after they set fire to a market and destroyed ATMs and shops, local media reported.
Indonesia´s chief security minister Wiranto, who goes by one name, headed to Papua late Wednesday in a bid to quell tensions, while President Joko Widodo was also expected to visit.
Several cities in resource-rich Papua were brought to a standstill this week, including Manokwari, where businesses and the local parliament building were set ablaze by angry demonstrators.
Authorities are hunting for more than 250 inmates who had escaped from a prison in Sorong that was torched during the riots.
Several police officers had been injured, authorities said, and there are unconfirmed reports of wounded demonstrators. No deaths have been reported.