Bantu Korban, Indonesia Siapkan Rumah Sakit Terapung di NTT
Indonesia Readies Hospital Ships for Cyclone Survivors
Editor : Kemal A Praghotsa
Translator : Novita Cahyadi

PUBLISHED: Rabu, 07 April 2021 , 15:00:00 WIB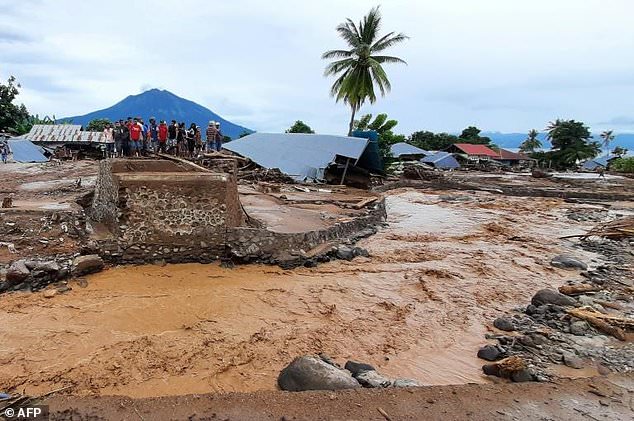 TANAH LONGSOR: Badai menyapu bangunan di beberapa desa di lereng gunung dan ke pantai lautan di pulau Lembata di Indonesia [Foto: AFP/MailOnline]
TNI Angkatan Laut telah menyiapkan kapal Rumah Sakit Terapung Ksatria Airlangga [RSTKA] untuk membantu korban yang terluka akibat topan yang telah menewaskan lebih dari 150 orang dibeberapa pulau Nusa Tenggara Timur [NTT] dan negara tentangga, Timor Leste.
Helikopter juga diterbangkan untuk mengirimkan makanan dan kebutuhan pokok lainnya ke desa-desa terpencil. Dilanjutkan oleh para tim penyelamat melanjutkan pencarian puluhan korban yang masih hilang dengan anjing pelacak setelah banjir dan tanah longsor pada akhir pekan.
Hujan deras dari Topan Tropis Seroja, salah satu badai paling merusak yang melanda wilayah itu selama bertahun-tahun, mengubah desa kecil menjadi tanah lumpur, menumbangkan pohon, dan mengirim sekitar 10.000 orang ke tempat pengungsian.
Badai menyapu bangunan di beberapa desa di lereng gunung dan ke pantai lautan di pulau Lembata di Indonesia. Sekitar 120 mayat telah ditemukan di gugusan pulau terpencil di ujung timur nusantara.
34 orang lainnya ditemukan di Timor Leste - negara berpenduduk 1,3 juta yang terjepit di antara Indonesia dan Australia.
Juru Bicara BNPB, Raditya Jati mengatakan Kapal rumah sakit itu akan meninggalkan Jakarta dan Semarang, sebuah kota di timur ibu kota Indonesia, menuju wilayah yang dilanda becana seperti dikutip AFP yang dilansir MailOnline.
Pihak berwenang di kedua negara juga berjuang untuk menghindari penyebaran Covid-19 di tempat pengungsian.
INDONESIA´S navy readied hospital ships Wednesday to help treat injured survivors of a cyclone that has killed over 150 in the archipelago and neighbouring East Timor, the disaster agency said
Helicopters were also dropping food and other essentials into remote villages, as rescuers turned to sniffer dogs in the hunt for dozens still missing after weekend floods and landslides devastated the Southeast Asian nations.
Torrential rains from Tropical Cyclone Seroja, one of the most destructive storms to hit the region in years, turned small communities into wastelands of mud, uprooted trees and sent around 10,000 people fleeing to shelters.
The storm swept buildings in some villages down a mountainside and to the shore of the ocean on Indonesia´s Lembata island, where several small communities have been wiped off the map.
Indonesia´s disaster agency said sniffer dogs would hunt through mountains of debris and rubble in the hopes of finding the bodies of some 76 still-missing victims -- and any survivors.
About 120 people have been listed as dead in a remote cluster of islands at the eastern end of the archipelago.
Another 34 people have been listed as killed in East Timor -- a tiny half-island nation of 1.3 million sandwiched between Indonesia and Australia that is officially known as Timor-Leste.
The hospital ships were due to leave Jakarta and Semarang, a city east of Indonesia´s capital, bound for the disaster-struck region, said Raditya Jati, spokesman for the disaster agency.
Authorities in both countries were also battling to avoid a spread of Covid-19 in crammed evacuation shelters.