26 Tewas Akibat Banjir dan Longsor di Sulsel, kata BNPB
Indonesia Flood, Landslide Death Toll Rises to 26
Editor : Ismail Gani
Translator : Novita Cahyadi

PUBLISHED: Kamis, 24 Januari 2019 , 15:01:00 WIB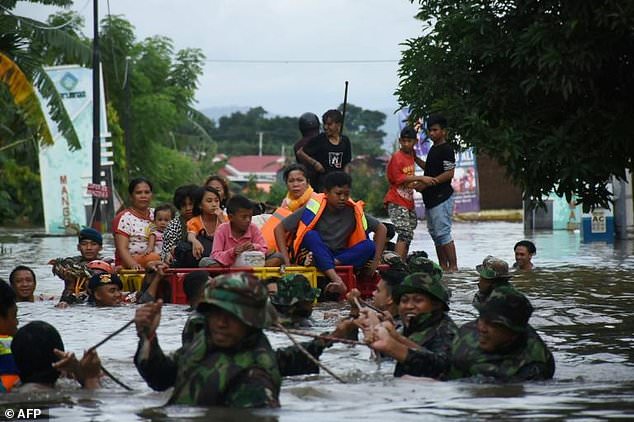 Foto: AFP/MailOnline
KORBAN tewas akibat banjir bandang dan tanah longsor di Provinsi Sulawesi Selatan meningkat menjadi menjadi 26 tewas, kata Kepala Badan Penanggulangan Bencana Daerah (BPBD) Sulawesi Selatan Syamsibar, Kamis, dan saat ini tim penyelamat berlomba dengan waktu untuk menemukan dan mengevakuasi korban bencana yang masih hilang.
Ribuan orang dievakuasi dari rumah mereka saat hujan lebat dan angin kencang menerjang sebagian wilayah Sulawesi Selatan, banjir bandang mengakibatkan sungai meluap dan membanjiri pemukiman penduduk pada sembilan kabupaten di Sulsel.
Sebagian ibukota provinsi Makassar juga terkena dampaknya.
"Sampai pagi ini, 26 orang dipastikan meninggal dan 24 lainnya hilang," kata Syamsibar, kepala badan mitigasi bencana lokal, yang seperti banyak orang Indonesia menggunakan satu nama.
Korban tewas mencapai delapan orang pada Rabu.
Lebih dari 3.000 orang telah diungsikan dan setidaknya 46 dirawat di rumah sakit dan klinik kesehatan setempat.
Banjir juga merusak rumah, gedung pemerintah, sekolah, dan jembatan.
"Tim pencarian dan penyelamatan masih mencari korban yang hilang dan mengevakuasi orang-orang yang rumahnya terendam banjir," kata Syamsibar.
Tanah longsor dan banjir sering terjadi di Indonesia, terutama selama musim hujan antara Oktober dan April, ketika hujan menghantam kepulauan tropis yang luas.
Pada bulan Oktober, banjir bandang dan tanah longsor menewaskan sedikitnya 22 orang di beberapa kabupaten di Sumatra seperti dikutip AFP yang dilansir MailOnline.
THE DEATH toll from flash floods and landslides in Indonesia jumped to 26, a disaster agency official said Thursday, as rescuers race to find still-missing victims.
Thousands have been evacuated from their homes as heavy rain and strong winds pounded the southern part of Sulawesi island, swelling rivers that burst their banks and inundating dozens of communities in nine southern districts.
Parts of the provincial capital Makassar have also been affected.
"As of this morning, 26 people are confirmed to have died and 24 others are missing," said Syamsibar, the head of the local disaster mitigation agency, who like many Indonesians goes by one name.
The death toll had stood at eight on Wednesday.
More than 3,000 people have been evacuated and at least 46 are being treated at local hospitals and health clinics.
The floods also damaged houses, government buildings, schools and bridges.
"The search and rescue teams are still looking for missing victims and evacuating people whose homes were inundated by the flooding," Syamsibar said.
Landslides and flooding are common in Indonesia, especially during the monsoon season between October and April, when rain lashes the vast tropical archipelago.
In October, flash floods and landslides killed at least 22 people in several districts across Sumatra island.