Garuda Patuhi Putusan OJK dan Kemenkeu disorot Media Asing
Airline Garuda Indonesia to Fix Financial Statement after Regulator Order
Editor : Ismail Gani
Translator : Novita Cahyadi

PUBLISHED: Senin, 01 Juli 2019 , 01:53:00 WIB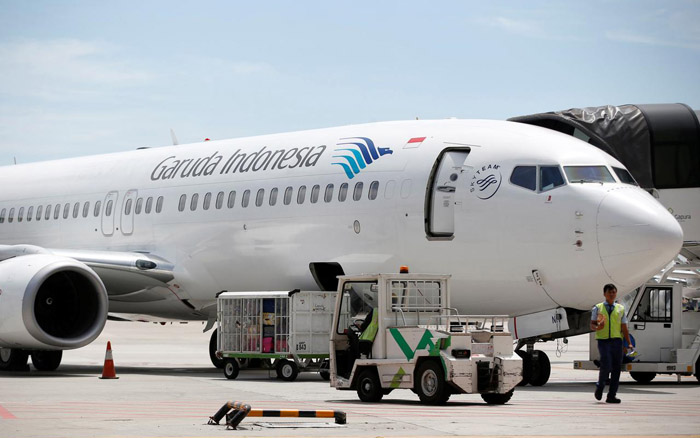 Foto: Reuters
MASKAPAI penerbangan BUMN, Garuda Indonesia menyatakan akan bersikap koperatif dan mematuhi ´putusan dan sanksi´ yang diberikan pihak regulator terkait dengan ´memperbaiki dan melaporkan kembali´ laporan keuangan 2018, kata eksekutif Garuda, Minggu [30/6].
Saham Garuda anjlok 7,6% pada Jumat ke level terendah sejak Januari, setelah Otoritas Jasa Keuangan (OJK) memerintahkan Garuda untuk menyajikan kembali hasil keuangan 2018 dalam waktu dua pekan dan, mewajibkan dewan direksi membayar denda atas kesalahan tersebut.
Bursa Efek Indonesia (BEI) secara terpisah memberikan instruksi yang sama untuk kinerja 2019.
Jumlah total denda yang harus dibayarkan Garuda kepada OJK dan BEI adalah Rp1,25 miliar.
"Kami tidak akan berdebat dengan apa yang telah diputuskan OJK," kata Direktur Utama Garuda, I Gusti Ngurah Askhara kepada pers.
Pada Jumat, Kementerian Keuangan RI juga memerintahkan perusahaan akuntansi global BDO International Limited untuk meningkatkan kontrol kualitas dan melakukan tinjauan terhadap afiliasi lokalnya yang menangani keuangan Garuda, sementara menangguhkan pihak yang mengaudit laporan keuangan.
Askhara mengatakan Garuda akan menunjuk sebuah kantor akuntan baru.
Reaksi awal Garuda adalah bahwa perintah dari pihak berwenang adalah "prematur".
Sementara regulator tidak mengungkapkan rincian kesalahan, dewan direksi Garuda mengonfirmasi pada Minggu bahwa mereka terkait dengan kesalahan representasi US$240 juta dalam pendapatan yang belum diterima dari PT Mahata Aero Teknologi.
Perusahaan penerbangan itu membukukan pendapatan dari Mahata dalam pendapatan 2018. Mahata telah setuju untuk membayar Garuda dengan imbalan memasang konektivitas Wi-Fi dan iklan di beberapa pesawat.
Askhara mengatakan perubahan yang diwajibkan oleh regulator tidak akan mempengaruhi kesehatan keuangan Garuda, termasuk rasio utang terhadap ekuitas.
"Koreksi tidak akan memengaruhi operasi karena tidak ada kas keluar," katanya seperti dikutip Reuters yang dilansir MailOnline.
INDONESIAN flag carrier Garuda will comply with requests from regulators to "fix and restate" its financial statements and pay fines for accounting errors, company executives said on Sunday.
Garuda´s shares plunged 7.6% on Friday to their lowest since January, after the Financial Services Authority (OJK) ordered Garuda to restate its 2018 financial results within two weeks and, along with its directors, pay fines for the errors.
The Indonesia Stock Exchange (IDX) separately ordered the same for 2019 results.
The total sum of fines Garuda has to pay the OJK and IDX is 1.25 billion rupiah ($88,496).
"We will not argue with what the OJK has decided," chief executive Ari Askhara told a news conference.
On Friday, the finance ministry also ordered global accounting firm BDO International Limited to improve quality control and carry out a review of its local affiliate who handled Garuda´s finances, while suspending the main person who audited the financial statements.
Askhara said Garuda would appoint a new accounting firm.
Garuda´s initial reaction was that the orders from the authorities was "premature".
While regulators did not disclose details of the errors, Garuda´s executives confirmed on Sunday that they were related to a misrepresentation of $240 million in revenue that it had yet to receive from PT Mahata Aero Teknologi.
The carrier forward-booked the revenue from Mahata in its 2018 earnings. Mahata had agreed to pay Garuda in exchange for installing Wi-Fi connectivity and advertisements on some planes.
Askhara said the required changes by regulators would not affect Garuda´s financial health, including its debt-to-equity ratio.
"The correction will not affect operations because there is no cash out," he said.
($1 = 14,125 rupiah)