Teknologi Riset Tanggap Bencana, Kemenristek Dikti Perkuat Riset Kebencanaan
Indonesian Govt Strengthens Disaster Technology Research: Minister
Reporter : Gusmiati Waris
Editor : Cahyani Harzi
Translator : Dhelia Gani

PUBLISHED: Rabu, 31 Oktober 2018 , 15:32:00 WIB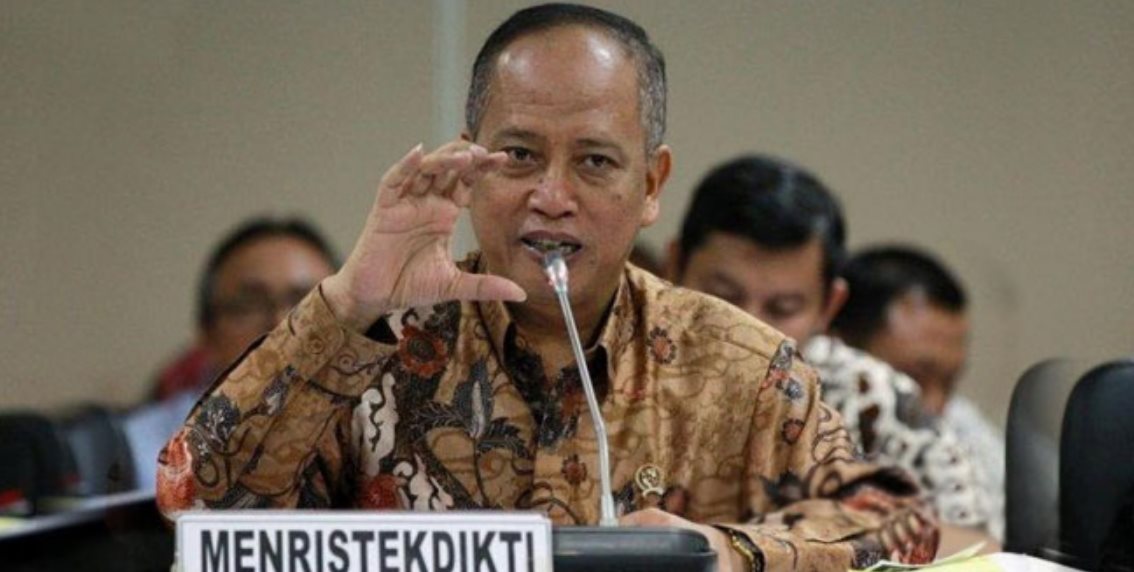 Menteri Riset Teknologi dan Pendidikan Tinggi (Menristek Dikti) Mohammad Nasir (Foto: istimewa)
Jakarta (B2B) - Pemerintah RI akan meningkatkan dan memperkuat pengembangan dan memperkuat riset tentang kebencanaan, untuk mengantisipasi bencana alam di Indonesia dan salah satu yang berhasil diterapkan adalah Teknologi Modifikasi Cuaca (TMC) untuk penanggulangan bencana asap dan banjir.
Menteri Riset Teknologi dan Pendidikan Tinggi (Menristek Dikti) Mohammad Nasir mengatakan TMC merupakan suatu usaha campur tangan manusia dalam pengendalian sumberdaya air di atmosfer untuk menambah curah hujan dan/atau mengurangi intensitas curah hujan pada daerah tertentu untuk meminimalkan bencana alam yang disebabkan oleh iklim dan cuaca dengan memanfaatkan parameter cuaca.
"Kami akan meningkatkan pengembangan penelitian mengenai kebencanaan, meskipun sudah dilakukan sejak 1977 dan memiliki berbagai tujuan seperti menambah curah hujan untuk mengatasi kekeringan, pengisian air waduk atau danau untuk kebutuhan irigasi dan lainnya," kata Menristek Dikti M Nasir kepada pers di Jakarta, Selasa (30/10).
Saat ini, Kementeristek Dikti fokus pada riset kebencanaan untuk mengatasi bencana asap dan mencegah terjadinya hujan yang berdampak pada banjir.
"Kalau di daerah banjir, bagaimana hujan yang belum terjadi dapat dijatuhkan dulu di daerah lain, untuk mencegah dampak lebih besar dari daerah sasaran mencegah terjadinya bencana banjir," kata Nasir.
Selain itu, Kemenristek juga mengembangkan sistem pendeteksi longsor, Wiseland, yang merupakan sensor kebencanaan tanah longsor. Alat yang sedang dikembangkan adalah satelit Disaster Early Warning System.
Jakarta (B2B) - Indonesian government will develop and strengthen research of disasters to anticipate of natural disasters in Indonesia, and one that has been successfully implemented is Weather Modification Technology for the prevention of smoke and flood disasters.
Minister of Research, Technology and Education Mohammad Nasir said TMC was a human intervention effort in controlling water resources in the atmosphere for rain enhancement and rain reduction in certain areas to minimize natural disasters caused by climate and weather by utilizing weather parameters.
"We will improve development of research on disaster, even though it has been carried out since 1977 and has various objectives such as rain enhancement and rain reduction to overcome drought, replenishing reservoir water or lakes for irrigation needs and others," Minister Nasir told the press here on Tuesday (October 30).
At present, the focus is on disaster research to overcome smoke disasters and prevent the occurrence of rain that has an impact on flooding.
"If in the flood area, how to prevent rain by moving to another place, to prevent the greater impact of the target area to prevent the occurrence of floods," Mr Nasir said.
In addition, the ministry also developed a landslide detection system, Wiseland, which is a landslide disaster sensor. The tool that is being developed is a satellite Disaster Early Warning System.