Dandhy Laksono, Sutradara `Sexy Killers` Ditangkap jadi Sorotan Media Asing
Indonesian Filmmaker Named Suspect after Sharing Posts on Papua
Editor : Cahyani Harzi
Translator : Dhelia Gani

PUBLISHED: Sabtu, 28 September 2019 , 15:35:00 WIB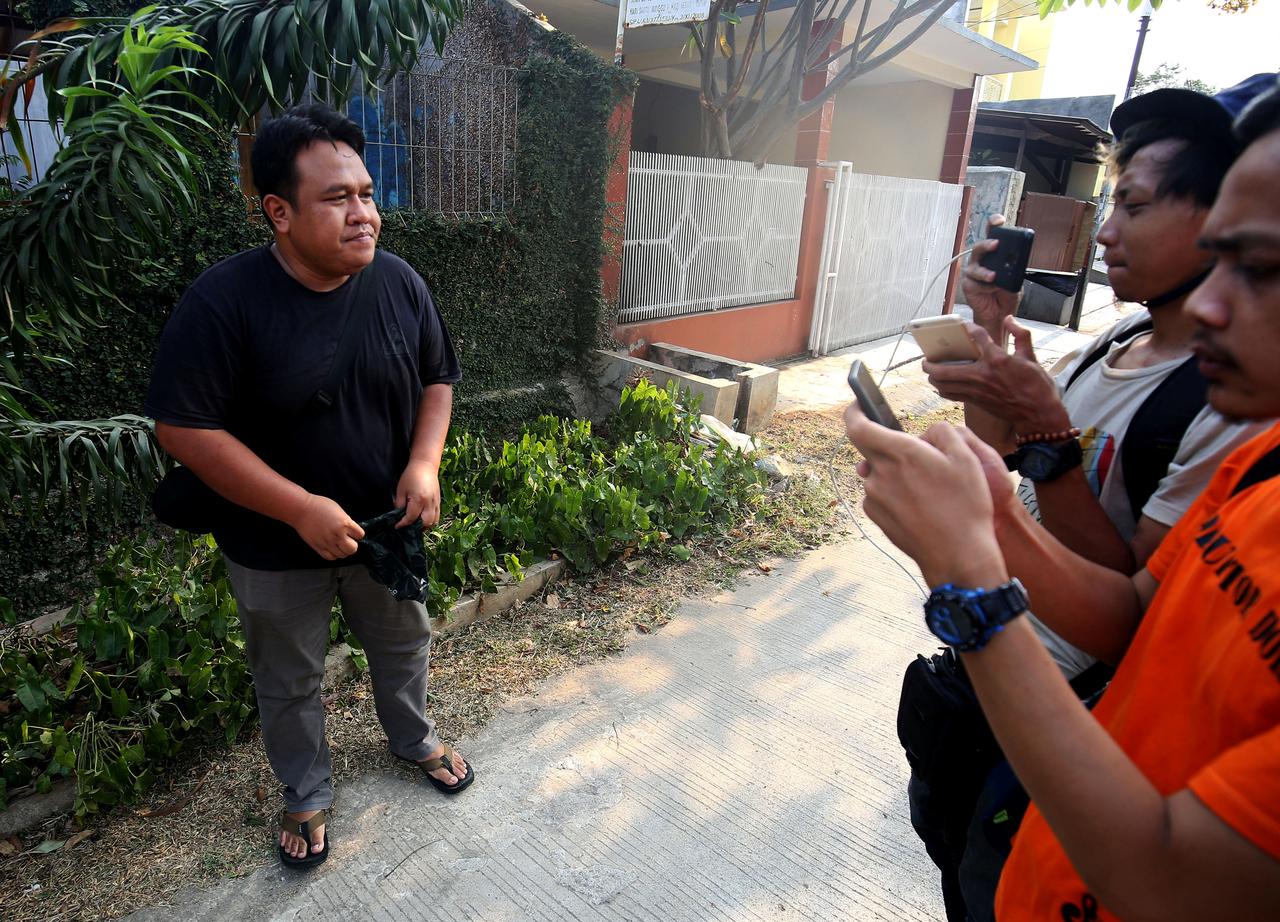 Dandhy Laksono [kiri] menjawab pers [Foto: Reuters]
SEORANG wartawan dan pembuat film dokumenter Indonesia, Dandhy Laksono, ditahan oleh polisi, Kamis malam, di tengah tindakan keras terhadap para aktivis yang bersimpati pada penentuan nasib sendiri untuk provinsi Papua dan Papua Barat.
Pengacara Dandhy Laksono, Alghiffari Aqsa, mengatakan pembuat film itu ditahan dan diinterogasi selama empat jam, dan kemudian menunjuk seorang tersangka setelah mengunggah tweet pada 22 September tentang kekerasan di kota-kota Papua, Jayapura dan Wamena. Dia dituduh melanggar pasal 'ujaran kebencian' yang diatur UU ITE.
Kabid Humas Polda Metro Jaya, Kombes Pol Argo Yuwono tidak menanggapi permintaan komentar.
Pasukan keamanan Indonesia mengatakan bahwa 35 warga sipil dan seorang tentara tewas pada Senin di Jayapura dan Wamena, dalam eskalasi kekerasan yang telah mengguncang Papua selama enam minggu terakhir.
Dipicu oleh diskriminasi ras yang dirasakan, gelombang protes adalah kerusuhan sipil paling serius selama beberapa dekade di Papua.
Unjuk rasa meletus setelah sekelompok mahasiswa Papua di Surabaya, kota terbesar kedua di Indonesia yang terletak di pulau Jawa, diejek dan diserang oleh sekelompok orang yang melecehkan secara rasial atas tuduhan bahwa para mahasiswa Papua melecehkan bendera merah putih.
Penangkapan Dandhy Laksono terjadi tiga pekan setelah pengacara hak asasi manusia dan aktivis Veronica Koman ditetapkan sebagai tersangka oleh polisi Indonesia setelah dia mengunggah di Twitter untuk mendukung protes warga Papua, mendorong kelompok-kelompok hak asasi manusia untuk mengutuk tindakan polisi.
"Dandhy hanya melakukan pelaporan dan komentarnya, menantang pandangan arus utama di Indonesia tentang Papua Barat," kata Andreas Harsono, seorang peneliti di Human Rights Watch, menggunakan nama alternatif untuk wilayah tersebut. "Dia seharusnya tidak didakwa sama sekali. Ini masalah kebebasan pers,"
Beberapa film Dandhy dianggap kritis terhadap pemerintah Indonesia. Yang terbaru adalah "Sexy Killers", sebuah film dokumenter yang dirilis pada April tentang perluasan tambang batubara di Provinsi Kalimantan Timur seperti dikutip Reuters yang dilansir MailOnline.
"Dia bekerja dengan prinsip-prinsip jurnalisme," kata Harsono. "Tuduhan terhadapnya - sama dengan Veronica - tidak berdasar karena tidak ada seruan untuk melakukan kekerasan."
AN INDONESIAN journalist and documentary filmmaker, Dandhy Laksono, was detained by police on Thursday night amid a crackdown on activists sympathetic to self-determination for the country's easternmost provinces of Papua and West Papua.
Laksono's lawyer, Alghiffari Aqsa, said the filmmaker was held and questioned for four hours and then named a suspect after posting a tweet on Sept. 22 about violence in the Papuan cities of Jayapura and Wamena. He has been charged with violating the country's online hate speech laws.
Argo Yuwono, Jakarta's police spokesman, did not respond to requests for comment.
Indonesian security forces said that 35 civilians and a soldier were killed on Monday in Jayapura and Wamena, in an escalation of the violence that has convulsed the region for the past six weeks.
Triggered by perceived racial discrimination, the wave of protests is the most serious civil unrest for decades in an area that is home to a distinct ethnic Melanesian population.
The protests erupted after a group of Papuan students in Surabaya, Indonesia's second-biggest city located on the island of Java, were taunted and attacked by a mob chanting racial epithets over accusations the students had desecrated a national flag.
Laksono's arrest came three weeks after the human rights lawyer and activist Veronica Koman was named a suspect by the Indonesian police after she posted on Twitter in support of the protesting Papuans, prompting rights groups to condemn the police action.
"Dandhy is just doing his reporting and commentary, challenging mainstream views in Indonesia on West Papua," said Andreas Harsono, a researcher with Human Rights Watch, using an alternative name for the region. "He should not be charged at all. It is a press freedom matter,"
Some of Dandhy's films have been regarded as critical of the Indonesian government. The most recent was "Sexy Killers", a documentary released in April about the expansion of coal mines in East Kalimantan on the island of Borneo.
"He works with the principles of journalism," said Harsono. "Charges against him - same with Veronica - are groundless because there's no call for violence."