168 Tewas Akibat Tsunami Hantam Banten dan Lampung Sabtu Malam
Tsunami Strikes Indonesia`s Banten Killing at Least 168
Editor : Ismail Gani
Translator : Novita Cahyadi

PUBLISHED: Minggu, 23 Desember 2018 , 16:08:00 WIB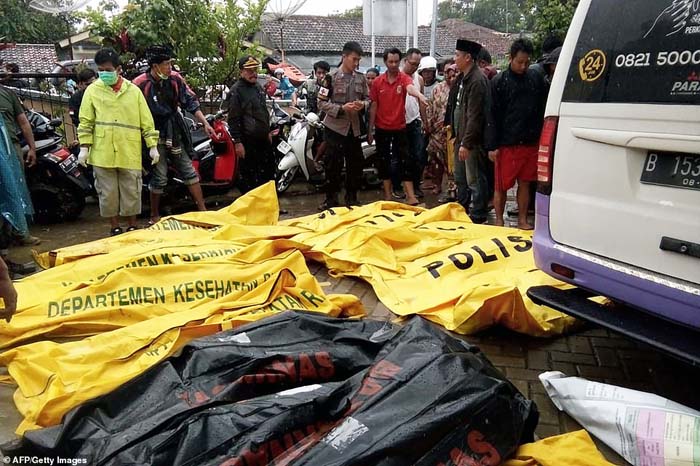 Foto: MailOnline
GELOMBANG tsunami setinggi empat meter menghantam Provinsi Banten di Selat Sunda, antara Jawa dan Sumatera pada Sabtu malam sekitar pukul 21:30 WIB, merusak 430 rumah, sembilan hotel, dan 10 kapal setelah erupsi Anak Gunung Krakatau.
Band Seventeen yang sedang manggung di Tanjung Lesung Beach Resort, di Kabupaten Pandeglang ketika gelombang tsunami datang menghantam kawasan tersebut.
Cuplikan dari kerumunan menunjukkan lusinan orang yang duduk di meja menikmati konser. Tiba-tiba, panggung runtuh dan orang-orang terdengar berteriak ketika mereka melarikan diri dari gelombang yang datang (kiri) yang menelan band di atas panggung dalam sepersekian detik.
Anggota band sekarang dilaporkan hilang oleh penyanyi utama mereka. Setelah tsunami, vokalis grup Riefian Fajarsyah memposting di Instagram meminta doa.
Setidaknya 168 orang tewas akibat tsunami, dipicu oleh letusan gunung berapi. Badan Nasional Penanggulangan Bencana (BNPB) mengonfirmasi sekitar 745 orang telah terluka. Selanjutnya 30 orang diyakini hilang seperti dilansir MailOnline.
THE 16 FOOT high wave hit beaches around the Sunda Strait, between the islands of Java and Sumatra, late on Saturday night at about 9.30pm local time, destroying 430 houses, nine hotels and 10 ships, after Krakatoa erupted.
The band Seventeen were playing a set at Tanjung Lesung Beach Resort, in the province of Banten, in the Strait, when the wall of water hit.
Footage from the crowd shows dozens of people sitting at tables enjoying the concert. Suddenly, the stage collapsed and people were heard screaming as they fled the oncoming wave (left) which swallowed the band on stage in a split second.
Members of the band have now been reported missing by their lead singer. Following the tsunami, the group´s lead singer Riefian Fajarsyah posted on Instagram asking for prayers.
At least 168 people were killed in the tsunami, triggered by the volcanic eruption. The country´s Disaster Mitigation Agency confirmed around 745 people have been injured. A further 30 people are believed to be missing.