Pemerintah Indonesia dan Sudan Selatan Resmi Miliki Hubungan Diplomatik
The Governments of Indonesia and South Sudan Officially Have Diplomatic Relations
Editor : Ismail Gani
Translator : Dhelia Gani

PUBLISHED: Rabu, 21 September 2022 , 16:40:00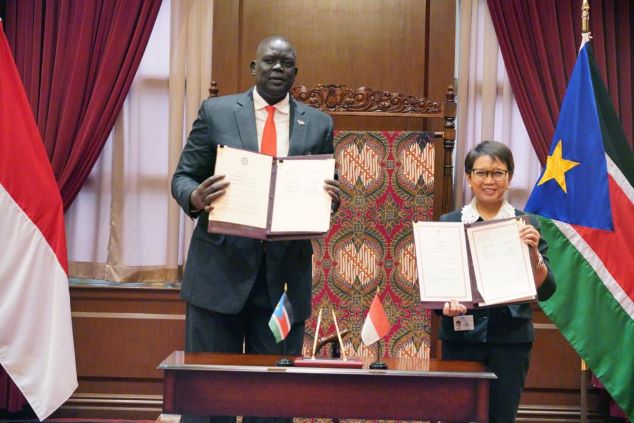 HUBUNGAN DIPLOMATIK: Pemerintah Indonesia dan Sudan Selatan menandatanganani Komunike Pembukaan Hubungan Diplomatik Indonesia – Sudan Selatan, di New York, AS. (Foto: Sekretariat Kabinet RI)
Jakarta [B2B] - Indonesia dan Sudan Selatan resmi memiliki hubungan diplomatik, dengan ditandainya penandatanganan Komunike Bersama Pembukaan Hubungan Diplomatik antara Kedua Negara. Penandatangan dilakukan oleh Menteri Luar Negeri [Menlu] RI, Retno Marsudi dan Wakil Menteri Luar Negeri [Wamenlu] Sudan Selatan, Deng Dau Deng Malek, disela-sela Sidang Majelis Umum Perserikatan Bangsa-Bangsa ke-77, di New York, Amerika Serikat, Rabu [20/9].
"Penandatangan Komunike tersebut membuka lembaran baru bagi Indonesia dan Sudan Selatan, untuk membangun kerja sama konkret yang menguntungkan kedua negara, termasuk kerja sama ekonomi," ujar Menlu RI. Pernyataan senada juga disampaikan oleh Wamenlu Sudan Selatan.
Setelah penandatanganan pembukaan hubungan diplomatik, kedua pihak langsung membahas kerja sama konkret di bidang infrastruktur dan minyak. Dalam kaitan ini, telah ditandatangani kontrak kerja sama antara PT. Waskita Karya dengan Kementerian Sudan Selatan di bidang infrastruktur. Nantinya, kerja sama di bidang minyak juga akan segera dijajaki.
Indonesia mengakui kemerdekaan Sudan Selatan pada 2011. Duta Besar RI di Khartoum menghadiri deklarasi kemerdekaan Sudan Selatan di Juba pada 9 Juli 2011. Selanjutnya, Kementerian Luar Negeri kedua negara akan menindaklanjuti Komunike Bersama ini dengan proses penunjukan Duta Besar dan dibukanya kedutaan di kedua negara.
Jakarta [B2B] - Indonesia and South Sudan officially have diplomatic relations, with the signing of the Joint Communique on the Opening of Diplomatic Relations between the Two Countries. The signing was carried out by the Indonesian Minister of Foreign Affairs, Retno Marsudi, and the Deputy Minister of Foreign Affairs of South Sudan, Deng Dau Deng Malek, on the sidelines of the 77th United Nations General Assembly Session, in New York, United States of America, Wednesday [20/9].
"The signing of the Communique opens a new chapter for Indonesia and South Sudan, to build concrete cooperation that benefits both countries, including economic cooperation," said the Indonesian Foreign Minister. A similar statement was also conveyed by the Deputy Minister of Foreign Affairs of South Sudan.
After the signing of the opening of diplomatic relations, the two sides immediately discussed concrete cooperation in infrastructure and oil. In this regard, a cooperation contract has been signed between PT. Waskita Karya with the Ministry of South Sudan in the infrastructure sector. Later, cooperation in the oil sector will also be explored.
Indonesia recognized the independence of South Sudan in 2011. The Indonesian Ambassador in Khartoum attended the declaration of independence of South Sudan in Juba on July 9, 2011. Furthermore, the Ministry of Foreign Affairs of the two countries will follow up this Joint Communique with the process of appointing ambassadors and opening embassies in both countries.