PBB Upayakan `Segera` US$50,5 Juta untuk Korban Bencana Palu Donggala
UN Seeks $50.5 million for `Immediate` Indonesia Disaster Aid
Editor : Ismail Gani
Translator : Novita Cahyadi

PUBLISHED: Sabtu, 06 Oktober 2018 , 16:46:00 WIB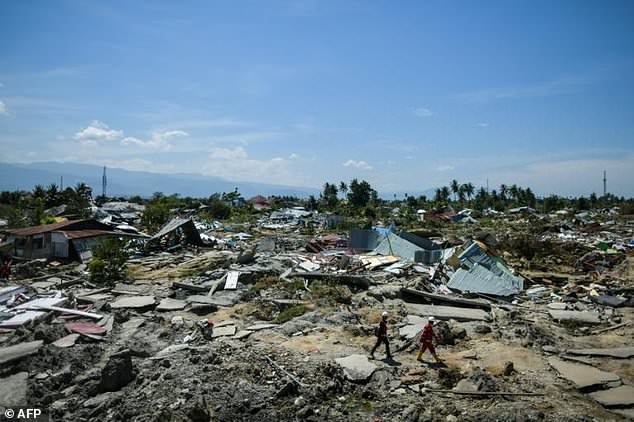 Foto: AFP/MailOnline
PERSERIKATAN Bangsa-Bangsa (PBB) mengatakan Jumat, mereka berupaya menyediakan dana US$50,5 juta ´untuk pemulihan segera´ untuk membantu korban gempa dan tsunami yang melanda Palu dan Donggala.
Rencana bantuan PBB, yang dikembangkan melalui konsultasi dengan pejabat pemerintah Indonesia, menguraikan "bagaimana komunitas kemanusiaan yang bekerja di Indonesia akan memberikan bantuan teknis yang ditargetkan."
Lebih dari 1.500 orang tewas dalam gempa-tsunami pekan lalu, dan pejabat setempat mengatakan Jumat bahwa lebih dari seribu orang masih bisa hilang.
Bencana terhebat terjadi di kota Palu, ibukota Provinsi Sulawesi Tengah, setelah hampir sebagian kota luluh lantak akibat guncangan hebat gempa dan tsunami.
Rencana PBB bertujuan untuk memberikan bantuan kepada 191.000 orang penduduk selama tiga bulan ke depan, kata PBB.
Menurut perkiraan PBB, 65.000 rumah telah mengalami beberapa bentuk kerusakan, jumlahnya mencakup 10.000 rumah "hancur seluruhnya oleh tsunami" dan 15.000 rumah rusak parah akibat gempa.
"Satu pekan setelah bencana, skala penuh bencana dan kebutuhan menjadi semakin jelas," kata Anita Nirody, Resident Coordinator PBB di Indonesia.
"Orang-orang yang terkena dampak, terutama mereka yang kehilangan rumah dan semua barang mereka, membutuhkan tempat tinggal, akses ke air bersih, perawatan kesehatan dan dukungan psikososial."
Dana yang diminta "akan memungkinkan komunitas kemanusiaan internasional untuk lebih efektif mendukung respon pemerintah dan organisasi lokal," katanya seperti dilansir MailOnline.
THE UNITED NATIONS said Friday it is seeking $50.5 million "for immediate relief" to help victims of the devastating quake and tsunami in Indonesia.
The UN plan, developed in consultation with Indonesian government officials, outlines "how the humanitarian community working in the country will provide targeted, technical assistance."
More than 1,500 people died in last week´s quake-tsunami, and local officials said Friday that more than a thousand people could still be missing.
Hardest-hit was Palu city on Sulawesi island, which was left in ruins after it was struck by a powerful quake and a wall of water that reduced whole neighborhoods to piles of wood and twisted metal.
The UN plan aims to provide help to 191,000 people over the next three months, the statement said.
According to UN estimates, 65,000 homes have suffered some form of damage, a figure that includes 10,000 homes "completely destroyed by the tsunami" and 15,000 homes severely damaged by the earthquake.
"One week after the disaster, the full scale of the disaster and the needs are becoming clear," said Anita Nirody, the UN Resident Coordinator in Indonesia.
"Affected people, especially those who have lost their homes and all their belongings, require shelter, access to clean water, healthcare and psychosocial support."
The requested funding "will allow the international humanitarian community to more effectively support the response of the government and local organizations," she said.