Erupsi Gunung Karangetang di Sulut jadi Sorotan Dunia
Lava, Gas Flowing Out Indonesia Volcano Sends People Fleeing
Editor : Ismail Gani
Translator : Novita Cahyadi

PUBLISHED: Selasa, 05 Februari 2019 , 17:26:00 WIB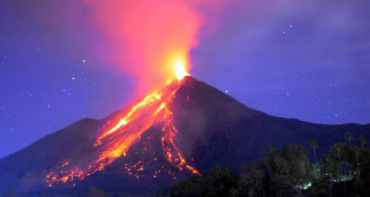 Foto: istimewa
LETUSAN Gunung Karangetang, salah satu gunung berapi paling aktif di Indonesia melepaskan guguran lava yang menutup jalan, yang memaksa penduduk meninggalkan lereng gunung di Kabupaten Siau Tagulandang Biaro (Sitaro) di Provinsi Sulawesi Utara.
Pihak berwenang masih berusaha untuk mengevakuasi hampir 600 warga yang tinggal di sepanjang lereng Gunung Karangetang, kata Yudia Tatipang, kepala pos pengamatan gunung berapi Karangetang. Tidak ada laporan langsung tentang korban cedera atau dampak kerusakan serius.
Yudia mengatakan mengatakan gunung berapi setinggi 1.784 meter yang terletak di pulau Siau, Sulawesi Utara itu mulai menyemburkan awan gas dan lahar pada Minggu.
Senin malam, abu panas jatuh di lereng hingga 300 meter, memicu kepanikan di antara penduduk desa ketika abu dan belerang jatuh menyelimuti beberapa desa di sekitar lerengnya.
Yudi Tatipang mengatakan bahwa para ilmuwan menjaga tingkat siaga gunung berapi di tingkat tertinggi kedua tetapi warga harus tetap menjauhi zona bahaya sejauh tiga kilometer di sekitar kawah.
Gunung Karangetang adalah salah satu dari sekitar 129 gunung berapi aktif di Indonesia. Letusan besar terakhirnya adalah pada 2011, menewaskan empat orang.
Indonesia terletak di "Cincin Api" Pasifik, sebuah busur gunung berapi dan garis patahan yang mengelilingi Cekungan Pasifik, dan rentan terhadap aktivitas vulkanik dan seismik seperti dikutip Associated Press yang dilansir MailOnline.
AN ERUPTION of one of Indonesia´s most active volcanoes sent lava and searing gas clouds out the crater and made villagers leave the slopes, a volcanology official said Tuesday.
Authorities were still trying to evacuate nearly 600 residents living along the slopes of Mount Karangetang, said Yudia Tatipang, head of the Karangetang volcano observation post. There were no immediate reports of injuries or serious damage.
He said the 1,784-meter (5,853-foot) volcano located on Siau island of North Sulawesi province started spitting clouds of gas and lava on Sunday.
Late on Monday, hot ash tumbled down its slopes up to 300 meters (980 feet), triggering panic among villagers as falling ash and sulfur blanketed several villages around its slopes.
Tatipang said that scientists kept the alert level of the volcano at the second-highest level but people should stay out of a 3-kilometer (1.8-mile) danger zone around the crater.
The Karangetang mountain is one of about 129 active volcanoes in Indonesia. Its last big eruption was in 2011, killing four people.
Indonesia lies on the Pacific "Ring of Fire," an arc of volcanos and fault lines encircling the Pacific Basin, and is prone to volcanic and seismic activity.