Korban Tewas Tsunami Palu dan Donggala Meningkat jadi Lebih 800 Jiwa
Indonesia Tsunami Toll Tops 800 amid Search for Survivors
Editor : Ismail Gani
Translator : Novita Cahyadi

PUBLISHED: Minggu, 30 September 2018 , 17:51:00 WIB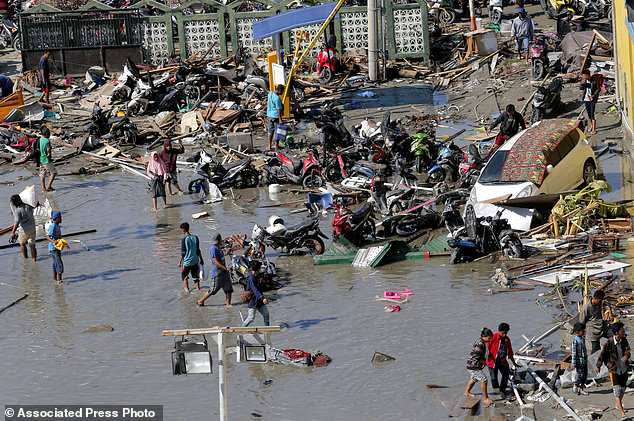 Foto2: Associated Press/MailOnline
TIM PENCARI dan penyelamatan dari Badan SAR Nasional (Basarnas) berpacu dengan waktu pada Minggu untuk mencari korban yang terdengar meminta tolong terperangkap di bawah reruntuhan, sementara sejumlah warga menjarah mini market untuk mencari makanan dan minuman setelah gempa dan tsunami yang menewaskan lebih 800 orang.
Korban yang terperangkap di bawah reruntuhan bangunan terdengar meminta tolong dari Hotel Roa-Roa bertingkat delapan di kota Palu, Sulawesi Tengah, yang runtuh setelah dua kali dihantam gempa pada Jumat petang, kata Kepala Basarnas, Muhammad Syaugi.
"Saya masih bisa mendengar suara-suara para korban yang berteriak minta tolong saat memeriksa kompleks itu," katanya seraya menambahkan kemungkinan ada 50 orang yang terperangkap di reruntuhan Hotel Roa-Roa.
Juru bicara Badan Nasional Penanggulangan Bencana (BNPB) Sutopo Purwo Nugroho mengatakan kepada pers, Minggu, bahwa jumlah korban tewas bertambah lebih dari dua kali lipat menjadi 832, dengan hampir semua korban tewas berada di Palu. Dia mengatakan, masih belum ada laporan komprehensif tentang korban di daerah pesisir dan sekitarnya.
"Korban tewas diyakini masih terus meningkat karena banyak mayat masih berada di bawah reruntuhan, sementara banyak yang belum terjangkau," katanya.
Bantuan dan pasokan dikirim melalui pesawat militer dan komersial, termasuk helikopter, untuk mencapai daerah-daerah yang terkena dampak gempa terburuk.
Donggala, kota terdekat dengan pusat gempa di kota Palu, Donggala, dan Mamuju juga terdampak, tetapi hanya sedikit informasi yang tersedia karena jalan rusak dan telekomunikasi terganggu. Rekaman dari stasiun teve berita pada Minggu memperlihatkan sejumlah rumah yang hancur di Donggala dan kawasan yang sebelumnya terdampak tsunami. Rekaman video dari udara juga memperlihatkan kondisi pantai di sekitar Palu.
Sejumlah warga pada Minggu menjarah sebuah mal dan sejumlah mini market yang rusak parah dalam kondisi tidak terjaga. Mereka tampaknya tidak peduli dengan keselamatan mereka, meskipun gempa susulan dan konstruksi bangunan rawan karena sewaktu-waktu dapat runtuh. Penduduk juga terlihat kembali ke rumah mereka yang hancur, mengambil barang-barang yang terendam air, mencoba menyelamatkan apa pun yang mereka temukan.
Nugroho mengatakan "puluhan hingga ratusan" orang mengikuti festival peringatan ulang tahun kota Palu ketika tsunami menerjang pada Jumat petang. Nasib mereka tidak diketahui.
Ratusan orang terluka dan rumah sakit, yang rusak akibat gempa berkekuatan 7,5 SR, kewalahan menangani korban cedera berat dan ringan seperti dikutip Associated Press yang dilansir MailOnline.
RESCUERS in Indonesia were scrambling Sunday to reach trapped victims screaming for help from collapsed buildings, while looters risked entering an unstable shopping mall to grab whatever they could find after a massive earthquake spawned a tsunami that left more than 800 dead.
People could still be heard calling out from the eight-story Roa-Roa Hotel which toppled as Friday´s twin disasters swept through the hard-hit city of Palu on the island of Sulawesi, said Muhammad Syaugi, the head of Indonesia´s search and rescue agency.
"I can still hear the voices of the survivors screaming for help while inspecting the compound," he told local online news portal Detik.com, adding there could be 50 people trapped inside.
Disaster agency spokesman Sutopo Purwo Nugroho told a news conference Sunday that the death toll had more than doubled to 832, with nearly all of those killed in Palu. He said there were still not comprehensive reports about casualties in surrounding coastal areas.
"The death is believed to be still increasing since many bodies were still under the wreckage, while many have not been reached," he said.
Aid and supplies were being sent in via military and commercial aircraft, including helicopters, to reach badly affected areas.
The nearby cities of Donggala, the site closest to the earthquake´s epicenter, and Mamuju were also ravaged, but little information was available due to damaged roads and disrupted telecommunications. Footage from MetroTV on Sunday showed images of destroyed houses in Donggala and areas that were once land now inundated with water. Aerial video also showed the battered coastline surrounding Palu.
Looters were stealing Sunday from a badly damaged mall in Palu that was not being guarded. They did not appear to be concerned about their safety, despite ongoing aftershocks and the structure´s questionable stability. Residents were also seen returning to their destroyed homes, picking through waterlogged belongings, trying to salvage anything they could find.
Nugroho said "tens to hundreds" of people were taking part in a beach festival in Palu when the tsunami struck at dusk on Friday. Their fate was unknown.
Hundreds of people were injured and hospitals, damaged by the magnitude 7.5 quake, were overwhelmed.