Internet Diblokir dan 34 Orang Ditangkap setelah Tindak Anarkis di Papua
Indonesia Arrests 34, Blocks Internet in Papua to Curb Protests
Editor : Ismail Gani
Translator : Novita Cahyadi

PUBLISHED: Kamis, 22 Agustus 2019 , 18:23:00 WIB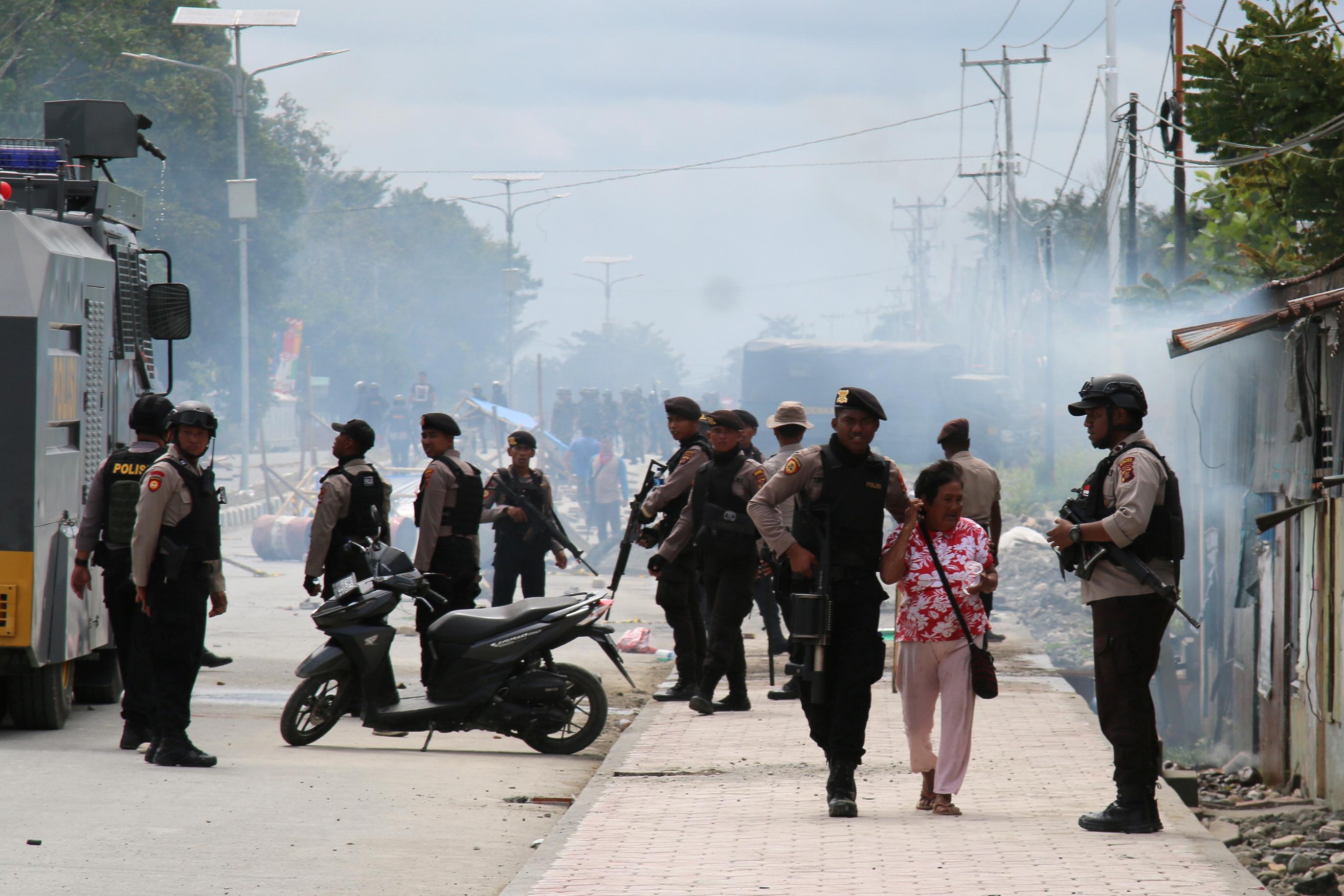 Foto: Reuters/MailOnline
PIHAK KEAMANAN menangkap 34 orang dan memblokir akses internet di Papua untuk mengendalikan kekerasan setelah pengunjuk rasa membakar gedung-gedung, pasar dan penjara karena perlakuan buruk terhadap siswa dan persepsi diskriminasi etnis.
Polri menerbangkan lagi 1.200 personel untuk memadamkan unjuk rasa yang cenderung anarkis sejak Senin di kota-kota seperti Manokwari, Sorong, Fakfak dan Timika, di dekat tambang tembaga Grasberg raksasa yang dioperasikan oleh unit Freeport McMoran di Indonesia.
Kementerian Komunikasi dan Informatika [Kemen Kominfo] memblokir data internet dan telekomunikasi untuk mencegah warga Papua mengakses media sosial sejak Rabu, meskipun panggilan telepon dan pesan teks tidak terpengaruh, kata juru bicara Kemenkominfo Ferdinandus Setu.
"Pemblokiran merupakan upaya untuk meredam kebohongan dan, yang paling penting, menghentikan penggunaan orang dari berbagi pesan provokatif yang dapat memicu kebencian rasial," tambahnya.
Demonstrasi dan unjukrasa dalam skala kecil mendukung Papua berkobar secara nasional pada Kamis, sementara Menko Polhukam Wiranto, Kapolri Jenderal Pol Tito Karnavian dan Panglima TNI Jenderal TNI Hadi Tjahjanto mengunjungi kota Sorong untuk melakukan peninjauan dan koordinasi keamanan dengan pejabat terkait di Papua.
Petinggi keamanan mengatakan aksi unjukrasa di daerah Nabire dan Yahukimo berlangsung damai, kata situs berita Kompas.
Sementara di Jakarta, ibukota, lebih dari seratus siswa Papua melakukan unjuk rasa tentara ke gerbang Istana Kepresidenan, meneriakkan slogan-slogan pro-kemerdekaan yang menuntut "Referendum untuk Papua" atau "Kebebasan untuk Papua".
Beberapa di antara mereka memegang poster yang menuntut hak untuk menentukan nasib sendiri dan mengakhiri rasisme dan kolonialisme di Papua Barat.
Siswa-siswa Papua juga melakukan unjuk rasa kecil di kota Bogor.
Sebuah gerakan separatis meningkat di Papua selama beberapa dekade, dengan seringnya pengaduan tentang pelanggaran hak oleh pasukan keamanan, tetapi kemarahan baru-baru ini tampaknya terkait dengan penghinaan rasis terhadap pelajar Papua yang ditahan di Surabaya, Jawa Timur pekan lalu.
Para siswa ditangkap dan ditembak gas air mata di sebuah asrama di kota Surabaya, Jawa Timur setelah dituduh tidak menghormati bendera Indonesia saat berlangsung peringatan Hari Kemerdekaan RI ke-74.
Presiden RI Joko Widodo mendesak Panglima TNI dan Kapolri untuk bertindak tegas terhadap petugas yang berperilaku "rasis" terhadap pelajar, kata kepala staf kepresidenan kepada saluran berita CNN Indonesia.
Polisi menangkap 34 orang di Timika, tempat ribuan pengunjuk rasa melemparkan batu ke gedung parlemen, rumah, toko dan hotel pada Rabu, kata polisi. Mereka menuduh 13 orang di antaranya sebagai anggota kelompok separatis pro-Papua.
Joko Widodo berupaya meredakan ketegangan dan meningkatkan kesejahteraan dengan membangun infrastruktur di Papua.
Jokowi telah mengunjungi daerah bergolak lebih sering daripada pendahulunya, dan berencana untuk membuka jembatan baru bulan depan di Jayapura, ibukota provinsi Papua, kata sekretariatnya seperti dikutip Reuters yang dilansir MailOnline.
INDONESIA has arrested 34 people and cut internet access in its easternmost region of Papua to rein in violence after protesters torched buildings, a market and a prison over mistreatment of students and perceived ethnic discrimination.
Police have flown in 1,200 more officers to quell sometimes violent protests since Monday in towns such as Manokwari, Sorong, Fakfak and Timika, near the giant Grasberg copper mine operated by Freeport McMoran's Indonesian unit.
The communication ministry has blocked the internet and telecoms data to prevent Papuans from accessing social media since Wednesday, although telephone calls and text messages are unaffected, said ministry spokesman Ferdinandus Setu.
"This is an effort to curb hoaxes and, most importantly, stop people from sharing provocative messages that can incite racial hatred," he added.
Smaller demonstrations and rallies in support of Papua flared nationwide on Thursday, while the chief security minister, police chief and military commander visited Sorong to inspect the sites of the most violent protests.
Official said two rallies in the Nabire and Yahukimo areas of Papua were peaceful, the Kompas news site said.
In Jakarta, the capital, more than a hundred Papuan students marched from army headquarters to the gates of the presidential palace, shouting pro-independence slogans demanding "Referendum for Papua" or "Freedom for Papua".
Some held posters demanding the right to self-determination and an end to racism and colonialism in West Papua.
Papuan students also held a smaller protest in the nearby city of Bogor.
A separatist movement has simmered in Papua for decades, with frequent complaints of rights abuses by security forces, but the recent anger appears to be linked to racist slurs against Papuan students who were detained last week.
The students were arrested and teargassed in a dormitory in the city of Surabaya in East Java after being accused of disrespecting the Indonesian flag during an Independence Day celebration.
President Joko Widodo has urged the army and police chiefs to act against officers who behaved in a "racist manner" towards students, his chief of staff told news channel CNN Indonesia.
Police have arrested 34 people in Timika, where thousands of protesters threw rocks at a parliament building, houses, shops and a hotel on Wednesday, police said. They accuse 13 of being members of a pro-Papua independence separatist group.
Papua and West Papua provinces, the resource-rich western part of the island of New Guinea, were a Dutch colony that was incorporated into Indonesia after a widely criticised U.N.-backed referendum in 1969.
Widodo has sought to ease tension and improve welfare by building infrastructure in the provinces.
He has visited the restive region more often than any of his predecessors, and plans to open a new bridge next month in Jayapura, the capital of Papua province, his secretariat said.