Gempa Rusak Pura Hindu dan Sejumlah Rumah di Bali
Buildings Damaged as Earthquake Shakes Bali in Indonesia
Editor : M. Achsan Atjo
Translator : Dhelia Gani

PUBLISHED: Selasa, 16 Juli 2019 , 18:34:00 WIB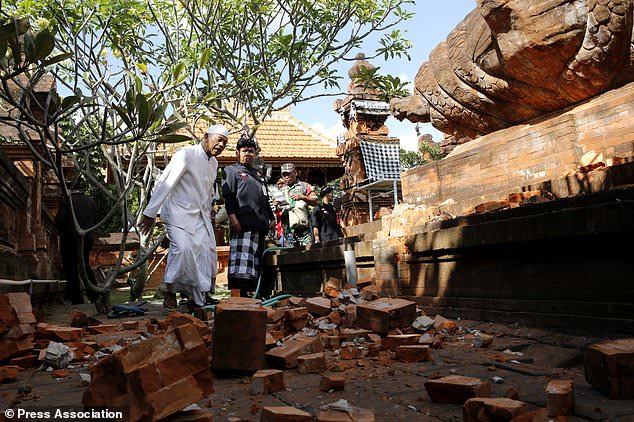 Badan Nasional Penanggulangan Bencana [BNPB] mengunggah sejumlah foto di akun Twitter-nya yang memperlihatkan pura Hindu yang rusak di Bali [Foto: Press Association/MailOnline]
GEMPA BUMI bawah laut melanda Bali, Lombok dan Jawa Timur, mengakibatkan kerusakan pada rumah dan pura Hindu, kata otoritas yang berwenang.
Badan Metrologi, Klimatologi dan Geofisika [BMKG] menyatakan gempa bumi tersebut tidak berpotensi mengakibatkan tsunami.
Sementara Badan Survei Geologi AS mengatakan gempa berkekuatan 5,7 skala Richter itu berpusat 82 km ke barat daya Denpasar di Bali pada kedalaman 91 kilometer.
Badan Nasional Penanggulangan Bencana [BNPB] mengunggah sejumlah foto di akun Twitter-nya yang memperlihatkan pura Hindu yang rusak di Bali dan sejumlah rumah yang rusak di Banyuwangi di Jawa Timur.
RS Sanglah, rumah sakit utama di Denpasar mengevakuasi pasien, beberapa di antaranya harus diinfus, ke halaman rumah sakit, seperti ditayangkan di televisi. Banyak siswa sekolah dan tamu hotel juga dievakuasi.
"Sambil sarapan, tiba-tiba segala sesuatu di ruangan itu berayun sangat kuat," kata George Stephen, seorang warga Australia yang berlibur di daerah Kuta Bali.
Dia mengatakan para tamu melarikan diri dari hotel dengan panik tetapi kembali setelah sekitar 15 menit.
Gempa pada Minggu di provinsi Maluku Utara menewaskan dua orang dan merusak puluhan rumah.
Indonesia, yang dihuni lebih dari 260 juta penduduk, rentan terhadap gempa bumi dan letusan gunung berapi karena lokasinya berada di 'Cincin Api' Pasifik.
Gempa dan tsunami Samudra Hindia yang kuat pada 2004 menewaskan 230.000 orang di banyak negara, korban jiwa terbesar adalah di Provinsi Aceh seperti dikutip Press Association yang dilansir MailOnline.
A SUB-SEA EARTHQUAKE has hit Bali, Lombok and East Java, causing damage to homes and temples, Indonesian authorities said.
The geophysics agency said the quake did not have the potential to cause a tsunami.
The US Geological Survey said the magnitude 5.7 quake was centred 82 kilometres (51 miles) to the south-west of Denpasar on Bali at a depth of 91 kilometres (57 miles).
The national disaster agency posted photos on its Twitter account showing a damaged Hindu temple in Bali and a damaged house in Banyuwangi in East Java.
The main hospital in Denpasar evacuated patients, some attached to intravenous drips, to the hospital grounds, television footage showed. Numerous schools and hotels were also evacuated.
"While having breakfast, suddenly everything in the room swayed very strongly," said George Stephen, an Australian holidaying in Bali's Kuta area.
He said guests fled the hotel in panic but returned after about 15 minutes.
A quake on Sunday in North Maluku province killed two people and damaged dozens of homes.
Indonesia, home to more than 260 million people, is prone to earthquakes and volcanic eruptions due to its location on what is known as the Pacific "Ring of Fire".
A powerful Indian Ocean quake and tsunami in 2004 killed 230,000 people in a dozen countries, most of them in Indonesia.