131 Tewas, Korban Jiwa Gempa Lombok Diperkirakan Meningkat
Hunt on for Survivors as Indonesia`s Quake Toll Climbs to 131
Editor : Ismail Gani
Translator : Novita Cahyadi

PUBLISHED: Rabu, 08 Agustus 2018 , 18:48:00 WIB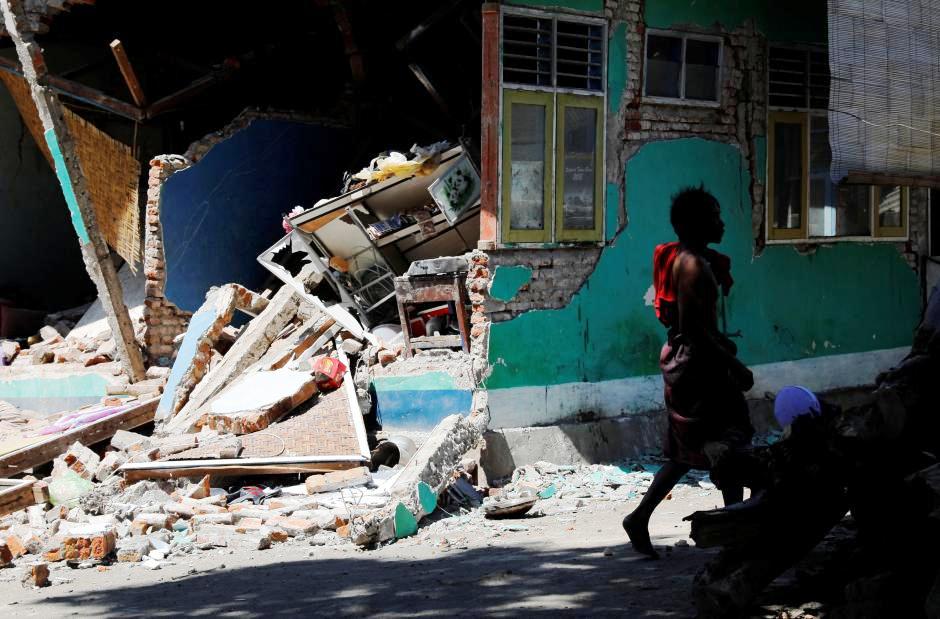 Foto: Reuters
JUMLAH KORBAN tewas akibat gempa kuat akhir pekan lalu di pulau Lombok di Indonesia bertambah menjadi 131 pada Rabu, setelah tim penyelamat menemukan lebih banyak warga tewas tertimbun reruntuhan bangunan, meskipun beberapa korban masih ada harapan hidup untuk diselamatkan.

"Kami tidak tahu pasti berapa banyak orang yang hidup di bawah reruntuhan," kata Sutopo Purwo Nugroho, juru bicara Badan Nasional Penanggulangan Bencana (BNPB) kepada pers di Jakarta.

"Ada laporan ... bahwa ada orang-orang yang tertimbun hidup-hidup, ini adalah waktu yang kritis untuk evakuasi segera," tambahnya, tanpa memberikan rincian.

BNPB sebelumnya telah menempatkan jumlah korban tewas mencapai 105, termasuk dua korban di Bali, yang juga merasakan gempa berkekuatan 6,9 skala Richter. Sutopo mengatakan, angka itu akan meningkat lebih jauh.

Lombok dihantam gempa berkekuatan 6,4 skala Richter pada 29 Juli yang menewaskan 17 orang dan mengakibatkan beberapa ratus pendaki gunung terdampar di lereng Gunung Rinjani.

Indonesia berada di Cincin Api Pasifik dan sering dilanda gempa bumi. Pada 2004, tsunami di Samudra Hindia menewaskan 226.000 orang di 13 negara, termasuk lebih dari 120.000 di Provinsi Aceh.

Seorang wanita diselamatkan hidup-hidup pada Selasa dari bawah toko kelontong yang hancur di pedesaan utara dari Lombok, dekat episentrum gempa pada Minggu.

Tim penyelamat menggali melalui puing-puing masjid pada Rabu, berharap untuk menyelamatkan bibi dari juara dunia lari yang menjadi kebanggaan Indonesia pada Juli lalu di kejuaraan atletik junior dunia di Finlandia.

Salama, 52, sedang berada di masjid di desa Karangpangsor ketika gempa terjadi. Dia adalah bibi dari Lalu Muhammad Zohri, yang lebih dari setahun yang lalu hampir tidak mampu membeli sepatu dan hampir tidak dikenal di luar desanya.

Atlet berusia 18 tahun mendadak kondang ke seluruh Indonesia pada Juli lalu, ketika dia memenangkan emas 100 meter di Kejuaraan Dunia Junior di Tampere, Finlandia. Sekarang dia membawa harapan Indonesia di Asian Games yang akan diselenggarakan di Jakarta mulai 18 Agustus mendatang.

Dia tinggal dua rumah dari rumah bibinya.

Tim penyelamat menggunakan penggali mekanis untuk membersihkan tumpukan batang logam dan beton di samping kubah hijau yang masih utuh di masjid, tetapi tidak ada tanda-tanda bahwa wanita itu hidup dan kerabatnya tampak kehilangan harapan.

"Mudah-mudahan, sekarang, dengan kedatangan alat berat, kita bisa menyelamatkan korban," kata Husni, anggota keluarga lain seperti dikutip Reuters yang dilansir MailOnline.
THE DEATH toll from last weekend´s powerful earthquake on Indonesia´s Lombok island rose to 131 on Wednesday as rescuers found more people crushed under collapsed buildings, though some still held out hope of finding survivors.

"We don´t know for sure how many people are alive under the rubble," Sutopo Purwo Nugroho, the spokesman for Indonesia´s disaster mitigation agency (BNPB) told reporters in Jakarta.

"There are reports ... that there are people buried alive, it is a critical time for immediate evacuation," he added, without giving details.

BNPB had previously put the number of dead at 105, including two on the western neighbouring island of Bali, which also felt the 6.9 magnitude quake. Sutopo said the figure would rise still further.

Lombok had already been hit by a 6.4 magnitude earthquake on July 29 that killed 17 people and briefly stranded several hundred trekkers on the slopes of a volcano.

Indonesia sits on the Pacific Ring of Fire and is regularly hit by earthquakes. In 2004, the Indian Ocean tsunami killed 226,000 people in 13 countries, including more than 120,000 in Indonesia.

A woman was pulled alive on Tuesday from under a grocery store that fell apart in the rural north of the tropical holiday island, near the epicentre of Sunday´s quake.

Rescuers dug through the rubble of a mosque on Wednesday, hoping to reach the aunt of a sprinter who became a national hero last month at the under-20 world championships in Finland.

Salama, 52, was at a prayer class in the Karangpangsor village mosque when the quake struck. She is an aunt by marriage of Lalu Muhammad Zohri, who just over a year ago could barely afford running shoes and was hardly known outside his village.

The 18-year-old became a household name almost overnight in July, when he won the 100 metres gold at the World Junior Championships in Tampere, Finland. Now he carries the hopes of Indonesia at the Asian Games that the Southeast Asian nation is preparing to host in the next few weeks.

He lives two doors away from his aunt´s home.

Rescuers used a mechanical digger to clear a jumble of metal rods and concrete beside the still-intact green dome of the mosque, but there were no signs that the woman was alive and relatives appeared to have lost hope.

"Hopefully, now, with the arrival of heavy equipment, we can get her remains back," said Husni, another family member.