Tim SAR Harapkan Keajaiban dari Tambang Emas Longsor Bolaang Mongondow
Rescuers Hope for Miracle as Indonesia Mine Goes Silent
Editor : Ismail Gani
Translator : Novita Cahyadi

PUBLISHED: Minggu, 03 Maret 2019 , 18:54:00 WIB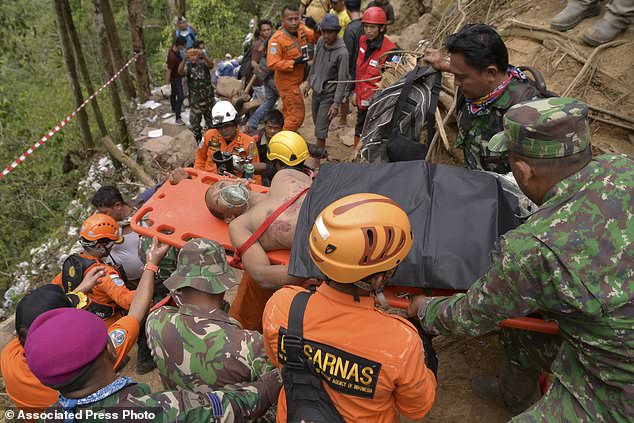 Foto: Associated Press/MailOnline
UPAYA penyelamatan korban longsor di tambang emas di Bolaang Mongondow, Provinsi Sulawesi Utara berlangsung dramatis, tim penyelamat mengatakan bahwa suara puluhan penumpang yang terperangkap di dalam tambang tidak lagi terdengar setelah upaya penyelamatan memasuki hari keempat, Sabtu.
Tim penyelamat saat ini tidak memasuki tambang di Kabupaten Bolaang Mongondow, sementara excavator dan alat berat lainnya masih dikerahkan untuk mendukung upaya evakuasi korban, kata bdul Muin Paputungan, pejabat Badan Nasional Penanggulangan Bencana (BNPB) Bolaang Mongondow.
Tak ada lagi korban longsor yang berhasil diselamatkan dari tambang emas di lokasi terpencil yang berada di medan curam sejak Jumat, korban tewas mencapai delapan orang dan 20 orang berhasil diselamatkan. Pihak berwenang meyakini belasan penambang emas masih terjebak di dalam tambang.
"Sejak kemarin kami tidak mendengar lagi suara-suara dari dalam. Pada hari keempat ini tanda-tanda kehidupan memudar," kata Paputungan. "Tapi kami masih mencoba menyelamatkan mereka meskipun saat ini sepertinya suatu keajaiban jika mereka bisa selamat."
Dia mengatakan menggunakan excavator adalah upaya genting yang membutuhkan tingkat kehati-hatian yang tinggi untuk mencegah tanah longsor baru di tambang atau ekskavator itu sendiri jatuh ke jurang. Lebih dari 200 orang dari berbagai lembaga terlibat dalam penyelamatan.
Tambang ilegal tersebut runtuh pada Selasa malam karena tanah yang bergeser dan banyaknya lubang penambangan. Operasi penambangan ilegal adalah hal biasa di Indonesia, memberikan mata pencaharian yang lemah bagi ribuan orang yang bekerja dalam kondisi dengan risiko tinggi cedera serius atau kematian.
Survivor Denni Mamonto, dirawat di sebuah rumah sakit di Mobagu, mengatakan Jumat bahwa ia bekerja di tambang dengan sekelompok teman ketika tambang runtuh tanpa peringatan dan batu-batu besar jatuh di atasnya seperti dikutip Associated Press yang dilansir MailOnline.
"Kaki terjepit, saya dibantu oleh dua orang lain dan kemudian tiga orang membantu saya mengangkat batu dari kaki saya, kemudian orang lain dari atas membantu saya keluar," katanya. "Tapi teman-temanku tidak berhasil, mereka yang bekerja sama denganku."
AN OFFICIAL overseeing a grueling rescue at a collapsed Indonesian gold mine said that the voices of dozens of trapped miners are no longer being heard as the effort to reach them continued for a fourth day Saturday.
Rescuers are currently not entering the mine in North Sulawesi´s Bolaang Mongondow district while an excavator and other heavy equipment are working on it, Abdul Muin Paputungan said.
No one has been saved from remote mine located in steep terrain since Friday when the death toll stood at eight with 20 people rescued. Authorities believe about three dozen miners remain trapped.
"Since yesterday we have heard no more voices from inside. On this fourth day the signs of life faded away," said Paputungan. "But we still try to save them even though at the moment it seems like a miracle if they can survive."
He said using the excavator is a precarious effort that requires a high level of caution to prevent new landslides in the mine or the excavator itself toppling into a ravine. More than 200 people from various agencies are involved in the rescue.
The unlicensed mine collapsed Tuesday evening due to shifting soil and the large number of mining holes. Informal mining operations are commonplace in Indonesia, providing a tenuous livelihood to thousands who labor in conditions with a high risk of serious injury or death.
Survivor Denni Mamonto, being treated at a hospital in Mobagu, said Friday that he was working in the mine with a group of friends when the roof collapsed without warning and large rocks tumbled down on them.
"My leg was stuck, I was helped by two others and then three helped me lift the rocks off my feet, then another person from above helped me out," he said. "But my friends didn´t make it, those who work together with me."