51% Saham Freeport, Inalum Targetkan Lunas Desember 2018
Indonesia Targets Closure of Freeport Deal in December -Official
Editor : Ismail Gani
Translator : Novita Cahyadi

PUBLISHED: Rabu, 17 Oktober 2018 , 19:02:00 WIB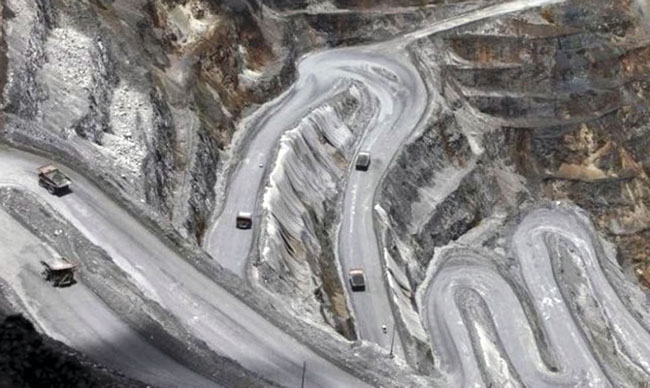 Foto: Reuters
BUMN pertambangan, PT Indonesia Asaham Alumunium (Inalum) menyatakan optimistis terhadap penyelesaian pembelian saham PT Freeport Indonesia senilai US$3,85 miliar untuk menguasai saham milik pertambangan global Freeport McMoran Inc di Indonesia pada Desember 2018.
Dari pembelian saham tersebut, Inalum akan menguasai 51,23% saham di PT Freeport Indonesia, diperkirakan akan mengakhiri lebih dari sembilan tahun upaya Indonesia untuk menguasai mayoritas saham Freeport untuk Grasberg, tambang tembaga terbesar kedua di dunia.
Namun, transaksi yang direncanakan masih harus tunduk pada masalah rekomendasi lingkungan dan izin pertambangan khusus (IUPK) oleh pemerintah Indonesia, kata Direktur Utama Inalum Budi Gunadi Sadikin di gedung DPR Jakarta, Rabu (17/10).
"(Freeport Indonesia) terus memimpin diskusi dengan Kementerian Lingkungan Hidup dan Kehutanan," kata Sadikin. "Kami berharap ini dapat diselesaikan secepat mungkin."
Laporan tahun 2017 oleh Badan Pemeriksa Keuangan Indonesia (BPK) mengacu pada perkiraan bahwa operasi Freeport selama puluhan tahun pada pertambangan di Provinsi Papua mengakibatkan kerusakan lingkungan senilai US$13,25 miliar.
Kerusakan itu, katanya, sebagian besar merupakan hasil dari tailing dari tambang yang telah melampaui batas yang disetujui sebelumnya dan yang telah mencemari kawasan pesisir.
Pada April, dalam tindak lanjut audit, Menteri LHK mengeluarkan dua keputusan yang memberi kesempatan Freeport enam bulan untuk merombak pengelolaan tailing dari Grasberg. Salah satu keputusan mengatakan Freeport akan dilarang melakukan kegiatan apa pun di wilayah yang tidak memiliki izin lingkungan.
Hal-hal ini telah memperumit masalah izin pertambangan baru untuk Grasberg, yang akan dipegang oleh Inalum.
Direktur Eksekutif Freeport Indonesia Tony Wenas mengatakan bahwa perusahaannya sepenuhnya sesuai dengan peraturan dampak lingkungan Indonesia. Freeport berharap "dalam waktu dekat Kementerian Lingkungan Hidup dan Kehutanan mengeluarkan kebijakan" terkait dengan Grasberg, katanya.
"Kami sedang membahas beberapa opsi," kata Wenas, mengacu pada kemungkinan mengurangi sedimen tailing, metode untuk pembuangan tailing dan perluasan lahan basah bakau, di antara opsi lainnya.
Bulan lalu, Freeport dan mitra pertambangan Grasbergnya, Rio Tinto, mencapai kesepakatan mengikat untuk menjual saham mayoritas di Grasberg kepada Inalum.
Saat itu, kata Budi transaksi akan berakhir pada November seperti dikutip Reuters yang dilansir MailOnline.
INDONESIA´S state-owned miner Inalum is looking to finalise a $3.85 deal for majority control of the local unit of global mining giant Freeport McMoRan Inc in December, a company official said on Wednesday.
The deal, in which Inalum will control a 51.23 percent stake in PT Freeport Indonesia, is expected to end more than nine years of wrangling between Freeport and Indonesia over ownership rights to Grasberg, the world´s second-biggest copper mine.
However, the planned transactions are still subject to the issue of environmental recommendations and a special mining permit (IUPK) by the Indonesian government, Inalum Chief Executive Budi Gunadi Sadikin told parliament.
"(Freeport Indonesia) is continuing to lead discussions with the Environment and Forestry Ministry," Sadikin said. "We hope this can be completed as quickly as possible."
A 2017 report by Indonesia´s Supreme Audit Agency (BPK) referred to an estimate that Freeport´s decades-long operations at the mine in Indonesia´s remote easternmost province of Papua had caused environmental damage worth $13.25 billion.
That damage, it said, was largely a result of tailings from the mine that had extended beyond previously agreed limits and which had polluted coastal areas.
In April, in follow-up action to the audit, the environment minister issued two decrees that gave Freeport six months to overhaul the management of tailings from Grasberg. One of the decrees said Freeport would be barred from any activities in areas that lack environmental permits.
These matters have complicated the issue of a new mining permit for Grasberg, which would be held by Inalum.
Freeport Indonesia Executive Director Tony Wenas said his company was fully compliant with Indonesian environmental impact rules. Freeport hoped "in the near future the Environment and Forestry Ministry issues a policy" related to Grasberg, he said.
"We are discussing several options," Wenas said, referring to the possibility of reducing tailings sediment, methods for tailings removal and expansion of mangrove wetlands, among other options.
Last month, Freeport and its Grasberg mining partner Rio Tinto struck a binding accord to sell a majority stake in Grasberg to Inalum.
At that time, Sadikin said the transactions would be concluded in November.