Tangkal Corona, Gapki Desak Perkebunan Sawit Perketat Prokes Covid-19
Indonesian Palm Plantations Urged to Tighten COVID-19 Curbs as Infections Climb
Editor : Ismail Gani
Translator : Novita Cahyadi

PUBLISHED: Kamis, 10 Juni 2021 , 19:19:00 WIB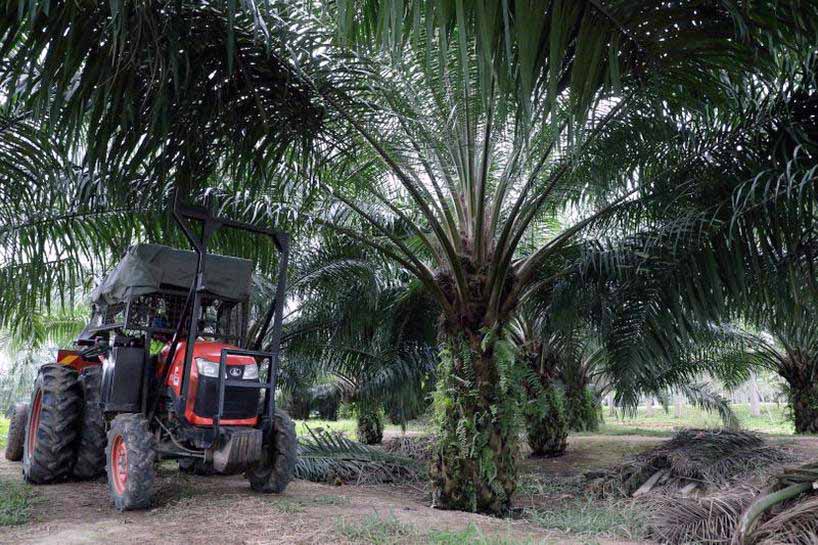 PRODUSEN UTAMA: Riau menyumbang 3,38 juta hektar atau sekitar seperlima dari 16,38 juta hektar total luas perkebunan kelapa sawit di Indonesia [Foto: Reuters]
GABUNGAN Pengusaha Kelapa Sawit Indonesia [Gapki] mendesak perkebunan kelapa sawit untuk memperketat Protokol Covid-19 di Provinsi Riau. Desakan itu muncul setelah adanya lonjakan kasus baru di salah satu daerah penghasil minyak sawit terbesar di Indonesia.
Indonesia adalah produsen minyak sawit terbesar di dunia. Minyak nabati itu digunakan sebagai bahan baku dalam banyak produk konsumen, mulai dari sabun hingga es krim dan bahan bakar. Nilai ekspor produk minyak sawit nasional pada 2020 diperkirakan mencapai US$23 miliar.
Riau menyumbang 3,38 juta hektar atau sekitar seperlima dari 16,38 juta hektar total luas perkebunan kelapa sawit di Indonesia.
Riau mengalami lonjakan infeksi virus corona dalam beberapa pekan terakhir dengan mencatatkan rata-rata kasus harian sekitar 522 kasus sejak 16 Mei 2021 dan menjadi salah satu provinsi yang dilanda Covid-19 yang paling parah.
Ada peningkatan kasus di [perkebunan sawit] ini dengan protokol longgar, meskipun beroperasi secara normal," kata Jatmiko K Sentosa, Ketua Gapki cabang Riau kepada Reuters, Kamis [10/6] seperti dilansir MailOnline.
Menurut Jatmiko, beberapa perkebunan telah mengadopsi langkah-langkah protokol Kesehatan sejak awal pandemic, termasuk pengujian Covid-19 dan tidak mengizinkan pekerja meninggalkan perkebunan. Namun aturan tersebut tidak selalu menjadi standar atau ditegakkan dengan cara yang sama.
"Dengan meningkatnya kasus, kami menyusun dan memberikan rujukan protokol kesehatan terperinci, yang akan kami imbau untuk semua anggota untuk merujuk," katanya, seraya mencatat tindakan seperti itu seharusnya tidak memengaruhi hasil perkebunan.
Jatmiko mengatakan, kenaikan harga sawit telah mendorong petani untuk meningkatkan produksi. Dengan kondisi ini makin penting untuk menghindari lonjakan kasus.
"Kalau karyawan terpapar, produksi terganggu, mereka tidak bisa memanfaatkan momen harga bagus ini," katanya.
Wildan Asfan Hasibuan, ahli epidemiologi yang menjadi Penasihat Gugus Tugas Covid-19 Riau, mengatakan wabah di perkebunan seharusnya lebih mudah dikendalikan daripada di daerah perkotaan.
"Masalah terbesar kami adalah di kota-kota.... di pedesaan relatif lebih aman," katanya.
Indonesia mencatatkan wabah virus corona terburuk di Asia Tenggara dengan melaporkan 1,87 juta infeksi dan 51.992 kematian. Pada Rabu [9/6], Indonesia mencatat kenaikan kasus Covid-19 harian tertinggi sejak 26 Februari 2021.
THE INDONESIAN palm oil association (GAPKI) is urging palm oil plantations to tighten COVID-19 protocols in the country's top-producing province of Riau after a surge in infections in the area, an official at the industry body said.
The Southeast Asian country is the world´s top producer of palm oil used in everything from soap to ice cream and fuel with exports in 2020 estimated at about $23 billion.
Riau is located on Sumatra island and accounts for 3.38 million hectares (8.35 million acres), or about a fifth of the country's 16.38 million hectares of palm oil plantations.
The province has seen a surge in coronavirus infections in recent weeks, reporting an average of around 522 cases per day since May 16, and ranking among the worst-hit provinces.
"There has been an increase in cases in these (palm plantations) with loose protocols, though they are operating normally," Jatmiko K. Sentosa, head of GAPKI's Riau chapter, told Reuters.
Some plantations had already adopted measures since the beginning of the pandemic including COVID-19 testing and not allowing workers to leave the plantation, but they were not always standardised or enforced in the same way, Jatmiko said.
"With cases increasing, we are compiling and providing detailed health protocol referrals, which we will urge all members to refer to," he said, noting such measures should not affect the output of plantations.
Farmers had been encouraged by high palm oil prices to ramp up production, making it more crucial to avoid a spike in infections, Jatmiko said.
"If employees are exposed, production is disrupted, they cannot take advantage of this good price moment," he said.
Wildan Asfan Hasibuan, an epidemiologist advising the Riau COVID-19 task force, said outbreaks in plantations should be easier to contain than in urban areas.
"Our biggest problem is in the cities.... in rural areas it's relatively safer," he said.
Indonesia has suffered the worst coronavirus outbreak in Southeast Asia, reporting 1.87 million infections and 51,992 deaths. On Wednesday, it recorded the highest daily rise in cases since Feb. 26.