Puluhan Balita Tewas Akibat Malnutrisi di Papua Disorot Media Asing
Dozens of Toddlers Die from Malnutrition, Measles in Papua
Editor : Ismail Gani
Translator : Novita Cahyadi

PUBLISHED: Rabu, 17 Januari 2018 , 19:23:00 WIB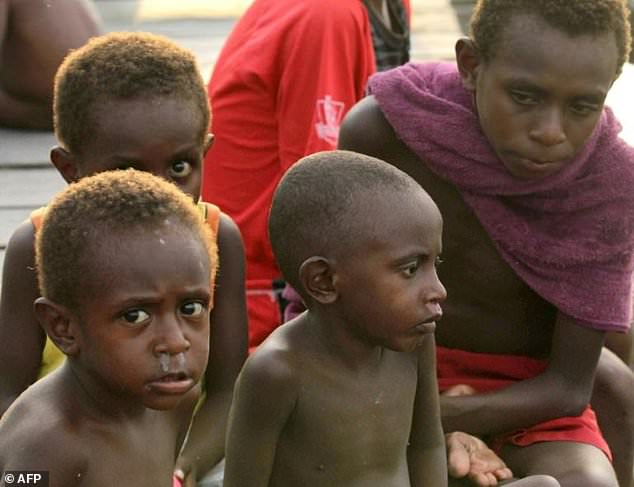 Foto: AFP/MailOnline
PULUHAN balita di Papua meninggal dunia karena kekurangan gizi dan mengidap campak selama beberapa bulan terakhir, jadi sorotan media asing yang menyoroti akses dan minimnya fasilitas kesehatan publik di provinsi paling timur tersebut.

AFP menyebut tingginya jumlah kematian tersebut terjadi setelah Joko Widodo dilantik pada 2014 dan berjanji untuk meningkatkan infrastruktur di provinsi yang bertetangga dengan Papua Nugini.

Sedikitnya 59 balita meninggal karena komplikasi campak dan kekurangan gizi di wilayah suku Asmat yang terpencil, sangat minim dokter, kata Kapendam XVII/Cenderawasih Kolonel Inf Muhammad Aidi Nubic.

"Kami menerima laporan dari otoritas kesehatan setempat tentang" kematian ini, katanya kepada AFP.

"Kami belum tahu pasti apakah kekurangan gizi itu disebabkan oleh kekurangan makanan atau kurang pengetahuan orang tua tentang makanan sehat."

Merespons hal itu, militer telah menempatkan tim medis dan staf pendukung untuk memasok penduduk desa dengan obat-obatan, vaksin, peralatan medis dan makanan bergizi, kata Aidi.

Sekitar 129.000 orang tinggal di Asmat, sebuah daerah rawa yang rindang oleh sungai yang hanya bisa diakses dengan pesawat terbang dari ibu kota Papua di Jayapura maupun dengan helikopter dan kapal.

"Wilayah ini terpencil dari daerah lain di Papua karena minim infrastruktur," kata Aidi.

Papua yang kaya sumber daya alam bergabung dengan RI pada dekade 1960an, namun aksi separatis masih berlangsung selama beberapa dekade seperti dikutip AFP yang dilansir MailOnline.
DOZENS of toddlers in Indonesia's easternmost Papua province have died from malnutrition and measles over the past few months, a military spokesman said Tuesday, underscoring a lack of accessible medical care in the remote region.

The high number of deaths comes after President Joko Widodo vowed in 2014 to beef up infrastructure on the island that is shared with Papua New Guinea.

At least 59 toddlers have died from a combination of measles and malnutrition in the remote Asmat region, which has a severe shortage of doctors, said Papua military spokesman Muhammad Aidi.

"We received reports from the local health officials about" these deaths, he told AFP.

"We don't know for sure yet whether the malnutrition was caused by lack of food or by the parent's lack of knowledge regarding healthy food."

In response, the military has deployed medical teams and support staff to supply villagers with medicine, vaccines, medical equipment and nutritious food, Aidi added.

About 129,000 people live in Asmat, a swampy region cris-crossed by rivers that can only be accessed by a flight from Papua's capital Jayapura followed by a helicopter and boat ride.

"The region is disconnected from other parts of Papua because of a lack of infrastructure," Aidi said.

Indonesia annexed resource-rich Papua in the 1960s, but it remains poor with a low-level separatist insurgency carrying on for decades.