Tewas 2.065 dan 5.000 Hilang, Evakuasi Korban Gempa Tsunami Palu Distop
Indonesia Calls Off its Search for Tsunami-quake Victims with 5,000 People Still Missing
Editor : Ismail Gani
Translator : Novita Cahyadi

PUBLISHED: Kamis, 11 Oktober 2018 , 19:51:00 WIB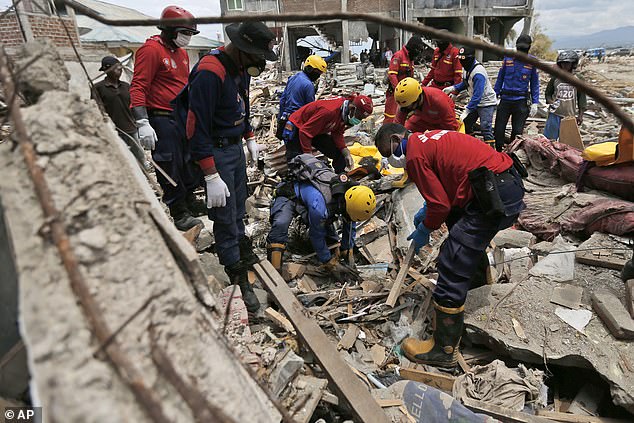 Foto: AP/MailOnline
PENCARIAN bagi mereka yang tewas dalam bencana gempa tsunami bulan lalu di Palu Sigi dan Donggala dihentikan mulai hari ini, Kamis (11/10), meskipun diperkirakan 5.000 orang masih dinyatakan hilang.
Gempa berkekuatan 7,5 dan disusul tsunami yang menghantam pesisir kota Palu, ibukota Provinsi Sulawesi Tengah pada 28 September lalu.
Lebih dari 2.000 mayat telah ditemukan sejak bencana ganda tersebut, yang juga meratakan kota nelayan Donggala.
Namun pihak berwenang khawatir setidaknya jumlah korban hilang dua kali dari jumlah korban tewas masih terkubur di bawah reruntuhan dan puing-puing kota, termasuk sebuah desa yang disapu tsunami.
Tim pencari dan penyelamat (SAR) berjuang keras untuk menemukan korban tewas di bawah reruntuhan, upaya tersebut semakin berat lantaran lumpur mengeras dan jasad membusuk di tengah musim kemarau.
"Operasi pencarian dan penyelamatan (SAR) untuk para korban akan berakhir Kamis sore ini," kata direktur lapangan SAR di Palu, Bambang Suryo.
Pemerintah sebelumnya mengindikasikan daerah-daerah yang terkena bencana akan dibiarkan tak tersentuh sebagai kuburan massal.
Taman dan monumen direncanakan di tiga daerah yang paling parah terkena - Balaroa, Petobo dan Jono Oge - untuk mengenang ribuan orang mati yang tidak akan pernah ditemukan.
Zona-zona itu semuanya dihancurkan oleh likuifaksi, sebuah fenomena di mana kekuatan kasar gempa mengubah tanah menjadi pasir apung.
Bantuan kemanusiaan telah mengalir ke kota yang dilanda bencana tetapi upaya evakuasi dikritik karena bergerak terlalu lambat.
Beberapa regu penyelamat asing dicegah untuk segera dikerahkan ke lapangan guna membantu pencarian korban yang tewas dan hilang.
PBB mengatakan 200.000 orang sangat membutuhkan bantuan kemanusiaan di Palu, khususnya air minum dan pasokan medis masih kurang.
Diperkirakan 80.000 orang mengungsi akibat bencana itu, banyak yang memilih mengungsi di tenda di luar rumah mereka yang hancur seperti dilansir MailOnline.
THE SEARCH for those killed in last month´s tsunami-quake disaster in Indonesia was called off today, despite there being around 5,000 people unaccounted for.
The magnitude 7.5-quake and a subsequent tsunami razed whole swathes of the coastal city of Palu on Sulawesi Island to the ground on September 28.
More than 2,000 bodies have been recovered since the twin disaster, which also flattened the fishing city of Donggala.
But authorities fear at least twice that number could be buried beneath the ruble of the ruined cities, where entire villages were swallowed.
Rescuers had struggled to find remains in the twisted wreckage, a job made worse as mud hardened and bodies decomposed in the tropical heat.
´The search and rescue (SAR) operation for the victims will end this Thursday afternoon,´ said SAR field director in Palu, Bambang Suryo.
The government earlier indicated these hard-hit areas would be left untouched as mass graves.
Parks and monuments are planned at three of these worst-hit areas - Balaroa, Petobo and Jono Oge - to commemorate the possibly thousands of dead who will never found.
Those zones were all but destroyed by liquefaction, a phenomenon where the brute force of a quake turns soil to quicksand.
Humanitarian assistance has poured into the disaster-ravaged city but the recovery effort has been criticised for moving too slowly.
Some foreign rescue teams were prevented from deploying quickly to the ground to assist in the search for the dead and missing.
The UN says 200,000 people are in dire need of humanitarian assistance in Palu, with clean drinking water and medical supplies still in short supply.
An estimated 80,000 people were displaced by the disaster, many squatting in tents outside their destroyed homes.