280 Tewas akibat Tsunami Selat Sunda Hantam Banten dan Lampung
Hunt for Survivors as Indonesian Tsunami Death Toll Tops 280
Editor : Ismail Gani
Translator : Novita Cahyadi

PUBLISHED: Senin, 24 Desember 2018 , 19:56:00 WIB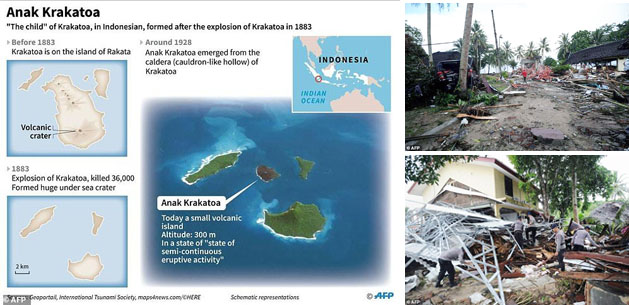 Foto: AFP/MailOnline
TIM SAR berpacu dengan waktu mencari korban selamat hari ini, akibat Tsunami Selat Sunda pada Sabtu malam yang diduga menewaskan sedikitnya 281 orang, dan para pakar geologi memperingatkan kawasan yang hancur itu bisa dihantam oleh gelombang yang lebih mematikan.
Tim penyelamat menggunakan tangan kosong, cangkul, dan peralatan berat lainnya untuk evakuasi korban selamat maupun tewas dari reruntuhan, sementara ribuan warga yang selamat mengungsi ke tempat yang lebih tinggi.
Tsunami yang dahsyat menghantam tanpa peringatan pada Sabtu malam, menyapu pantai-pantai wisata di Lampung dan ujung barat Pulau Jawa dan mengakibatkan kerusakan hotel-hotel wisata dan pemukiman warga di pesisir pantai.
Lebih dari 1.000 orang terluka dan korban jiwa "akan terus meningkat", kata Juru Bicara badan Nasional Penanggulangan Bencana (BNPB) Sutopo Purwo Nugroho.
Ratusan bangunan porak-poranda dihantam gelombang tsunami yang mengakibatkan kerusakan di pantai Carita, destinasi wisata pantai populer di pantai barat Jawa.
Pondok di tepi pantai di salah satu resort hotel rata dengan tanah sementara lantai ruang makan dipenuhi lumpur sementara kursi dan meja hancur berantakan, begitu pula peralatan makan berserakan.
"Militer dan polisi bekerja keras melakukan evakuasi di reruntuhan bangunan untuk mencari lebih banyak korban selamat," kata Dody Ruswandi, seorang pejabat senior di badan bencana, menambahkan bahwa upaya penyelamatan kemungkinan akan berlangsung selama sepekan.
Di desa Sukarame yang hancur, Sunarti mengarungi air sedalam lutut ketika dia mencari barang-barang di luar rumahnya yang hancur - dan menunggu bantuan datang.
"Sejauh ini tidak ada bantuan sama sekali," kata wanita 61 tahun kepada AFP di tengah desanya yang nyaris rata dengan tanah.
"Beberapa orang kelaparan."
Presiden RI Joko Widodo mengunjungi lokasi bencana pada Senin.
Itu adalah bencana alam besar ketiga yang menyerang Indonesia dalam enam bulan terakhir, setelah serangkaian gempa bumi dahsyat di Lombok, Nusa Tenggara Barat (NTB) pada Juli dan Agustus dan gempa-tsunami pada September yang menewaskan sekitar 2.200 orang di Palu dan Donggala di Sulawesi Tengah, dengan ribuan lainnya hilang dan diperkirakan tewas seperti dikutip AFP yang dilansir MailOnline.
Indonesia sebagai negara kepulauan yang luas adalah salah satu negara yang paling rawan bencana di Bumi karena posisinya berada di atas Cincin Api Pasifik, tempat lempeng tektonik bertabrakan.
INDONESIAN rescuers raced to find survivors Monday after a volcano-triggered tsunami killed at least 281 people, with experts warning the devastated region could be slammed by more deadly waves.
Rescue teams used their bare hands, diggers and other heavy equipment to haul debris from the stricken area around the Sunda Strait, as thousands were evacuated to higher ground.
The powerful tsunami struck without any warning on Saturday night, sweeping over popular beaches of southern Sumatra and the western tip of Java and inundating tourist hotels and coastal settlements.
More than 1,000 people were injured and the death toll "will continue to rise", said disaster agency spokesman Sutopo Purwo Nugroho.
Hundreds of buildings were destroyed by the wave that left a tangled mess of corrugated steel roofing, timber and rubble at Carita beach, a popular spot for day-trippers on the west coast of Java.
Beachside cottages at one resort were flattened while the dining room´s mud-caked floor was strewn with smashed chairs and tables, utensils and spilled cups of ice cream.
In the lobby, a Christmas tree remained standing, surrounded by fallen holiday ornaments and toppled-over flower pots.
"The military and police are searching the ruins to see if we can find more victims," said Dody Ruswandi, a senior official at the disaster agency, adding that the rescue effort was likely to last a week.
In devastated Sukarame village, Sunarti waded through knee-deep water as she searched for belongings outside her destroyed house -- and waited for aid to arrive.
"There´s been no help at all so far," the 61-year-told AFP from the flattened hamlet.
"Some people are starving."
Indonesian president Joko Widodo visited the area Monday.
It was the third major natural disaster to strike Indonesia in the space of six months, following a series of powerful earthquakes on the island of Lombok in July and August and a quake-tsunami in September that killed around 2,200 people in Palu on Sulawesi island, with thousands more missing and presumed dead.
The vast archipelago nation is one of the most disaster-prone nations on Earth due to its position straddling the so-called Pacific Ring of Fire, where tectonic plates collide.