Bencana Longsor Brebes, Ini Penuturan Petani yang Selamat
Hillside Crashes onto Indonesian Farmers; 5 Dead, 18 Missing
Editor : Ismail Gani
Translator : Novita Cahyadi

PUBLISHED: Jum'at, 23 Februari 2018 , 19:59:00 WIB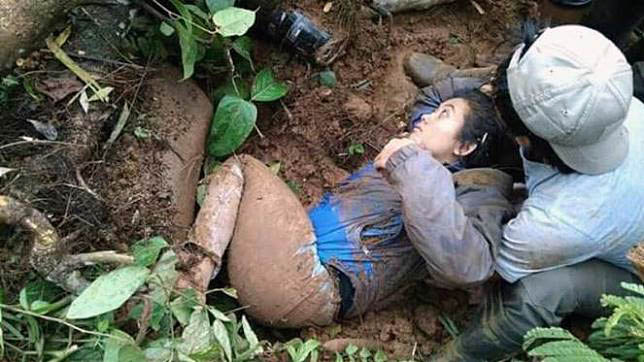 Foto: istimewa
PETANI yang sedang bekerja di sawah mereka di Kabupaten Brebes, Provinsi Jawa Tengah, ketika lereng bukit yang basah di atas mereka mengalami longsor akibat guyuran hujan lebat, menewaskan lima orang dan memaksa tim SAR harus bekerja keras mencari 18 orang hilang.

Korban selamat menggambarkan terdengar suara gemuruh saat terjadi longsor pada Kamis, menghantam pepohonan dan segala benda di depannya menuju sawah bertingkat di sawahnya.

"Bukit di atas kita tampak seperti berputar," kata Watirah, seorang petani berusia 53 tahun dari desa Pasir Panjang, yang dengan penduduk desa lainnya dari dusun yang terkena dampak di Kabupaten Brebes Jawa Tengah mencoba berlari lebih cepat menghindari tanah longsor.

"Saya mencoba untuk terus berlari, mencoba berdiri dan berteriak minta tolong sebelum jatuh lagi," kata Watirah, yang memakai satu nama. "Saya merasa tubuh saya sangat lemah sehingga saya tidak dapat berdiri, tapi tiga orang datang menyelamatkan saya," katanya. Suaminya, Minarto, yang sedang bekerja di lapangan terdekat, juga nyaris selamat.

Ratusan regu penyelamat termasuk tentara dan penduduk desa menggunakan tangan mereka yang telanjang dan alat pertanian untuk mencari korban yang terkubur di bawah lumpur dan tanah. Tim pencari dan penyelamat mengalami kesulitan untuk menemukan korban karena kondisi lumpur yang tidak stabil dan luasnya dampak tanah longsor.

"Alat berat tidak bisa digunakan," kata juru bicara Badan Penanggulangan Bencana Nasional (BNPB) Sutopo Purwo Nugroho.

Pejabat bencana setempat Eko Andalas mengatakan tanah longsor, yang dimulai di perbukitan di sekitar hutan merupakan bagian dari hutan tanaman industri, dipicu oleh hujan lebat.

Petugas bencana mendesak masyarakat untuk menjauh dari daerah tersebut karena risiko tanah longsor lanjutan.

Hujan musiman mengakibatkan banjir dan tanah longsor meluas di sebagian besar wilayah Indonesia, negara kepulauan yang memiliki lebih dari 17.000 pulau. Jutaan orang tinggal di daerah pegunungan dan di dataran banjir seperti dikutip Reuters yang dilansir MailOnline.
FARMERS WERE working in their rice paddies on the Indonesian island of Java, when the soggy hillside above them collapsed under the weight of torrential rains, killing five people and leaving rescuers digging for 18 missing.

Survivors described a sudden roar as Thursday´s landslide was unleashed, sweeping trees and everything else in its path toward the terraced rice fields below.

"The hill above us looked like it was spinning down," said Watirah, a 53-year-old farmer from Pasir Panjang village, who with other villagers from the affected hamlet in Central Java´s Brebes district tried to outrun the sliding earth.

"I tried to keep going, tried to stand up and screamed loudly for help before I fell again," said Watirah, who goes by a single name. "I felt my body was so weak I couldn´t stand up, but three people came to save me," she said. Her husband, Minarto, who was working in a nearby field, also narrowly survived.

Hundreds of rescuers including soldiers and villagers were using their bare hands and farm tools to search for victims buried beneath tons of mud and soil. The search and rescue team was having difficulty finding victims because of the unstable muddy conditions and width of the landslide.

"Heavy equipment cannot be used," said National Disaster Mitigation Agency spokesman Sutopo Purwo Nugroho.

Sutopo said 14 people were hospitalized with injuries. He said 18 others are missing based on reports from residents.

Local disaster official Eko Andalas said the landslide, which started in surrounding hills that are part of a forestry plantation, was triggered by torrential rains.

Disaster officials urged people to stay away from the area because of the risk of further landslides.

Seasonal rains cause widespread flooding and landslides across much of Indonesia, an archipelago of more than 17,000 islands. Millions of people live in mountainous regions and on flood plains.