Jenazah Berserakan di Pantai, Tsunami Palu Tewaskan 384 Orang
At Least 384 Dead in Indonesian Palu´s Tsunami
Editor : Ismail Gani
Translator : Novita Cahyadi

PUBLISHED: Sabtu, 29 September 2018 , 20:35:00 WIB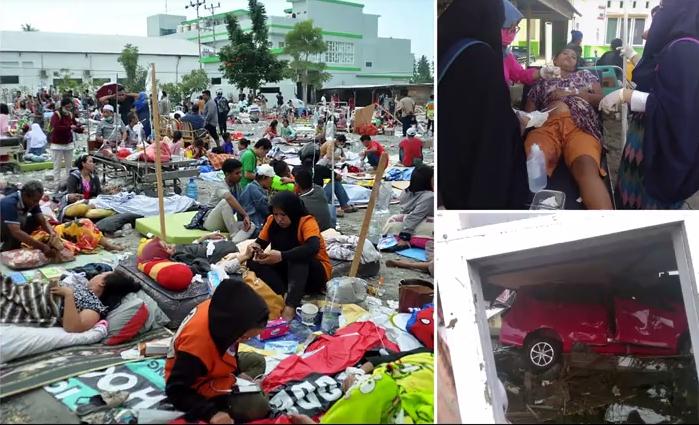 Jumlah korban tidak diragukan lagi meningkat karena faktanya ratusan orang berada di pantai Palu untuk menghadiri festival untuk merayakan ulang tahun kota itu, yang akan dimulai Jumat malam (Foto2: MailOnline)
SEDIKITNYA 384 orang dinyatakan tewas dan 540 orang terluka akibat diterjang tsunami, yang disebabkan oleh dua gempa bumi secara berurutan, merobek Cincin Api Pasifik dan menghantam provinsi kota pantai Indonesia pada Jumat.

Media massa cetak dan elektronik Indonesia, mengutip Badan Nasional Penanggulangan Bencana (BNPB) mengatakan pada Sabtu bahwa hampir 400 orang tewas di Kota Palu saja, ibukota Provinsi Sulawesi Tengah.

Ketakutan meningkat di kota nelayan Donggala, yang lebih dekat ke episentrum gempa, tetapi petugas SAR dikabarkan belum mampu menjangkau.

Kota Mamuju, Provinsi Sulawesi Barat juga terkena dampak yang parah, tetapi saat ini tidak dapat diakses karena jalan rusak dan telekomunikasi terganggu.

Banyak dari mereka yang tewas di Palu disapu oleh gelombang raksasa setinggi lebih dari tiga meter ketika warga kota tengah berwisata tepi pantai di kota tersebut.

Jumlah korban tidak diragukan lagi meningkat karena faktanya ratusan orang berada di pantai Palu untuk menghadiri festival untuk merayakan ulang tahun kota itu, yang akan dimulai Jumat malam.

´Ketika ancaman (tsunami) muncul kemarin, orang-orang masih melakukan aktivitas mereka di pantai dan tidak segera lari dan mereka menjadi korban,´ kata Sutopo Purwo Nugroho, juru bicara badan mitigasi bencana Indonesia, BNPB mengatakan dalam jumpa pers di Jakarta.

Beberapa orang memanjat pohon untuk menghindari tsunami dan selamat, kata Sutopo.

Gempa pertama berkekuatan 6,1 dan menerjang kawasan padat penduduk Indonesia pada Jumat pagi, dengan cepat diikuti oleh guncangan lebih kuat berkekuatan 7,5 yang menyebabkan gelombang yang mengerikan.

BNPB memperingatkan sejak awal laporan yang menunjukkan bahwa ´korban tewas di reruntuhan gedung yang runtuh´.

Rekaman video dramatis yang difilmkan dari lantai atas tempat parkir di Palu dan diposting di Twitter, menunjukkan besarnya gelombang tsunami melanda kawasan pemukiman di sepanjang garis pantai, membuat porak-poranda ratusan kontainer dan merubuhkan masjid di tengah kota.

Sutopo mengatakan banyak rumah, rumah sakit, pusat perbelanjaan dan hotel. Sebuah jembatan telah hancur dan jalan raya utama ke Palu terputus karena tanah longsor.

Palu, yang memiliki populasi lebih dari 380.000 orang, dipenuhi puing-puing dari bangunan yang runtuh pada Sabtu.

Kota ini dibangun di sekitar teluk sempit yang tampaknya memperbesar kekuatan perairan tsunami saat mereka berlari ke pintu masuk yang ketat.

Masjid yang rusak parah akibat gempa itu setengah tenggelam dan sebuah pusat perbelanjaan runtuh dan puingnya menutupi jalan.

Jenazah sebagian tertutup oleh terpal dan seorang pria membawa anak yang mati melalui reruntuhan.

Diperkirakan ribuan bangunan telah rusak, dengan sebagian hanyut atau dihancurkan, meninggalkan sejumlah keluarga yang masih hilang di antara puing-puing.

Gempa susulan yang kuat terus mengguncang Palu pada Sabtu pagi.

Foto-foto dari tempat kejadian menunjukkan jenazah yang berjajar di sepanjang jalan, sebagian berada dalam kantong jenazah dan jenazah lainnya hanya ditutupi dengan pakaian korban.

Mayat korban ditemukan terperangkap di bawah reruntuhan bangunan yang runtuh, kata Nugroho.

Orang-orang yang terluka dirawat di tenda-tenda medis darurat yang didirikan di luar dan di lorong-lorong rumah sakit.

Badan Meteorologi, Klimatologi dan Geofisika (BMKG) mengeluarkan peringatan tsunami setelah gempa pertama, tetapi mencabutnya 34 menit kemudian.

BNKG telah dikecam secara luas karena tidak memberi tahu tsunami telah menghantam Palu pada Sabtu, meskipun para pejabat mengatakan gelombang datang pada saat peringatan itu dikeluarkan.

Penduduk di Sulawesi Tengah dan Sulawesi Barat diminta mengungsi ke tempat yang lebih tinggi, meskipun masih belum jelas apakah orang-orang tetap tinggal di rumah mereka karena bertentangan dengan saran pemerintah.

Gempa dan tsunami menyebabkan pemadaman listrik besar yang memutus komunikasi di sekitar Palu dan pada Sabtu pihak berwenang masih kesulitan mengkoordinasi upaya penyelamatan, yang juga terhambat oleh kegelapan semalam.

Badan mitigasi bencana belum dapat memperoleh informasi apa pun dari kota nelayan Donggala, lebih dekat ke episentrum gempa 27km (16 mil) jauhnya.

Lebih dari 600.000 orang tinggal di Donggala dan Palu.

Menkopolhukam Wiranto mengatakan kepada TVOne bahwa TNI telah mengirimkan pesawat kargo dari Jakarta yang mengangkut bantuan untuk pengungsi.

Bandara kota itu tetap ditutup setelah landasan pacu dan menara pengendali lalu lintas udara rusak akibat gempa tetapi para pejabat mengatakan mereka bersiap untuk membuka kembali untuk memungkinkan bantuan masuk.

Sutopo mengatakan belum ada pusat komando untuk pemulihan bencana seperti dilansir MailOnline.
AT LEAST 384 people are confirmed dead and 540 are injured after a tsunami, caused by two earthquakes in quick succession, ripped through the Pacific Ring of Fire and crashed into an Indonesian coast city on Friday.

Indonesian media, citing the national disaster agency, said Saturday that almost 400 people had died in Palu City alone, on the the Indonesian island of Sulawesi.

Fears are mounting for the the fishing town of Donggala, which was closer to the epicentre of the quake, but which rescuers have not been able to reach.

The town of Mamuju was also severely affected but currently impossible to access due to damaged roads and disrupted telecommunications.

Many of those killed in Palu were swept away by giant waves more than 10ft high as they played on the beach in the scenic tourist town.

The number of casualties was no doubt increased by the fact that hundreds of people had descended on Palu´s beach for a festival to celebrate the city´s anniversary, due to start Friday night.

´When the (tsunami) threat arose yesterday, people were still doing their activities on the beach and did not immediately run and they became victims,´ Sutopo Purwo Nugroho, spokesman of Indonesia´s disaster mitigation agency BNPB said in news briefing in Jakarta.

Some people climbed trees to escape the tsunami and survived, Nugroho said.

The first earthquake was of 6.1 magnitude and hit Indonesia´s densely populated region on Friday morning, quickly followed by even fiercer 7.5 magnitude tremors which caused the terrifying waves.

The National Disaster Mitigation Agency warned early on of reports showing that ´victims died in the rubble of a collapsed building´.

Dramatic video footage filmed from the top floor of a parking ramp spiral in Palu and posted on Twitter, showed a showed the enormous wall of whitewater crashing into houses along the shoreline, scattering shipping containers and flattening the city´s mosque.

Nugroho said there was ´extensive´ damage to houses, hospitals, shopping malls and hotels. A bridge has crumbled away and the main highway to Palu has been cut due to a landslide.

Palu, which has a population of more than 380,000 people, was strewn with debris from collapsed buildings on Saturday.

The city is built around a narrow bay that apparently magnified the force of the tsunami waters as they raced into the tight inlet.

The mosque heavily damaged by the quake was half submerged and a shopping mall was reduced to a crumpled hulk.

Bodies lay partially covered by tarpaulins and a man carried a dead child through the wreckage.

It is thought thousands of buildings have been damaged, with some entirely swept away or demolished, leaving scores of families still missing among the debris.

Strong aftershocks continued to rock Palu on Saturday morning.

Photographs from the city on the coast of Sulawesi island showed showed bodies being lined up along the street, some in bags and others with their faces covered with clothes.

Bodies of some victims were found trapped under the rubble of collapsed buildings, Nugroho said.

Injured people were being treated in makeshift medical tents set up outdoors and in the hallways of hospitals.

Indonesia´s meteorological and geophysics agency BMKG issued a tsunami warning after the first quake, but lifted it 34 minutes later.

The agency has been widely criticised for not informing a tsunami had hit Palu on Saturday, though officials said waves had come within the time the warning was issued.

People in Central Sulawesi and West Sulawesi provinces were told to evacuate to higher ground, though it remains unclear as to whether people remained in their homes because of the contradicting government advice.

The quake and tsunami caused a major power outage that cut communications around Palu and on Saturday authorities were still having difficulties coordinating rescue efforts, which were also hampered overnight by darkness.

The disaster mitigation agency has not been able to get any information from the fishing town of Donggala, closer to the epicentre of the quake 27km (16 miles) away.

More than 600,000 people live in Donggala and Palu.

Chief security minister Wiranto told TVOne the military had started sending in cargo planes from the capital Jakarta carrying relief aid.

The city´s airport remained closed after its runway and air traffic control tower was damaged in the quake but officials said they were preparing to reopen to allow aid to come in.

Nugroho said no command centre for disaster recovery has been created yet.