Tertinggi di Asia, RI Hari Ini Catat 54 Ribu Kasus Positif Covid-19
Indonesia Reports 54,000 Virus Cases, becomes Asian Hotspot
Editor : Ismail Gani
Translator : Novita Cahyadi

PUBLISHED: Rabu, 14 Juli 2021 , 20:04:00 WIB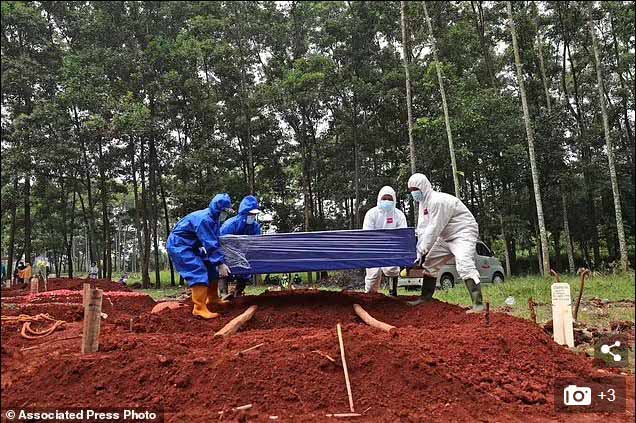 PENGGALI KUBUR: Dengan meningkatnya kematian selama sebulan terakhir, beberapa warga di dekat Jakarta mulai membantu para penggali kubur yang kelebihan beban [Foto: Associated Press/MailOnline]
INDONESIA melaporkan lebih dari 54.000 kasus virus corona baru untuk pertama kalinya pada Rabu [14/7] melampaui infeksi harian baru-baru ini di India, yang wabahnya menurun, dan Indonesia menjadi hotspot virus baru di Asia.
Para pejabat khawatir bahwa varian delta yang lebih mudah menular sekarang menyebar dari Pulau Jawa dan Bali, di mana wabah mendorong karantina lokal dengan menutup tempat-tempat ibadah, mal, taman, dan restoran.
"Saya prediksi wabah akan meningkat terus pada Juli karena kita belum bisa mencegah penyebaran infeksi," kata pakar epidemiologi Pandu Riono di Universitas Indonesia [UI], Rabu. "Pembatasan sosial darurat masih belum memadai. Seharusnya dua kali lebih ketat karena kita menghadapi varian delta, yang dua kali lebih menular."
Kementerian Kesehatan melaporkan 54.517 kasus baru dan 991 kematian pada Rabu, menjadikan jumlah kasus yang dikonfirmasi sejak pandemi dimulai di atas 2,6 juta dan jumlah kematian yang dikonfirmasi menjadi lebih dari 69.000.
Sebulan yang lalu, kasus harian mencapai sekitar 8.000. Kasus harian yang dilaporkan di Indonesia sekarang lebih tinggi daripada di India, meskipun Indonesia memiliki pengujian berdasarkan populasi yang jauh lebih sedikit.
India melaporkan kurang dari 39.000 kasus pada Rabu [14/7] jauh di bawah puncaknya lebih dari 400.000 kasus harian pada Mei, menyusul langkah lockdown di daerah yang paling parah terkena dampak dan upaya vaksinasi yang ditingkatkan.
Menteri Kesehatan RI Budi Gunadi Sadikin mengatakan pemerintah telah mengidentifikasi penyebaran varian delta di beberapa daerah di luar Jawa dan Bali.
Dia mengatakan kepada anggota parlemen pada Selasa [13/7] bahwa di seluruh Indonesia, lebih 90.000 dari 120.000 tempat tidur rumah sakit untuk pasien Covid-19 telah digunakan.
"Secara nasional masih tersedia sejumlah kamar. Tapi tingkat hunian tempat tidur sangat tinggi di beberapa provinsi yang ledakan varian delta terkonsentrasi," kata Sadikin.
Dengan meningkatnya kematian selama sebulan terakhir, beberapa warga di dekat Jakarta mulai membantu para penggali kubur yang kelebihan beban.
"Karena para penggali terlalu lelah dan tidak memiliki cukup sumber daya untuk menggali, warga di lingkungan saya memutuskan untuk membantu," kata Jaya Abidin, yang tinggal di Bogor di pinggiran ibu kota. "Karena jika kita tidak melakukan ini, kita harus menunggu lama untuk pemakaman di tengah malam."
Pemerintah RI sedang berjuang untuk mendapatkan cukup vaksin untuk mencapai targetnya guna inokulasi lebih dari 181 juta dari 270 juta penduduknya pada Maret 2022.
Sejauh ini, hanya 15,6 juta orang yang telah divaksinasi penuh. Hingga saat ini, Indonesia sebagai penduduk terpadat keempat di dunia telah mendapatkan 137,6 juta dosis vaksin Sinovac, AstraZeneca dan Moderna, cukup untuk sekitar 69 juta orang seperti dikutip Associated Press yang dilansir MailOnline.
INDONESIA reported more than 54,000 new coronavirus cases for the first time Wednesday, surpassing recent daily infections in India, whose disastrous outbreak is declining, and becoming Asia's new virus hotspot.
Officials fear that the more highly transmissible delta variant is now spreading from the islands of Java and Bali, where outbreaks prompted a partial lockdown that closed places of worship, malls, parks and restaurants.
"I predict the outbreak will increase continuously in July as we are not able yet to prevent the spread of infections," epidemiology expert Pandu Riono at the University of Indonesia said Wednesday. "Emergency social restrictions are still inadequate. They should be twice as stringent since we are facing the delta variant, which is two times more contagious."
The Health Ministry reported 54,517 new cases and 991 deaths on Wednesday, bringing the number of confirmed cases since the pandemic began above 2.6 million and the number of confirmed fatalities to more than 69,000.
A month ago, daily cases were running at about 8,000.
Reported daily cases in Indonesia are now higher than in India, despite Indonesia having far less testing by population.
India reported fewer than 39,000 cases on Wednesday, far below its peak of more than 400,000 daily cases in May, following lockdowns in its worst-hit areas and a stepped-up vaccination drive.
Indonesian Health Minister Budi Gunadi Sadikin said the government has identified the spread of the delta variant in some regions outside Java and Bali.
He told lawmakers on Tuesday that across the country, more than 90,000 of the 120,000 hospital beds for COVID-19 patients are occupied.
"Nationally, we still have some room. But the bed occupancy rate is very high in some provinces where the explosion of the delta variant is concentrated," Sadikin said.
With the increase in deaths over the past month, some residents near Jakarta have begun helping overburdened gravediggers.
"As the diggers are too tired and do not have enough resources to dig, the residents in my neighborhood decided to help," said Jaya Abidin, who lives in Bogor on the outskirts of the capital. "Because if we do not do this, we will have to wait in turn a long time for a burial in the middle of the night."
The government is struggling to acquire enough vaccines to reach its target of inoculating more than 181 million of its 270 million people by March 2022. So far, only 15.6 million people have been fully vaccinated.
So far, the world´s fourth-most populous country has secured 137.6 million doses of Sinovac, AstraZeneca and Moderna vaccines, enough for about 69 million people.