IDI Kecam Kebijakan Pemerintah Tangani Wabah Virus Corona disorot Dunia
Indonesia Virus Plans `in Tatters` as Infections Surge
Editor : Ismail Gani
Translator : Novita Cahyadi

PUBLISHED: Jum'at, 27 Maret 2020 , 20:49:00 WIB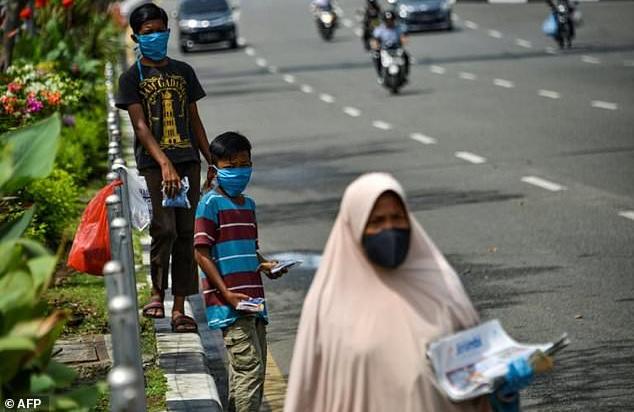 Satuan Tugas Percepatan Penanganan Virus Corona yang dibentuk pemerintah memperkirakan sebanyak 700.000 orang berisiko terinfeksi secara nasional [Foto: AFP/MailOnline]
KRISIS virus Corona di Indonesia jauh lebih buruk daripada yang dilaporkan secara resmi dan respons pemerintah dituding "porak-poranda", oleh Ikatan Dokter Indonesia [IDI] yang memperingatkan pemerintah pada Jumat [27/3] setelah jumlah kematian meningkat menjadi 87 akibat Covid-19.
Negara terpadat keempat di dunia hanya melaporkan infeksi pertama yang dikonfirmasi bulan ini tetapi pada Kamis [26/3], telah melonjak menjadi lebih dari 1.000 kasus positif Corona.
Jumlah 87 kematian akibat Corona dikonfirmasi di Indonesia sebagai korban tertinggi di Asia Tenggara, mengacu pada tingkat kesehatan masyarakat dan pejabat diplomatik memperingatkan bahwa sistem kesehatan Indonesia tergolong lemah sehingga rentan terhadap ancaman Corona.
"Rencana pemerintah berantakan dan mereka tampaknya menghindari lockdown," kata juru bicara IDI Halik Malik.
"Sistem kesehatan kita tidak sekuat negara lain."
Sebuah riset di London School of Hygiene & Tropical Medicine memperingatkan minggu ini bahwa kasus-kasus di Indonesia - dengan populasi lebih dari 260 juta orang - diperkirakan lebih banyak yang tidak terdeteksi.
Satuan Tugas Percepatan Penanganan Virus Corona yang dibentuk pemerintah memperkirakan sebanyak 700.000 orang berisiko terinfeksi secara nasional.
Namun tingkat pengujian tergolong rendah dibandingkan dengan banyak negara lain - hanya 2.300 tes dilakukan sebelum pemerintah berhenti mengumumkan angka nasional.
Pihak berwenang mendapat kecaman keras karena tidak berupaya melakukan karantina wilayah [lockdown] di kota-kota besar, termasuk ibu kota Jakarta, kota besar yang dihuni sekitar 30 juta penduduk, tempat sebagian besar kematian dilaporkan.
"Situasi COVID-19 di Indonesia sangat serius dan semakin memburuk dengan cepat," kata Kedutaan Besar Kanada di Jakarta mengatakan pada Kamis, dengan mengatakan pihaknya mendesak warga untuk meninggalkan Indonesia.
"Sistem perawatan kesehatan di Indonesia akan segera kewalahan. Jumlah kematian tertinggi akan melonjak tinggi."
Indonesia memiliki kurang dari empat dokter untuk setiap 10.000 orang, menurut data Organisasi Kesehatan Dunia [WHO] pada 2017.
Sebagai perbandingan, negara tetangga Malaysia memiliki sekitar 15 dokter dan Australia memiliki 35 per 10.000 orang.
Foto-foto yang dibagikan di media sosial menunjukkan dokter Indonesia mengancam akan mogok jika sumber daya tidak ditingkatkan, dengan kekhawatiran tentang kurangnya ventilator, peralatan pelindung dan peralatan lain yang diperlukan untuk menangani kasus virus corona.
Setidaknya tujuh dokter telah meninggal karena virus, menurut angka resmi.
Dalam sebuah tweet yang menyebar, saudara ipar dari salah satu dokter itu mengecam penanganan krisis yang dilakukan pemerintah Indonesia.
"Anda terinfeksi ketika Anda secara aktif melayani orang. Banyak petugas kesehatan telah terinfeksi dan tewas. Jumlah alat pelindung yang terbatas sulit untuk dimaafkan," tulis Pandu Riono, pakar kesehatan masyarakat Universitas Indonesia.
Pemerintah berjanji untuk meningkatkan pengujian ke atas satu juta orang karena peralatan tambahan dan test kit diterbangkan dari China.
Salah satunya adalah mengubah Wisma Atlet yang dibangun untuk Asian Games 2018 menjadi pusat perawatan darurat untuk membantu meringankan tekanan pada rumah sakit seperti dikutip AFP yang dilansir MailOnline.
INDONESIA'S coronavirus crisis is far worse than being officially reported and the government's response is "in tatters", the country's doctors association warned Friday as the death toll climbed to 87.
The world's fourth-most populous country only reported its first confirmed infection this month but by Thursday, that had ballooned to over 1,000.
Indonesia's 87 confirmed coronavirus deaths are the highest toll in Southeast Asia, with public health and diplomatic officials warning that its weak health system is being rapidly overwhelmed.
"The government's plans are in tatters and they appear to be avoiding a lockdown," said Indonesian Doctors' Association spokesman Halik Malik.
"Our health system is not as strong as other countries."
A London School of Hygiene & Tropical Medicine study warned this week that cases in Indonesia -- with a population of more than 260 million people -- could be vastly underreported.
The government's virus task force has estimated as many as 700,000 people were at risk of infection nationwide.
But the rate of testing has been low compared with many other countries -- only 2,300 tests were conducted before the government stopped announcing nationwide figures.
Authorities have come under heavy criticism for not imposing lockdowns in major cities, including the capital Jakarta, a vast city home to about 30 million where most of the deaths have been reported.
"The COVID-19 situation in Indonesia is very serious and getting worse quickly," the Canadian embassy in Jakarta said Thursday, saying it was urgently advising citizens to leave.
"The health care system in Indonesia will soon be overwhelmed. The ultimate number of fatalities will be very high."
Indonesia had fewer than four doctors for every 10,000 people, according to World Health Organization data from 2017.
In comparison, neighbouring Malaysia had about 15 doctors and Australia had 35 per 10,000 people.
Images shared on social media have shown Indonesian doctors threatening to go on strike if resources aren't beefed up, with concerns about a lack of ventilators, protective gear and other equipment needed to handle coronavirus cases.
At least seven doctors have died of the virus, according to the official figures.
In a tweet that went viral, the brother-in-law of one of those doctors slammed the Indonesian government's handling of the crisis.
"You were infected as you actively served people. Many health workers have been infected and left. The limited amount of protective equipment is hard to forgive," wrote Pandu Riono, a University of Indonesia public health expert.
The government has pledged to boost testing to upwards of one million checks as extra equipment and test kits are flown in from China.
It has also turned an athletes village built for the 2018 Asian Games into an emergency treatment centre to help ease the pressure on hospitals.