Dua Tewas, Warga Terpaksa Mengungsi Akibat Banjir Disorot Dunia
Two Dead, Hundreds Evacuated amid Severe Indonesia Floods
Editor : Ismail Gani
Translator : Novita Cahyadi

PUBLISHED: Jum'at, 08 Maret 2019 , 20:58:00 WIB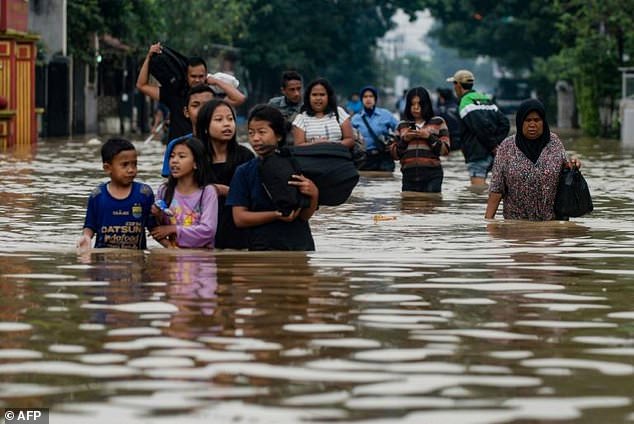 Foto: AFP/MailOnline
SEDIKITNYA dua tewas dan enam lainnya hilang setelah hujan deras yang mengakibatkan banjir pada beberapa wilayah di tanah air, seperti dilaporkan Badan Nasional Penanggulangan Bencana (BNPB), yang memaksa ribuan warga mengungsi.
Hujan lebat mengguyur Indonesia selama berhari-hari, memaksa sungai Citarum - dijuluki "paling kotor di dunia" - di Jawa Barat meluap, dan menyebabkan banjir bandang di sejumlah desa dan kecamatan di Kabupaten Bandung.
Warga yang bermukim di pinggiran kota Bandung, terpaksa menembus banjir setinggi dada orang dewasa dan memaksa mereka harus mengungsi ke tempat yang lebih tinggi.
Sejumlah foto dari lokasi banjir memperlihatkan upaya warga mengungsi ke tempat yang aman dengan perahu karet dan sampan.
Banjir dan tanah longsor menewaskan dua warga Flores di Provinsi Nusa Tenggara Timur (NTT), kata BNPB.
Enam lainnya masih hilang dan tiga orang terluka, kata juru bicara BNPB Sutopo Purwo Nugroho.
Banjir kerap terjadi di Indonesia selama musim hujan, yang berlangsung sekitar Oktober hingga April.
Pada Januari, setidaknya 70 orang tewas ketika banjir dan tanah longsor melanda provinsi Sulawesi Selatan.
Banjir terbaru memaksa lebih dari 30.000 warga mengungsi di beberapa provinsi di Jawa Barat dan Jawa Timur, kata BNPB.
Citarum - sungai yang panjangnya hampir 300 km yang merupakan sumber utama untuk pembangkit listrik tenaga air untuk pulau terpadat di Indonesia, Jawa, dan Bali - hampir tiap tahun airnya menggenangi pemukiman warga.
Bank Dunia menyebutnya sebagai sungai yang paling tercemar di dunia satu dekade lalu, deskripsi yang diambil secara luas oleh media dan pencinta lingkungan.
Menghadapi keadaan darurat kesehatan masyarakat setelah puluhan tahun upaya pembersihan gagal, Jakarta tahun lalu melangkah dengan rencana yang berani untuk membuat air beracun Citarum dapat diminum pada 2025.
Sungai itu telah lama menjadi hamparan sampah rumah tangga yang mengapung, kotoran hewan, dan bahan kimia beracun yang dibuang oleh pabrik-pabrik terdekat seperti dikutip AFP yang dilansir MailOnline.
AT LEAST two people were killed and six more were missing after torrential rains and severe flooding in parts of Indonesia, the disaster agency said Friday, forcing the evacuation of hundreds of people.
Heavy rain has pounded Indonesia for days, forcing the Citarum river -- dubbed "the world´s dirtiest" -- on Java island to burst its banks, and causing deadly flash floods in the eastern part of the sprawling Southeast Asian archipelago.
Residents in a dozen communities on the outskirts of Bandung city, east of the capital Jakarta, were forced to wade through streets filled with chest-high water in places.
Images from the scene showed residents being moved to safety on pontoon boats and small wooden vessels.
Floods and landslides killed a pair of residents in East Nusa Tenggara province on the island of Flores, the agency said.
Six others are still missing and three people were injured, said national disaster agency spokesman Sutopo Purwo Nugroho.
Flooding is common during Indonesia´s rainy season, which runs roughly from October to April.
In January, at least 70 people were killed when floods and landslides hit South Sulawesi province.
The latest floods have affected over 30,000 people in parts of West Java and East Java provinces, the disaster agency said.
The Citarum -- a nearly 300-kilometre (185-mile) water body that is a key source for hydroelectric power for Indonesia´s most populous island Java and tourism hotspot Bali -- regularly bursts its banks during torrential rains.
The World Bank declared it the most polluted river in the world a decade ago, a description widely picked up by media and environmentalists.
Faced with a public health emergency after decades of failed clean-up efforts, Jakarta last year stepped in with a bold plan to make the Citarum´s toxic waters drinkable by 2025.
The river has long been a floating carpet of household rubbish, animal faeces and toxic chemicals dumped by nearby factories.