Media Asing Soroti Pria Toraja Tewas Tertimpa Peti Jenazah Ibunya
Man is Crushed to Death by His Own Mother`s Coffin on the Island of Sulawesi, Indonesia
Editor : Ismail Gani
Translator : Novita Cahyadi

PUBLISHED: Senin, 18 Juni 2018 , 20:59:00 WIB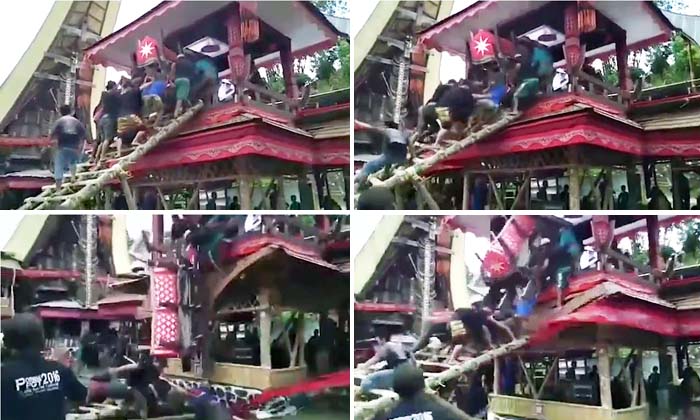 Video grafis (arah jarum jam) menunjukkan tangga rubuh tepat ketika peti mati memasuki menara, mengakibatkan para pengusung peti jenazah jatuh dan korban tewas tertimpa peti mati (Foto2: MailOnline)
SEORANG pria warga Tana Toraja di Provinsi Sulawesi Selatan tewas tertimpa peti jenazah ibunya yang dipanggulnya naik ke lakkian, lumbung adat Toraja yang dibuat lebih tinggi dari pondok biasa, fungsinya untuk meletakkan jenazah sebelum prosesi pemakaman.
Insiden tragis ini terjadi saat Semen sedang mengangkat jenazah ibunya, Berta Kondorura. Prosesi pemakaman adat Toraja itu dilakukan di Tongkonan Batu, Lembang Parinding, Kecamatan Sesean, Kabupaten Toraja Utara, Jumat pekan lalu.
Korban bernama Samen Kondorura, 40, tewas ketika para pengusung jenazah menaiki tangga bambu yang rubuh karena tak mampu menampung orang-orang yang mengangkut peti jenazah seberat puluhan kilogram tersebut.
´Saat peti mayat ibunya dinaikkan ke lakkian, tiba-tiba tangga itu bergeser dan ambruk, peti mati jatuh dan menimpa korban,´ kata Kapolres Toraja Utara, Kombes Julianto Sirait kepada AFP seperti dilansir MailOnline.
Video grafis dari adegan itu menunjukkan tangga rubuh tepat ketika peti mati memasuki menara, mengakibatkan para pengusung peti jenazah jatuh setinggi beberapa meter dan korban tewas tertimpa peti mati.
Kombes Julianto Sirait mengatakan, kecelakaan itu terjadi karena tangga tidak kuat tetapi keluarga korban menolak untuk mengajukan tuntutan.
Jenazah Semen kini disemayamkan dengan jenazah ibunya, Berta, tambahnya.
Ketika etnis Toraja mati, penduduk setempat mengadakan pemakaman yang rumit yang dapat berlangsung selama berhari-hari, bulanan hingga tahunan yang melibatkan musik, tarian dan memotong ratusan kerbau bule.
AN INDONESIAN was killed when his mother´s coffin fell from a funeral tower and crushed him during a service on the island of Sulawesi.
Samen Kondorura, 40, died when pallbearers lost their footing carrying the coffin up a bamboo ladder in the Parinding valley in North Toraja district.
The casket fell as the group hoisted it onto a lakkian - an ornately carved tower where the dead are placed before elaborate traditional funeral rites.
´As the mother´s coffin was being raised to the lakkian, suddenly the ladder shifted and collapsed, the coffin fell and hit the victim,´ Julianto Sirait, chief commissioner of the Tana Toraja resort police, told AFP.
Graphic video from the scene shows the ladder slip just as the casket enters the tower, sending the men tumbling several metres to the ground where the victim is crushed by the coffin.
Horrified onlookers rush to the men´s aid but Kondorura died later in hospital.
Sirait said the accident happened because the ladder was not properly reinforced but the family has declined to press charges.
The body of Kondorura is now resting alongside his mother Berta, he added.
When ethnic Torajans die, local residents hold elaborate funerals that can last for days and involve music, dance and the sacrifice of water buffalo.