Siap 2021, Vaksin Covid-19 Buatan RI Butuh Waktu Satu Tahun
Indonesia Seeking Its Own Covid-19 Vaccine amid Worry about Access
Editor : Ismail Gani
Translator : Novita Cahyadi

PUBLISHED: Jum'at, 03 Juli 2020 , 20:07:00 WIB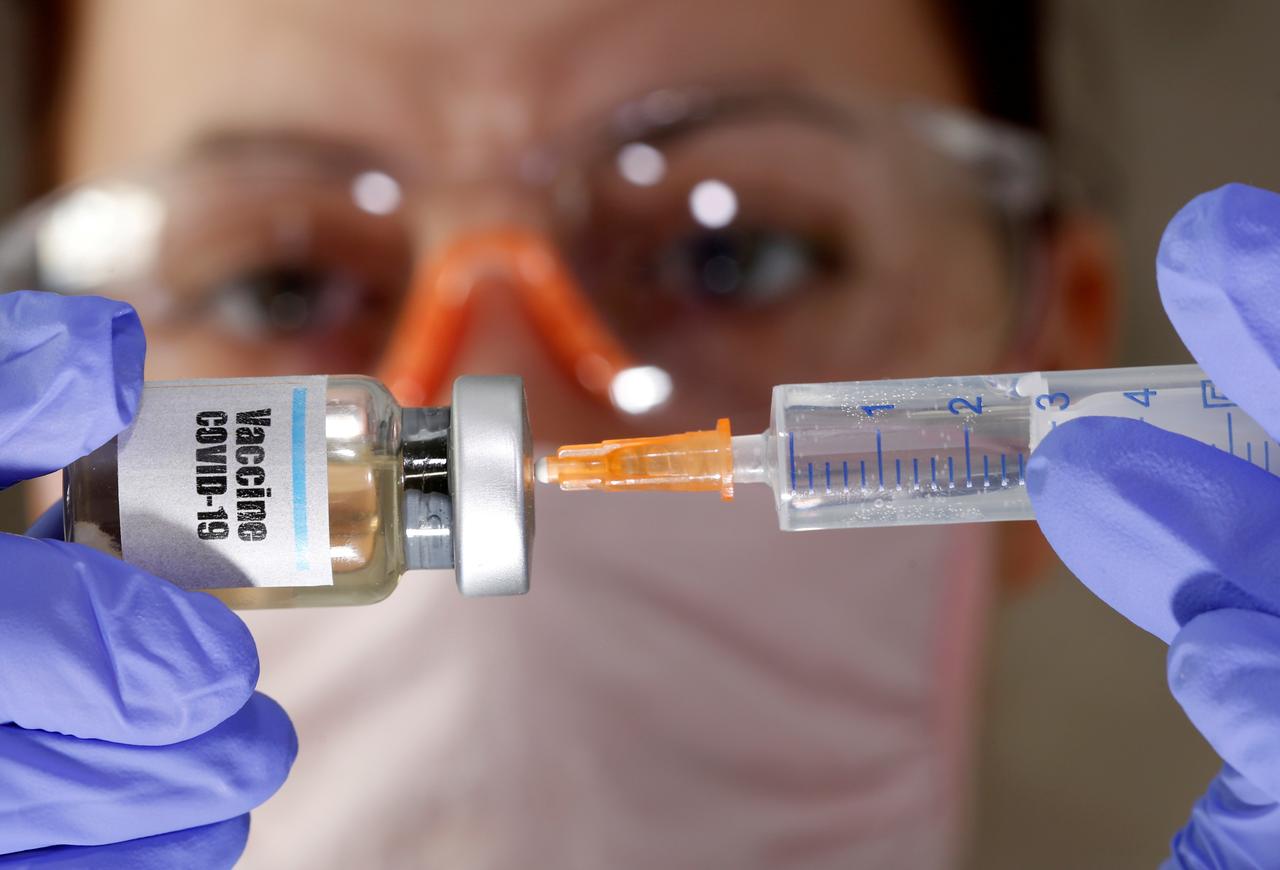 RISET VAKSIN: Pandemi telah memicu perlombaan untuk menemukan vaksin, dengan lebih dari 100 dalam pengembangan dan sekitar selusin sudah diuji pada manusia [Foto: Reuters]
INDONESIA berupaya keras untuk memproduksi vaksin Covid-19 buatan dalam negeri tahun depan, di tengah meningkatnya kecemasan bahwa negara-negara berkembang bakal kesulitan mendapatkan akses di masa mendatang, kepala tim peneliti nasional COVID-19 Indonesia mengatakan pada Kamis.
"Kemampuan produksi dan kapasitas perusahaan biotek di dunia, kami tahu, terbatas, dan rantai pasokan global juga menghadapi tantangan," kata Ali Ghufron Mukti, Ketua Konsorsium Riset dan Inovasi Covid-19 Kementerian Riset dan Teknologi kepada pers pada konferensi pers bersama Menteri Luar Negeri Retno Marsudi.
"Karena itu, Indonesia perlu mengembangkan vaksin Covid-19 sendiri. Dan itu akan dilakukan oleh Indonesia, dari Indonesia, untuk Indonesia," katanya.
"Kami menggunakan teori kami dan kami optimis bahwa pada 2021 dan awal 2021, pembuatan vaksin akan selesai di laboratorium," katanya, seraya menambahkan bahwa BUMN farmasi, Bio Farma akan melakukan uji coba pada paruh kedua tahun depan.
Menlu Retno Marsudi dalam beberapa bulan terakhir telah berbicara tentang perlunya negara-negara berkembang untuk memiliki akses ke vaksin apa pun di masa depan, di tengah kekhawatiran bahwa negara-negara maju akan mencoba memproduksi dalam pasokan yang terbatas.
Kekhawatiran tersebut meningkat pekan ini, ketika Amerika Serikat mengumumkan telah membeli sebagian besar pasokan global dari obat Gdilead Inc., remdesivir, terbukti mempercepat waktu pemulihan Covid-19.
Pandemi telah memicu perlombaan untuk menemukan vaksin, dengan lebih dari 100 dalam pengembangan dan sekitar selusin sudah diuji pada manusia.
Pada Kamis, Ali Ghufron Mukti juga menguraikan upaya yang sedang dilakukan antara perusahaan farmasi lokal dan asing untuk memproduksi vaksin secara massal di Indonesia. Tim Pengembangan Vaksin Covid-19 ditugasi menjamin ketersediaan vaksin secara nasional dalam 12 bulan ke depan.
Honesti Basyir, Direktur Bio Farma, mengatakan kepada Reuters pada akhir Juni bahwa pihaknya bekerja dengan perusahaan China Sinovac pada vaksin yang akan memasuki tahap ketiga uji klinis pada manusia bulan ini. Jika percobaan berhasil, itu dapat memulai produksi pada kuartal pertama tahun depan dengan dosis minimum 100 juta.
Dengan populasi lebih dari 265 juta, Indonesia memperkirakan akan membutuhkan lebih dari 352 juta suntikan vaksin dua dosis.
Hingga Kamis [2/7], Indonesia mencatat 1.624 kasus virus korona baru, kenaikan harian tertinggi sejauh ini, menjadikan jumlah total kasus positif Covid-19 menjadi 59.394.
Selain Bio Farma dan Sinovac, Ali Ghufron Mukti mengatakan perusahaan farmasi swasta Indonesia Kalbe Farma dan perusahaan bioteknologi Korea Selatan Genexine bekerja sama untuk memproduksi vaksin seperti dikutip Reuters yang dilansir MailOnline.
INDONESIA is working to produce its own COVID-19 vaccine next year, amid growing anxiety that developing countries could have difficulty getting access to a future jab, the head of Indonesia´s national COVID-19 research team said Thursday.
"The production capability and capacity of biotech companies in the world is, we know, limited, and global supply chains also have challenges," Ali Ghufron Mukti, head of the innovation team at Indonesia´s research and technology ministry, told a streamed press conference alongside the country´s foreign minister.
"Therefore, it is necessary for Indonesia to develop its own COVID-19 vaccine. And it will be by Indonesia, from Indonesia, to Indonesia," he said.
"We are using our theory and we are optimistic that in the year 2021 and early 2021, this will be finished in the laboratory," he said, adding state-owned firm Bio Farma could conduct trials in the second half of next year.
Indonesia´s Foreign Minister Retno Marsudi has in recent months spoken about the need for developing countries to have access to any future vaccine, amid concern that rich countries would try to corner a limited supply.
Such concerns increased this week, when the United States announced it had bought up most of the global supply of Gilead Sciences Inc.´s drug remdesivir, shown to speed up recovery times from COVID-19.
The pandemic has sparked a race to find a vaccine, with more than 100 in development and around a dozen already being tested in humans.
On Thursday, Mukti also outlined efforts underway between local and foreign pharmaecutical companies to mass produce a vaccine in Indonesia. A COVID-19 Vaccine Development Team has been tasked with guaranteeing the availability of a vaccine nationally within the next 12 months.
Honesti Basyir, the director of Bio Farma, told Reuters in late June it was working with Chinese firm Sinovac on a vaccine which would enter the third phase of clinical trials in humans this month. If the trial is successful, it could start production in the first quarter of next year with a minimum 100 million doses.
With a population of more than 265 million, Indonesia estimates it would need more than 352 million shots of a two-dose vaccine.
On Thursday Indonesia recorded 1,624 new coronavirus cases, the highest daily rise so far, taking the total numbers of cases to 59,394.
In addition to Bio Farma and Sinovac, Mukti said private Indonesian pharmaceutical firm Kalbe Farma and the South Korean biotech company Genexine were cooperating to produce a vaccine.