Bali Status Siaga, Erupsi Gunung Agung Picu Hujan Abu
Bali`s Agung Volcano Spews Ash in Fresh Eruption
Editor : Ismail Gani
Translator : Novita Cahyadi

PUBLISHED: Minggu, 30 Desember 2018 , 20:09:00 WIB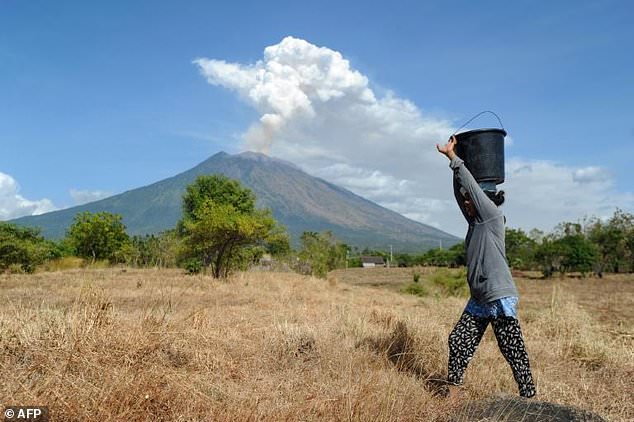 Foto: AFP/MailOnline
GUNUNG AGUNG di Pulau Bali kembali erupsi pada Minggu (30/12) menyemburkan abu tinggi ke udara menimbulkan hujan abu di desa-desa terdekat dan otoritas setempat memperingatkan penduduk dan wisatawan untuk menjauhi lokasi bencana.
Gunung Agung meletus secara berkala sejak bergemuruh kembali erupsi pada 2017, dan memaksa ratusan penerbangan untuk menunda penerbangan yang mengakibatkan 120.000 penumpang terlantar di Bandara Ngurah Rai Denpasar.
Pada Minggu pagi, gunung berapi - yang berjarak sekitar 70 kilometer (44 mil) dari pusat wisata di Pantai Kuta - melepaskan abu ke udara saat meletus selama sekitar tiga menit, seperti dilaporkan Pusat Vulkanologi dan Mitigasi Bencana Geologi (PVBMG).
"Warga di dekat Gunung Agung serta pendaki dan wisatawan tidak boleh melakukan aktivitas apa pun di zona bahaya atau dalam radius empat kilometer dari kawah," kata PVBMG dalam pernyataan resminya.
Pada 22 Desember, sebuah letusan dari Anak Krakatau memicu tsunami yang menghantam Banten dan Lampung mengakibatkan sedikitnhya 426 tewas dan lebih 7.000 cedera.
Akibat erupsi Minggu pagi, beberapa desa di Bali tertutup lapisan abu tipis tetapi tidak ada asap atau lava yang terdeteksi berasal dari kawah dan belum dikeluarkan perintah evakuasi.
Pusat vulkanologi juga memperingatkan penduduk di dekat sungai di daerah itu untuk waspada terhadap aliran lahar dingin - sejenis aliran lumpur yang dapat terbentuk dari batu dan abu di musim hujan dan yang sering merupakan pendahuluan bagi lava oranye yang menyala dari imajinasi populer.
Pada bulan Juni, puluhan jadwal penerbangan dibatalkan setelah Gunung Agung meletus dan melepaskan asap dan abu setinggi lebih dari 1.000 meter ke langit.
Letusan besar terakhir Gunung Agung terjadi pada 1963 menewaskan sekitar 1.600 orang. Indonesia adalah wilayah vulkanik paling aktif di dunia dan terletak di "Cincin Api" Pasifik di mana lempeng tektonik bertabrakan, menyebabkan aktivitas vulkanik dan seismik yang sering terjadi seperti dikutip AFP yang dilansir MailOnline.
A VOLCANO on the Indonesian holiday island of Bali erupted Sunday, belching ash high into the air and over nearby villages as officials warned tourists to keep clear of the area.
Mount Agung has been erupting periodically since it rumbled back to life in 2017, when it grounded hundreds of flights and left 120,000 visitors stranded.
On Sunday morning, the volcano -- which is about 70 kilometres (44 miles) from the tourist hub of Kuta -- sent ash skywards as it erupted for about three minutes, according to the country's volcanology centre.
"Residents near Mount Agung as well as climbers and tourists should not carry out any activity in the danger zone or within four-kilometre radius from the crater," the centre said in a statement.
On December 22, an eruption from Anak Krakatoa triggered a tsunami which hit the western tip of the neighbouring island of Java and southern Sumatra, killing at least 426 and leaving more than 7,000 injured.
In the latest eruption, several villages on Bali were covered in a thin layer of ash but no smoke or lava was detected coming from the crater and no evacuation has been ordered.
The volcanology centre also warned residents near rivers in the area to be on alert for cold lava flows -- a type of mudflow that can form from rock and ash in the rainy season and which is often a prelude to the blazing orange lava of popular imagination.
In June, dozens of flights were cancelled after Agung erupted and shot a fresh plume of smoke and ash more than 1,000 metres (3,300 feet) into the sky.
Agung's last major eruption in 1963 killed around 1,600 people. Indonesia is the world's most active volcanic region and lies on the Pacific "Ring of Fire" where tectonic plates collide, causing frequent volcanic and seismic activities.