Bencana Palu Donggala, Pegawai Kemenkop UKM Galang Dana Kemanusiaan
Indonesian Cooperatives and SMEs Ministry Raise Funds for Palu Quake Victims
Reporter : Gusmiati Waris
Editor : Cahyani Harzi
Translator : Dhelia Gani

PUBLISHED: Kamis, 04 Oktober 2018 , 21:02:00 WIB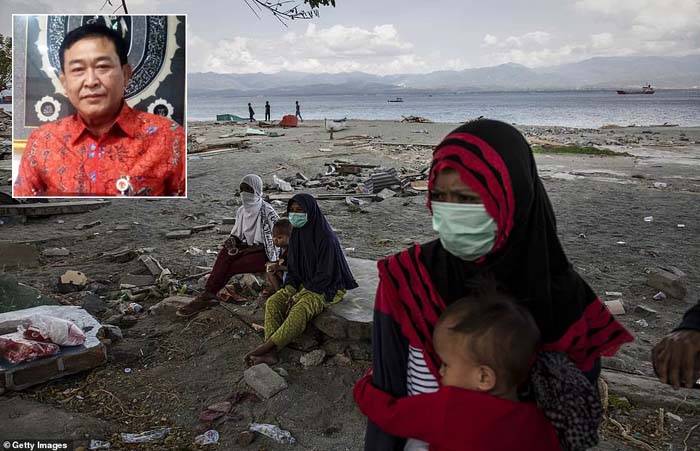 KORBAN GEMPA: Warga Palu korban gempa menatap nanar pada kondisi kampungnya, dan Karo Umum Kemenkop UKM Hardiyanto (inset) Foto2: MailOnline & Humas Kemenkop UKM
Jakarta (B2B) - Pegawai Kementerian Koperasi dan UKM melakukan aksi penggalangan dana bagi korban gempa dan tsunami di Palu dan Donggala, Sulawesi Tengah. Kotak donasi dibawa ke seluruh pegawai hingga pejabat eselon yang ada di lingkungan Kemenkop dan UKM.
"Tanpa terkecuali, kami mengetuk hati seluruh pegawai dan pejabat disini untuk turut menyumbang sebagian rezekinya. Bahkan, para cleaning services pun tanpa dipaksa ikut menyumbangkan uangnya," kata Kepala Biro Umum Kementerian Koperasi dan UKM Hardiyanto di Jakarta, Kamis (4/10).
Hardiyanto meyakini bahwa langkah ini tidak akan berhenti hanya sampai hari ini saja. Program spontanitas itu akan terus berjalan sampai tanpa batas waktu. "Saya berharap langkah mulia seperti ini bisa menjadi budaya yang bisa terus dikembangkan."
Menurutnya, dari dana yang sudah dan akan terkumpul, nantinya akan disalurkan langsung ke lokasi bencana di Palu dan Donggala, atau disalurkan melalui lembaga resmi.
Jakarta (B2B) - Civil servants of the Indonesian Cooperatives and SMEs Ministry raise humanitarian funds for earthquake victims in Palu and Donggala in Central Sulawesi province.
"We asks all employees to contribute humanitarian funds to victims of natural disasters in Palu and Donggala," said the Head of General Affairs at the ministry Hardiyanto here on Thursday (October 4).
Hardiyanto believes that social activities will continue. The spontaneity program will continue to run indefinitely.
According to him, social funds will be delivered directly to disaster locations in Palu and Donggala, or through official institutions.