Longsor Bawah Laut akibat Erupsi Anak Krakatau Picu Tsunami?
An Underwater Landslide may also have Contributed to the Disaster
Editor : Ismail Gani
Translator : Novita Cahyadi

PUBLISHED: Selasa, 25 Desember 2018 , 21:02:00 WIB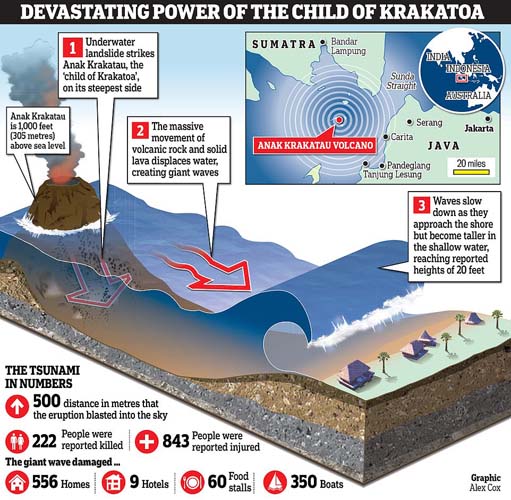 ILUSTRASI TSUNAMI: Longsor bawah laut akibat erupsi Anak Krakatau yang memicu gelombang laut setinggi enam meter saat mencapai pantai (Ilustrasi & Data: MailOnline)
GELOMBANG laut yang memicu tsunami terjadi setelah erupsi dan tanah longsor di Anak Krakatau, sebuah pulau vulkanik yang terbentuk pada awal abad ke-20 di dekat lokasi letusan dahsyat Krakatau pada 1883.
Juru Bicara Badan Nasional Penanggulangan Bencana (BNPB) Sutopo Purwo Nugroho melalui Twitter mengakui bahwa jaring pelampung (buoys) pendeteksi dini tsunami rusak sejak 2012 karena vandalisme dan minimnya anggaran.
Namun Kepala Badan Meteorologi, Klimatologi, dan Geofisika (BMKG) Dwikorita Karnawati mengatakan tsunami kemungkinan disebabkan oleh aktivitas vulkanik Krakatau, sehingga tidak terpantau oleh sensor deteksi dini tsunami milik BMKG, yang memantau gempa bumi konvensional yang bertanggung jawab atas lebih dari 90 persen wilayah Indonesia.
Dwikorita mengatakan tsunami lebih disebabkan oleh longsoran sebagian besar lereng gunung berapi.
Anak Krakatau meletus sejak Juni dan terjadi kembali 24 menit sebelum tsunami, kata BMKG. Pakar geologi mengatakan longsor bawah laut kemungkinan besar berkontribusi terhadap bencana tsunami.
Indonesia, negara kepulauan yang luas dengan lebih dari 17.000 pulau dan dihuni 260 juta orang, terletak di sepanjang Cincin Api, busur gunung berapi dan garis patahan di Cekungan Pasifik.
Letusan besar Krakatau pada 1883 menewaskan lebih dari 30.000 orang dan melemparkan begitu banyak abu sehingga berubah dari siang ke malam di sekitarnya itu dan mempengaruhi suhu global.
Ribuan orang diyakini tewas akibat gempa dan tsunami yang melanda pulau Sulawesi pada September, dan gempa sebelumnya di Lombok menewaskan 505 orang pada Agustus 2018 seperti dilansir MailOnline.
THE WAVES followed an eruption and apparent landslide on Anak Krakatau, or "Child of Krakatoa," a volcanic island that formed in the early part of the 20th century near the site of the cataclysmic 1883 eruption of Krakatoa.
Sutopo Purwo Nugroho, spokesman for Indonesia Disaster Mitigation Agencyacknowledged on Twitter that the country´s network of detection buoys had been out of order since 2012 because of vandalism and budget shortfalls.
But the head of Indonesia´s Meteorology, Climatology and Geophysics Agency, Dwikorita Karnawati, said the tsunami was likely caused by Krakatau´s volcanic activity and so could not have been picked up by the agency´s sensors, which monitor conventional earthquakes responsible for more than 90 percent of Indonesia´s tsunamis.
Karnawati said the tsunami was probably caused by the collapse of a big section of the volcano´s slope.
Anak Krakatau been erupting since June and did so again 24 minutes before the tsunami, the geophysics agency said. Other scientists have said an underwater landslide may also have contributed to the disaster.
Indonesia, a vast archipelago of more than 17,000 islands and home to 260 million people, lies along the Ring of Fire, an arc of volcanoes and fault lines in the Pacific Basin.
The massive eruption of Krakatoa killed more than 30,000 people and hurled so much ash that it turned day to night in the area and reduced global temperatures.
Thousands were believed killed by a quake and tsunami that hit Sulawesi island in September, and an earlier quake on the island of Lombok killed 505 people in August.