Rawan Gempa dan Tsunami, Indonesia berada di Cincin Api Pasifik
Indonesia Sits on the Pacific Ring of Fire and is Regularly Hit by Eearthquakes
Editor : Ismail Gani
Translator : Novita Cahyadi

PUBLISHED: Sabtu, 29 September 2018 , 21:09:00 WIB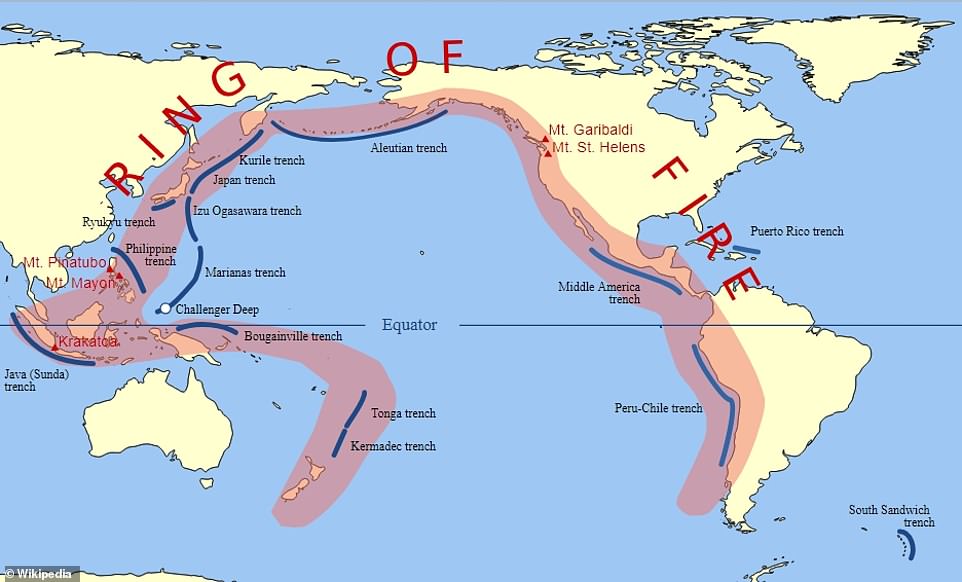 Sekitar 450 gunung berapi membentuk sabuk berbentuk tapal kuda yang memanjang dari pantai Amerika Selatan, Amerika Utara, Asia Timur, Australia dan Selandia Baru (Peta & Data: MailOnline)
HAMPIR 400 tewas dan 540 orang luka-luka setelah gempa berkekuatan 6,1 skala Richter menghantam Sulawesi Tengah dan Sulawesi Barat pada Jumat malam disusul oleh gempa berkekuatan 7,5 skala besar.
Juru bicara Badan Nasional Penanggulangan Bencana (BNPB) Sutopo Purwo Nugroho, mengingatkan tentang potensi tsunami akibat gempa.
Namun tiga jam kemudian, Badan Metrologi, Klimatologi dan Geofisika (BMKG) mengatakan gempa bumi mengakibatkan satu orangt tewas, dan ternyata ratusan orang tewas.
Kota Palu dan Donggala dilanda gelombang tsunami setinggi tiga meter yang menghancurkan rumah-rumah dan menyapu mobil-mobil.
Indonesia berada di Cincin Api Pasifik dan sering dilanda gempa bumi.
Sekitar 450 gunung berapi membentuk sabuk berbentuk tapal kuda yang memanjang dari pantai Amerika Selatan, Amerika Utara, Asia Timur, Australia dan Selandia Baru. Cincin Api Pasifik dikenal karena aktivitas gunung berapi dan seismik yang sering terjadi yang disebabkan oleh benturan lempeng kerak.
Pada 2004, gempa bumi besar di lepas pantai Aceh memicu tsunami di Samudera Hindia, menewaskan 226.000 orang di 13 negara, termasuk lebih dari 120.000 di Indonesia.
Palu pun pernah dilanda tsunami pada 1927 dan 1968, menurut BNPB.
Presiden Indonesia Joko ´Jokowi´ Widodo mengatakan pada Jumat malam bahwa ia menginstruksikan Menkopolhukam Wiranto untuk mengoordinasikan respons pemerintah terhadap bencana tersebut.
Jokowi juga mengatakan kepada wartawan di kota kelahirannya di Solo bahwa ia meminta kepada Panglima TNI untuk membantu upaya pencarian dan penyelamatan seperti dilansir MailOnline.
Juru bicara PBB Stephane Dujarric mengatakan bahwa pejabat AS melakukan kontak dengan pihak berwenang Indonesia dan ´siap memberikan dukungan seperti yang diperlukan.´
ALMOST 400 are dead and 540 injured after a 6.1 magnitude tremor hit the central Indonesian island of Sulawesi on Friday followed by a massive 7.5 magnitude earthquake
Indonesia´s disaster agency´s Sutopo Purwo Nugroho withdrew an earlier warning to residents of a tsunami
But three hours later Indonesia´s geophysics agency said there had been one, and hundreds have now died
The cities of Palu and Donggala were struck by 10ft waves which demolished houses and swept away cars
Indonesia sits on the Pacific Ring of Fire and is regularly hit by earthquakes.
Roughly 450 volcanoes make up this horseshoe-shaped belt which follows the coasts of South America, North America, eastern Asia, Australia and New Zealand. It´s known for frequent volcanic and seismic activity caused by the colliding of crustal plates.
In 2004, a big earthquake off the northern Indonesian island of Sumatra triggered a tsunami across the Indian Ocean, killing 226,000 people in 13 countries, including more than 120,000 in Indonesia.
Palu was hit by tsunami in 1927 and 1968, according to BNPB.
Indonesian President Joko ´Jokowi´ Widodo said Friday night that he instructed the security minister to coordinate the government´s response to the disaster.
Jokowi also told reporters in his hometown of Solo that he called on the country´s military chief to help with search and rescue efforts.
U.N. spokesman Stephane Dujarric said U.N. officials were in contact with Indonesian authorities and ´stand ready to provide support as required.´