SMAN 12 Jakarta, Alumni 1984 Rajut Silaturahim di Hari Fitri Pasca Pilpres
Alumni of Indonesian`s Jakarta 12 Public High School held Reunion
Editor : M. Achsan Atjo
Translator : Dhelia Gani

PUBLISHED: Senin, 24 Juni 2019 , 02:12:00 WIB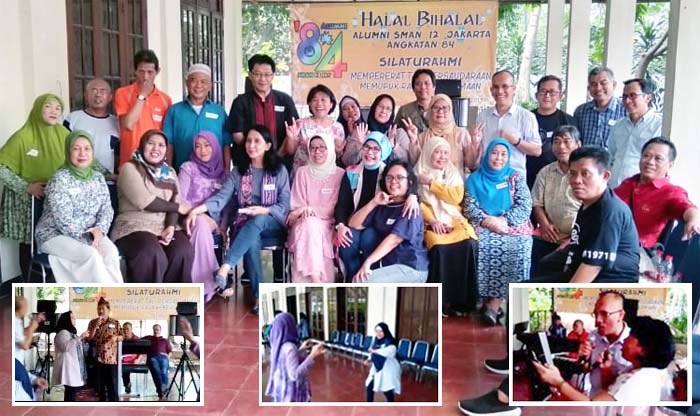 HALAL BIHALAL: Tuan rumah reuni, Ade Mira [jongkok kacamata] dengan sebagian rekan-rekan sesama alumni SMA 12 Angkatan 84, sementara yang lain sedang menunaikan shalat [Foto2: Lies H]
Jakarta [B2B] - Berjumpa sobat lama, bercerita tentang kenakalan masa remaja, dan curhat ´kasih tak sampai di bangku sekolah´ mewarnai keseruan reuni alumni SMA Negeri 12 Jakarta dari angkatan 1984 pada Sabtu [22/6] di kawasan Duren Sawit, Jakarta Timur.
Tak seperti reuni umumnya, Alumni 12 ´84 memilih lokasi temu kangen di rumah yang asri dan hijau berhalaman luas lantaran tidak terikat waktu reservasi, seperti halnya di restoran atau hotel berbintang.
"Terima kasih pada rekan Ade Mira, yang bersedia rumahnya ditempati puluhan pelajar SMAN 12 Jakarta angkatan 1984 untuk reuni," kata Ian Sugianto yang didapuk sebagai Ketua Alumni 12 ´84 jurusan IPS saat membuka kegiatan temu kangen.
Sedianya Ketua Alumni 12 ´84, Brigjen TNI Ignatius Yogo Triyono berencana ikut reuni namun Komandan Korem [Danrem] 181 PVT/Sorong berhalangan hadir terkait kesibukan sebagai perwira tinggi TNI AD di Papua.
Kegiatan reuni pelajar SMAN 12 jurusan IPS kian semarak atas hadirnya beberapa alumni dari jurusan IPA, yang memilih bergabung untuk merekat silaturahim setelah 35 tahun lulus dari sekolah di Jl Pertanian 12 Klender, Jakarta Timur.
"Selain untuk menjalin silaturahim, ajang temu kangen dimanfaatkan para alumni berbagi informasi tentang pekerjaan dan bisnis yang sedang dijalani," kata Nita, ketua panitia reuni Alumni 12 ´84 seraya mengapresiasi kehadiran Ida Darmini, Sri Lestari dan Nani M meski kurang sehat.
Reuni tak lengkap tanpa nostalgia. Senyum tersipu malu hingga gelak tawa mewarnai temu kangen saat host Yani Mulyani memandu rekan-rekannya ´menguak aib´ rekan lainnya saat di SMA dahulu. Aneka keisengan dan kenakalan khas remaja dekade 80-an terungkap di situ tanpa harus tersakiti dan dipermalukan.
Kejutan untuk B2B dan P Budi Rahayu yang diminta untuk meniup lilin ´kue ulang tahun dadakan´ untuk merayakan kelahiran keduanya pada 20 dan 22 Juni, dilanjutkan santap siang untuk menikmati kelezatan masakan khas katering Ivan Jaya.
Kuis ´menebak judul lagu´ menjadi puncak acara lantaran tiap alumnus harus beradu cepat yang dilantunkan apik oleh home band milik Lies Handayani. Mereka yang berlomba adalah Utami Halliday dan Bungaran dari jurusan IPA bersaing ketat dengan Nur Endah, Elly S, Ari S, Imas R, Asep T, Endang B, SI Dewi, Aslinda RN, dan Ritko yang tak mau kalah bersaing demi bingkisan reuni antara lain dari donasi pejabat Pertamina, Yana M. Sementara rekan-rekan dari jurusan IPA seperti Anton, Aang Kurniawan, Happy S, Paradongan, dan Kalis S tampaknya ikhlas Utami dan Bungaran ´dikeroyok´ sedangkan Didin S dan Ira lebih dahulu pamit.
"Hadiahnya sih nggak seberapa, yang penting heboh," kata Retno PS, akrab disapa Tiwi yang menjadi ´seksi repot´ didukung Wahyu S, Bambang S dan Benny Rinaldi.
Di tengah kemeriahan reuni, disisipkan renungan dan doa untuk mengenang sejumlah alumnus yang telah berpulang ke pangkuan Illahi di antaranya mendiang Puji R, Johnny T dan Benny B dan beberapa rekan dari jurusan IPA.
Jakarta [B2B] - Meet old friends, nostalgia in high school, and tells about teen love is the main topic of alumni of Jakarta´s 12 Public High School from batch 1984 [Alumni 12 ´84] here on Saturday [June 22] in Duren Sawit area of East Jakarta.
Unlike the general reunion, Alumni 12 ´84 chose a reunion at the wide-yard house because it is not bound by the time of reservation such as in restaurants or hotels.
"Thank you to Ade Mira, who provided her beautiful home for reunion activities," said said Ian Sugianto who was appointed as Chairperson of IPS 12 ´84 Alumni while opened the reunion.
Initially, Chairman of 12 ´84 Alumni, Brig. Gen. Ignatius Yogo Triyono plans to join the reunion, but the but the Commander of the Sorong Military Resort Command [Korem 181 PVT/Sorong] was unable to attend because of his duties as army officer in Papua.
The reunion activity was lively over the presence of alumni of the science, who chose to join to strengthen friendship after 35 years of high school graduation of high school in 12 Pertanian Street, East Jakarta.
"In addition to establishing friendship, the reunion was used by alumni to share information about their current work and business," said Nita, chairperson of the committee.
Reunion is incomplete without nostalgia. The atmosphere of the reunion was lively when host Yani Mulyani guiding her friends to ´reveal the shame´ in senior high school.
Surprises for B2B and P Budi Rahayu were asked to blow out birthday cake candles to celebrate the birthday on June 20 and 22.
Guess the song title became the peak of the reunion activity. Utami Halliday and Bungaran of majoring natural science competed with Retno PS, Nur Endah, Elly S, Ari Safari, Imas R, Asep Tovik, Endang Bunyamin, SI Dewi, Aslinda RN and Ritko who did not want to lose to get a reunion gift.
"The prize is not much, the important thing is the excitement," said Retno PS, familiarly called Tiwi.
Before the reunion ends, they prayed for their friends who had died, the late Puji R, Johnny T and Benny B.