42 Tewas, Mamuju Porak Poranda Dihantam Gempa 6,2 Skala Richter
At Least 42 Dead as Indonesia Quake Topples Homes, Buildings
Editor : Ismail Gani
Translator : Novita Cahyadi

PUBLISHED: Jum'at, 15 Januari 2021 , 21:03:00 WIB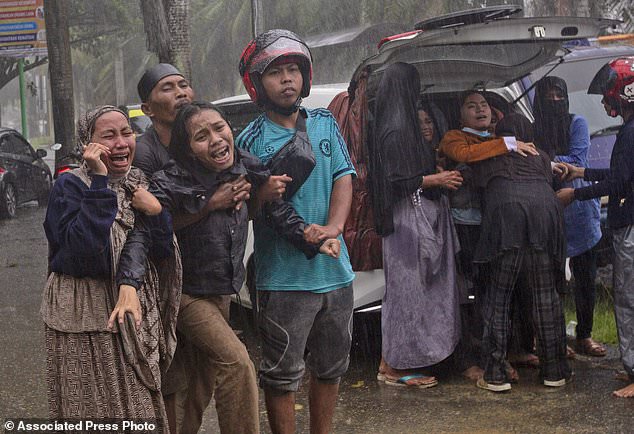 KORBAN TEWAS: Kerabat meratap ketika mereka menyaksikan penyelamat menarik tubuh orang yang dicintai dari rumah yang rusak di Mamuju yang hancur [Foto: Associated Press/MailOnline]
GEMPA BUMI yang kuat dan dangkal mengguncang Kabupaten Mamuj di Provinsi Sulawesi Barat tepat setelah tengah malam Jumat, merobohkan rumah dan bangunan, memicu tanah longsor dan menewaskan sedikitnya 42 orang.

Lebih dari 600 orang terluka oleh gempa berkekuatan 6,2 skala Richter, yang membuat orang meninggalkan rumah mereka dalam kegelapan. Pihak berwenang masih mengumpulkan informasi tentang jumlah korban jiwa dan kerusakan di daerah yang terdampak gempa.

Dalam video yang dirilis oleh Badan Nasional Penanggulangan Bencana [BNPB] seorang gadis yang terjebak di reruntuhan rumah berteriak minta tolong dan mengatakan dia mendengar suara anggota keluarga lain yang juga terjebak. "Tolong bantu saya," kata gadis itu kepada penyelamat, yang menjawab bahwa mereka sangat ingin membantunya.

Para penyelamat mengatakan sebuah ekskavator dibutuhkan untuk menyelamatkan gadis itu dan lainnya yang terperangkap di bangunan yang runtuh. Gambar lain menunjukkan jembatan putus dan rumah rusak dan rata.

Gempa merusak sebagian rumah sakit dan pasien dipindahkan ke tenda darurat di luar. Tim penyelamat berjuang untuk mengeluarkan tujuh pasien dan staf yang terperangkap di bawah berton-ton puing. Setelah beberapa jam, sebuah ekskavator datang untuk membantu dan penyelamat akhirnya menemukan empat orang yang selamat dan tiga mayat.

Video lain menunjukkan seorang ayah menangis, meminta bantuan untuk menyelamatkan anak-anaknya yang terkubur di bawah rumah mereka yang roboh. "Mereka terjebak di dalam, tolong bantu," serunya.

Ribuan pengungsi dievakuasi ke tempat penampungan sementara.

Gempa itu berpusat 36 kilometer di selatan Kabupaten Mamuju, Sulbar pada kedalaman 18 kilometer, kata Survei Geologi AS.

BNPB mengatakan jumlah korban tewas meningkat menjadi 42 ketika tim penyelamat di Mamuju menemukan 34 mayat yang terperangkap di reruntuhan rumah dan bangunan yang runtuh.

Badan tersebut mengatakan dalam sebuah pernyataan bahwa delapan orang tewas dan 637 lainnya terluka di Kabupaten Majene.

Dikatakan setidaknya 300 rumah dan sebuah klinik kesehatan rusak dan sekitar 15.000 orang ditampung di tempat penampungan sementara di distrik tersebut. Listrik dan telepon mati di banyak area.

Sekretaris Daerah Pemerintah Provinsi Sulawesi Barat Muhammad Idris mengatakan kepada TVOne bahwa gedung kantor gubernur termasuk di antara yang runtuh di Mamuju, ibu kota provinsi, dan banyak orang di sana masih terjebak.

Penyelamat Saidar Rahmanjaya mengatakan kurangnya alat berat menghambat upaya untuk membersihkan puing-puing dari rumah dan bangunan yang roboh. Dia mengatakan timnya sedang bekerja menyelamatkan puluhan orang yang terperangkap di delapan gedung, termasuk di kantor gubernur, rumah sakit, dan hotel.

"Kami berpacu dengan waktu untuk menyelamatkan mereka," katanya seperti dikutip Associated Press.

Kerabat meratap ketika mereka menyaksikan penyelamat menarik tubuh orang yang dicintai dari rumah yang rusak di Mamuju yang hancur. Itu ditempatkan dalam kantong mayat oranye dan dibawa untuk dimakamkan.

"Ya Tuhan, mengapa kita harus melalui ini?" seru Rina. "Saya tidak bisa menyelamatkan adikku ... maafkan aku, maafkan kami, ya Tuhan!"

Presiden Joko Widodo mengatakan dalam pidato yang disiarkan televisi bahwa dia telah memerintahkan Menteri Sosial Tri Rismaharini dan Panglima TNI Marsekal TNI Hadi Tjahjanto dan Kapolri Jenderal Idham Azis dan BNPB untuk melakukan tindakan tanggap darurat dan operasi pencarian dan penyelamatan secepat mungkin.

"Saya atas nama Pemerintah dan seluruh rakyat Indonesia menyampaikan belasungkawa yang sebesar-besarnya kepada keluarga para korban," kata Jokowi.

Kepala Badan SAR Nasional Bagus Puruhito mengatakan, tim penyelamat dari kota Palu, Makassar, Balikpapan dan Jakarta sedang dikerahkan untuk membantu di Mamuju dan Majene.

Dua kapal sedang menuju ke daerah bencana dari Makassar dan Balikpapan membawa tim penyelamat dan peralatan pencarian dan penyelamatan, sementara sebuah pesawat Hercules yang membawa perbekalan sedang dalam perjalanan dari Jakarta.

Puruhito telah memimpin lebih dari 4.100 personel penyelamat dalam operasi pencarian besar-besaran terpisah untuk para korban jatuhnya pesawat Sriwijaya Air di Laut Jawa Sabtu lalu.

Di antara korban tewas di Majene adalah tiga orang tewas ketika rumah mereka diratakan oleh gempa saat mereka sedang tidur, kata Sirajuddin, Kepala BNPB Majene.

Sirajuddin, yang biasa dipanggil, mengatakan meski gempa di daratan tidak berpotensi tsunami, masyarakat di sepanjang pesisir berlarian ke tempat yang lebih tinggi karena khawatir gempa itu bisa terjadi seperti dikutip Associated Press yang dilansir MailOnline.
A STRONG, shallow earthquake shook Indonesia's Sulawesi island just after midnight Friday, toppling homes and buildings, triggering landslides and killing at least 42 people.

More than 600 people were injured by the magnitude 6.2 quake, which sent people fleeing their homes in the darkness. Authorities were still collecting information about the full scale of casualties and damage in the affected areas.

There were reports of many people trapped in the rubble of collapsed homes and buildings.

In a video released by the National Disaster Mitigation Agency, a girl stuck in the wreckage of a house cried out for help and said she heard the sound of other family members also trapped. "Please help me, it hurts," the girl told rescuers, who replied that they desperately wanted to help her.

The rescuers said an excavator was needed to save the girl and others trapped in collapsed buildings. Other images showed a severed bridge and damaged and flattened houses.

The earthquake damaged part of a hospital and patients were moved to an emergency tent outside. Rescuers struggled to extract seven patients and staff who were trapped under tons of rubble. After several hours, an excavator came to help and the rescuers eventually retrieved four survivors and three bodies.

Another video showed a father crying, asking for help to save his children buried under their toppled house. "They are trapped inside, please help," he cried.

Thousands of displaced people were evacuated to temporary shelters.

The quake was centered 36 kilometers (22 miles) south of West Sulawesi province´s Mamuju district, at a depth of 18 kilometers (11 miles), the U.S. Geological Survey said.

The Indonesian disaster agency said the death toll climbed to 42 as rescuers in Mamuju retrieved 34 bodies trapped in the rubble of collapsed homes and buildings.

The agency said in a statement that eight people were killed and 637 others were injured in Mamuju's neighboring district of Majene.

It said at least 300 houses and a health clinic were damaged and about 15,000 people were being housed in temporary shelters in the district. Power and phones were down in many areas.

West Sulawesi Administration Secretary Muhammad Idris told TVOne that the governor's office building was among those that collapsed in Mamuju, the provincial capital, and many people there remained trapped.

Rescuer Saidar Rahmanjaya said a lack of heavy equipment was hampering efforts to clear the rubble from collapsed houses and buildings. He said his team was working to save dozens of people trapped in eight buildings, including in the governor's office, a hospital and a hotel.

"We are racing against time to rescue them," he said.

Relatives wailed as they watched rescuers pull a body of a loved one from a damaged home in devastated Mamuju. It was placed in an orange body bag and taken away for burial.

"Oh my God, why did we have to go through this?" cried Rina, who uses one name. "I can´t save my dear sister ... forgive me, sister, forgive us, God!"

President Joko Widodo said in a televised address that he had ordered his social minister and the chiefs of the military, police and disaster agency to carry out emergency response measures and search and rescue operations as quickly as possible.

"I, on behalf of the Government and all Indonesian people, would like to express my deep condolences to families of the victims," Widodo said.

The National Search and Rescue Agency´s chief, Bagus Puruhito, said rescuers from the cities of Palu, Makassar, Balikpapan and Jakarta were being deployed to help in Mamuju and Majene.

Two ships were heading to the affected areas from Makassar and Balikpapan carrying rescuers and search and rescue equipment, while a Hercules plane carrying supplies was on its way from Jakarta.

Puruhito is already leading more than 4,100 rescue personnel in a separate massive search operation for victims of the crash of a Sriwijaya Air jet into the Java Sea last Saturday.

Among the dead in Majene were three people killed when their homes were flattened by the quake while they were sleeping, said Sirajuddin, the district´s disaster agency chief.

Sirajuddin, who goes by one name, said although the inland earthquake did not have the potential to cause a tsunami, people along coastal areas ran to higher ground in fear one might occur.