Sumbang Oksigen ke India, Kini Indonesia Langka Oksigen Disorot Media Asing
Indonesia Short on Oxygen, Seeks Help as Virus Cases Soar
Editor : Kemal A Praghotsa
Translator : Novita Cahyadi

PUBLISHED: Minggu, 11 Juli 2021 , 21:44:00 WIB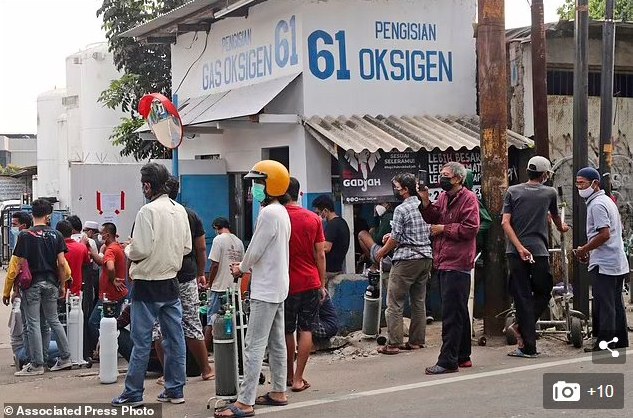 OKSIGEN LANGKA: Indonesia menyumbangkan 3.400 tabung oksigen ke India ketika wabah Corona memuncak, karena kasus positif Corona melonjak, Indonesia urungkan niat bantu India lagi pada akhir Juni [Foto: Associated Press/MailOnline]
BARU DUA bulan yang lalu, Indonesia membantu India dengan ribuan tangki oksigen lantaran minim pasokan oksigen.
Saat ini, Indonesia kesulitan pasokan oksigen akibat meningkatnya kasus positif Covid-19 dan pemerintah sedang mencari pasokan darurat dari negara lain, termasuk Singapura dan China.
Pengiriman lebih dari 1.000 tabung oksigen, konsentrator, ventilator, dan perangkat kesehatan lainnya tiba dari Singapura pada Jumat, diikuti oleh 1.000 ventilator lainnya dari Australia, kata Menteri Koordinator Maritim dan Investasi [Menko Marves] yang memimpin penanganan pandemi melalui PPMK Darurat Jawa - Bali.
Selain berharap pada bantuan asing, Indonesia berencana untuk membeli 36.000 ton oksigen dan 10.000 konsentrator - perangkat yang menghasilkan oksigen - dari negara tetangga Singapura, kata Luhut.
Dia mengatakan telah berkoordinasi dengan China dan sejumlah negara lainnya. AS dan Uni Emirat Arab juga telah menawarkan bantuan pada Indonesia.
"Kami menyadari situasi sulit yang dihadapi Indonesia saat ini dengan lonjakan kasus Covid-19," kata Sekretaris Pers Gedung Putih, Jen Psaki. Selain mengirim vaksin, AS berupaya meningkatkan bantuan untuk upaya respons Covid-19 Indonesia yang lebih luas, katanya, tanpa merinci.
Secara keseluruhan, Indonesia, negara terpadat keempat di dunia, telah melaporkan lebih dari 2,4 juta kasus positif dan 64.631 kematian akibat Covid-19. Angka-angka itu secara luas diyakini sebagai jumlah yang sangat kecil karena pengujian yang rendah dan langkah-langkah penelusuran yang buruk. Indonesia melaporkan jumlah kematian tertinggi 1.040 pada Rabu [7/7] dan hampir 39.000 kasus yang dikonfirmasi pada Kamis [8/7] dan Jumat [9/7].
Rumah sakit kebanjiran, dengan semakin banyak orang sakit yang sekarat dalam isolasi di rumah atau sambil menunggu untuk mendapatkan perawatan darurat.
Di Jawa, rumah sakit mulai mendirikan unit perawatan intensif darurat [UGD] pada pertengahan Juni. Banyak pasien menunggu berhari-hari untuk dirawat. Tangki oksigen harus diburu bagi mereka yang cukup beruntung mendapatkannya, sementara yang lain diberitahu bahwa mereka harus mencari sendiri.
Ruang gawat darurat di rumah sakit umum di kota Bandung ditutup awal pekan ini setelah kehabisan oksigen di tengah pembelian panik yang dipicu oleh melonjaknya infeksi di ibu kota provinsi Jawa Barat, kata Wakil Walikota Bandung, Yaya Mulyana.
"Orang yang panik ikut membeli tabung oksigen padahal belum membutuhkannya," kata Mulyana. "Itu menyebabkan pasokan oksigen habis."
Di salah satu rumah sakit di Yogyakarta, Jawa Tengah, 63 pasien Covid-19 meninggal dalam satu hari -- 33 di antaranya karena pemadaman pasokan oksigen cair pusatnya, meskipun rumah sakit tersebut telah beralih menggunakan tabung oksigen, kata juru bicara Banu Hermawan.
Indonesia menyumbangkan 3.400 tabung oksigen dan konsentrator ke India ketika wabah Corona melanda negara itu. Karena kasus positif Corona melonjak, Indonesia kemudian membatalkan rencana untuk mengirim 2.000 konsentrator oksigen lagi ke India pada akhir Juni.
Kebutuhan oksigen per hari mencapai 1.928 ton per hari. Total kapasitas produksi yang tersedia sekitar 2.262 ton per hari, menurut data pemerintah.
"Saya minta 100% oksigen untuk keperluan medis dulu, artinya semua alokasi industri harus dialihkan ke medis," kata Luhut B Pandjaitan. "Kami berpacu dengan waktu, kami harus bekerja cepat."
Mengingat penyebaran cepat dari varian delta yang sangat menular, ia memperingatkan bahwa Indonesia dapat menghadapi skenario terburuk dengan 50.000 kasus per hari. Dua minggu ke depan akan menjadi kritis, katanya seperti dikutip Associated Press yang dilansir MailOnline.
Kementerian Perindustrian merespons dengan mengeluarkan surat keputusan bahwa semua pasokan oksigen dikirim ke rumah sakit yang dipenuhi pasien virus Corona, dan meminta pelaku industri untuk bekerja sama.
Oksigen digunakan dalam pembuatan banyak produk, termasuk tekstil, plastik, dan kendaraan. Penyulingan minyak, pabrik kimia dan pembuat baja juga menggunakannya. Tetapi para pemimpin industri telah sejalan dalam mendukung upaya pemerintah untuk memaksimalkan pasokan untuk rumah sakit.
Pemerintah telah mengalihkan pasokan oksigen dari pabrik industri di Morowali di Sulawesi Tengah, Balikpapan di pulau Kalimantan, dan Belawan dan Batam di pulau Sumatera, kata Pandjaitan. Industri oksigen yang lebih kecil juga telah diarahkan untuk memproduksi oksigen farmasi.
JUST TWO months ago, Indonesia was coming to a gasping India´s aid with thousands of tanks of oxygen.
Today, the Southeast Asia country is running out of oxygen as it endures a devastating wave of coronavirus cases and the government is seeking emergency supplies from other countries, including Singapore and China.
A shipment of more than 1,000 oxygen cylinders, concentrators, ventilators and other health devices arrived from Singapore on Friday, followed by another 1,000 ventilators from Australia, said Luhut Binsar Pandjaitan, the government minister in charge of Indonesia´s pandemic response.
Beside those donations, Indonesia plans to buy 36,000 tons of oxygen and 10,000 concentrators - devices that generate oxygen - from neighboring Singapore, Pandjaitan said.
He said he is in touch with China and other potential oxygen sources. The U.S. and the United Arab Emirates also have offered help.
"We recognize the difficult situation Indonesia currently finds itself in with a surge of COVID cases," White House press secretary Jen Psaki said. In addition to sending vaccines, the U.S. is working to increase assistance for Indonesia´s broader COVID-19 response efforts, she said, without elaborating.
Overall, Indonesia, the world´s fourth-most populous country, has reported more than 2.4 million infections and 64,631 fatalities from COVID-19. Those figures are widely believed to be a vast undercount due to low testing and poor tracing measures. Indonesia reported the highest toll of 1,040 deaths on Wednesday and nearly 39,000 confirmed cases on Thursday and Friday.
Hospitals are swamped, with growing numbers of the ill dying in isolation at home or while waiting to receive emergency care.
On Java, Indonesia´s most populous island, hospitals began setting up makeshift intensive care units in mid-June. Many patients are waiting for days to be admitted. Oxygen tanks were rolled out onto sidewalks for those lucky enough to get them, while others have been told they have to find their own.
Emergency rooms at a public hospital in Bandung city closed earlier this week after running out of oxygen amid panic buying fueled by soaring infections in the West Java provincial capital, said Yaya Mulyana, the city´s deputy mayor.
"Panicked people bought oxygen tanks even though they didn´t need them yet," Mulyana said. "That has led to oxygen supplies running out."
At one hospital in Yogyakarta, in central Java, 63 COVID-19 patients died in one day -- 33 of them during an outage of its central liquid oxygen supply, though the hospital had switched to using oxygen cylinders, spokesman Banu Hermawan said.
Indonesia donated 3,400 oxygen cylinders and concentrators to India when a brutal outbreak ravaged the country. As its own cases surged, Jakarta then canceled a plan to send another 2,000 oxygen concentrators to India in late June.
The daily need for oxygen has reached 1,928 tons a day. The country´s total available production capacity is 2,262 tons a day, according to government data.
"I asked for 100% of oxygen go to medical purposes first, meaning that all industrial allocations must be transferred to medical," said Pandjaitan, the government minister. "We are racing against time, we have to work fast."
Given the rapid spread of the highly infectious delta variant, he warned that Indonesia could face a worst-case scenario with 50,000 cases a day. The next two weeks will be critical, he said.
The Ministry of Industry responded by issuing a decree that all oxygen supplies be sent to hospitals overflowing with coronavirus patients, and asked industry players to cooperate.
Oxygen is used in making many products, including textiles, plastics and vehicles. Oil refiners, chemical manufacturers and steel makers also use it. But industry leaders have fallen in line in supporting government efforts to maximize supplies for hospitals.
The government has redirected oxygen supplies from industrial plants in Morowali in Central Sulawesi, Balikpapan on Borneo island, and Belawan and Batam on Sumatra islands, Pandjaitan said. Smaller oxygen industries have also been directed to produce pharmaceutical oxygen.