10 Tewas dan Ribuan Warga Mengungsi akibat Banjir di Bengkulu
At Least 10 Dead, Thousands Displaced after Severe Indonesia Floods
Editor : Ismail Gani
Translator : Novita Cahyadi

PUBLISHED: Minggu, 28 April 2019 , 21:06:00 WIB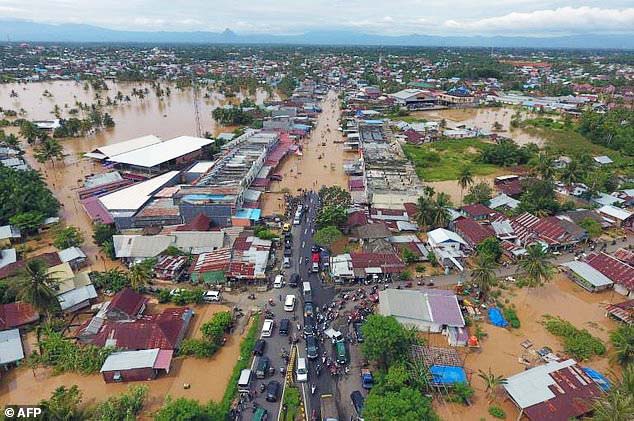 Foto: AFP/MailOnline
SEDIKITNYA 10 tewas dan delapan orang hilang akibat bencana banjir dan tanah longsor di Bengkulu, kata pihak berwenang, Minggu.
Bencana tersebut memaksa sekitar 12.000 orang mengungsi ievakuasi sementara ratusan bangunan, jembatan dan jalan rusak akibat cuaca buruk yang berdampak pada sembilan kabupaten dan kota di provinsi Bengkulu, kata para pejabat.
Banjir mulai surut di beberapa tempat tetapi pihak berwenang memperingatkan bahwa tingkat kerusakan belum diketahui dan beberapa daerah masih terputus.
"Dampak bencana ini dapat meningkat," kata juru bicara Badan Nasional Penanggulangan Bencana [BNPB] Sutopo Purwo Nugroho, seraya menambahkan bahwa beberapa orang juga menderita luka akibat banjir.
"Tanah longsor dan banjir bisa terjadi lagi jika curah hujan tinggi," katanya.
Bencana tersebut memicu terjadinya "Bencana sekunder" dalam bentuk penyakit kulit dan infeksi pernapasan akut karena kebersihan yang buruk dan kurangnya air bersih, kata Sutopo.
Sejumlah foto udara memperlihatkan air sungai meluap dan pemukiman penduduk yang tergenang banjir di sejumlah tempat.
Dapur umum dan tempat penampungan pengungsi telah didirikan untuk menampung sekitar 13.000 orang yang terdampak banjir, sementara tim pencarian dan penyelamatan [Basarnas] mencoba menjangkau daerah-daerah yang terkena dampak parah dengan perahu karet.
"Distribusi bantuan terhambat karena akses jalan terputus oleh banjir dan tanah longsor," kata Sutopo, seraya menambahkan excavator digunakan untuk membersihkan puing-puing dari jalan.
Tanah longsor dan banjir sering terjadi di Indonesia, terutama selama musim hujan antara Oktober dan April, ketika hujan menghantam kepulauan Asia Tenggara yang luas.
Banjir di beberapa bagian ibu kota Indonesia Jakarta minggu ini menewaskan sedikitnya dua orang dan memaksa lebih dari 2.000 orang mengungsi.
Penduduk Bogor, kota satelit Jakarta, harus khawatir terhadap sekitar 14 ular sanca yang keluar dari tempat pemeliharaannya karena banjir.
Enam dari ular itu - sepanjang empat meter - telah ditagkap, tetapi delapan ular lainnya masih berkeliaran, kata para pejabat seperti dikutip AFP yang dilansir MailOnline.
AT LEAST 10 people are dead and eight are missing after days of heavy rain-triggered floods and landslides on the Indonesian island of Sumatra, authorities said Sunday.
Some 12,000 people have been evacuated while hundreds of buildings, bridges and roads have been damaged by the severe weather which affected nine districts or towns across Bengkulu province, officials said.
The waters have receded in some places but officials warned the full extent of the damage was not yet known and some areas were still cut off.
"The impact of this disaster may increase," national disaster agency spokesman Sutopo Purwo Nugroho said, adding that several people were also injured in the flooding.
"Landslides and floods could happen again if rainfall is high," he said.
A "secondary disaster" in the form of skin diseases and acute respiratory infection due to poor hygiene and a lack of clean water was possible, he added.
Aerial images showed swollen rivers that had burst their banks and inundated settlements in some parts of the province.
Public kitchens and evacuation shelters have been set up to cater to some 13,000 people affected by the flooding, while search and rescue teams try to reach hard-hit areas with rubber boats.
"The distribution of aid has been hampered because road access has been cut off by the floods and landslides," Nugroho said, adding excavators were being used to clear debris from roads.
Landslides and floods are common in Indonesia, especially during the monsoon season between October and April, when rains lash the vast Southeast Asian archipelago.
Flooding in parts of the Indonesian capital Jakarta this week killed at least two people and forced more than 2000 to evacuate their homes.
Residents of Bogor, a satellite city of Jakarta, had to contend with some 14 pythons that were set loose from a private property due to the high waters.
Six of the snakes -- which were as long as four metres -- have been found, but the remaining eight remain on the loose, officials said.