Lebih 2.000 Diperkirakan Tewas Akibat Bencana Palu dan Donggala
Indonesia Tsunami-quake Death Toll could Soar over 2,000
Editor : Ismail Gani
Translator : Novita Cahyadi

PUBLISHED: Kamis, 04 Oktober 2018 , 22:07:00 WIB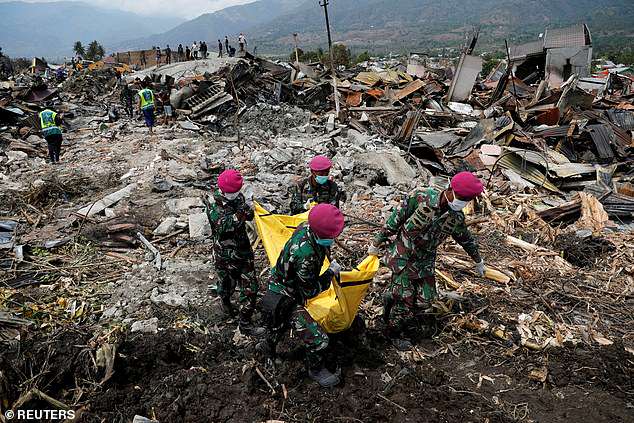 TANGGAP DARURAT: Sekitar 1.000 orang masih hilang di lingkungan Petobo, Balaroa dan Sigi dekat kota Palu yang dilanda oleh bencana (Foto: Reuters/MailOnline)
LEBIH DARI 2.000 orang diperkirakan tewas akibat gempa bumi dahsyat dan tsunami di Palu dan Donggala, Sulawesi Tengah, dan lebih dari seribu orang masih hilang.
Sebanyak 1.424 orang dikonfirmasi tewas dan rumah maupun bangunan rata menjadi tanah akibat gempa bumi pada Jumat, kemudian diikuti tsunami yang menghantam daratan di Sulawesi Tengah.
Ratusan orang dimakamkan di kuburan massal ketika pihak berwenang berpacu dengan waktu untuk mencegah wabah penyakit dari mayat membusuk di tengah musim kemarau.
Sekitar 1.000 orang masih hilang di lingkungan Petobo, Balaroa dan Sigi dekat kota Palu yang dirusak oleh bencana, seperti dilaporkan Sky News.
Hari ini polisi bersenjata berjaga di luar pom bensin untuk memastikan warga yang mengantri panjang tidak menjarah truk pengangkut BBM dalam perjalanan ke Palu.
Polisi telah menangkap puluhan orang yang diduga sebagai pelaku penjarah dan militer memperingatkan bahwa tentara akan menembak siapa saja yang tertangkap mencuri.
Listrik telah diperbaiki dan beberapa toko mulai dibuka kembali hari ini tetapi upaya untuk mendapatkan bantuan kepada korban yang lapar dan haus, banyak yang kini tidak punya tempat tinggal dan tidur di kamp-kamp pengungsian, terhambat untuk bepergian akibat transportasi lumpu.
Beberapa bank dibuka kembali dan jaringan telepon seluler utama kembali beroperasi di kota Palu yang dihuni 370.000 orang.
Kepala Staf Angkatan Udara (Kasau) Marsekal Yuyu Sutisna mengatakan pemerintah asing, termasuk Singapura, Korea Selatan dan Inggris, mengirimkan 20 pesawat untuk membantu penanganan tanggap darurat.
Australia dan Selandia Baru mengirimkan pesawat angkut angkatan udara ke Indonesia membawa terpal, generator dan penampung air.
Sebuah tim penyelamat Perancis berada di Palu dan membantu tim pencarian pada Kamis, sementara LSM Oxfam mengatakan mereka berharap dapat segera berada di lokasi bencana pada Sabtu.
Bandara Palu, yang rusak parah akibat bencana alam, akhirnya dibuka kembali untuk semua penerbangan hari Kamis, memungkinkan upaya bantuan internasional meningkat.
Pemerintah Indonesia pada mulanya menolak untuk menerima bantuan internasional, bersikeras militernya sendiri dapat menangani tanggapan tersebut.
Namun karena skala bencana lebih luas, Presiden Joko Widodo terpaksa menyetujui untuk mengizinkan bantuan asing.
Orang yang putus asa, beberapa menangis, menunggu untuk mendapatkan tempat di kapal yang diatur untuk kembali ke kota Makassar di Sulawesi selatan, dan bentrokan singkat pecah dengan tentara.
Seorang warga Korea Selatan yang hilang telah dikonfirmasi tewas, kata kementerian luar negeri Seoul, yang tercatat sebagai kematian orang asing pertama.
Seorang warga Belgia masih hilang sementara lebih dari 100 orang asing lainnya telah dievakuasi, kata Badan Nasional Penanggulangan Bencana (BNPB) seperti dikutip AFP dan Reuters yang dilansir MailOnline.
MORE THAN 2,000 people may have died in the devastating earthquake and tsunami in Indonesia, it has emerged, with more than a thousand still missing.
Some 1,424 people have already been confirmed dead and buildings were reduced to rubble after monster earthquake struck on Friday, sending destructive waves barrelling into Sulawesi island.
Hundreds have been buried in mass graves as overwhelmed authorities race to avert a disease outbreak from corpses rotting in the tropical heat.
Around 1,000 people are still missing in the neighbourhoods of Petobo, Balaroa and Sigi near the city of Palu which was wrecked by the disaster, Sky News reported.
Today armed police were standing guard outside petrol stations to ensure order in long queues after tracks carrying supplies were ransacked en route to Palu.
Police have been rounding up dozens of suspected looters and the military warned that soldiers will fire on anyone caught stealing.
Electricity was restored and some shops began reopening today but efforts to get aid to hungry and thirsty victims, many now homeless and sleeping in evacuation camps, were slow to get off the ground due to severed transport links.
Some banks reopened and a major mobile phone network was back in operation in the stricken city of Paluk, 370,000.
Air force chief Yuyu Sutisna said foreign governments, including Singapore, South Korea and Britain, were sending 20 planes to help in the relief effort.
Australia and New Zealand are sending air force transport planes to Indonesia carrying tarpaulins, generators and water containers.
A team of French rescuers were in Palu and helping search teams on Thursday, while NGO Oxfam said it expects to be on the ground by Saturday.
Palu airport, badly damaged in the twin disaster, finally re-opened to all flights Thursday, allowing the international aid effort to ramp up.
The Indonesian government initially refused to accept international help, insisting its own military could handle the response.
But as the scale of the disaster became clear President Joko Widodo reluctantly agreed to allow in overseas aid.
Desperate survivors, some crying, waited to get a spot on the vessel which was set to return to the city of Makassar in southern Sulawesi, and brief scuffles broke out with soldiers.
A missing South Korean has been confirmed dead, Seoul´s foreign ministry said, in the first recorded foreigner fatality.
A Belgian remains missing while over 100 other foreigners in the ravaged area have been evacuated, the disaster agency said.