1.700 Tewas, 5.000 Dikhawatirkan Hilang Akibat Gempa dan Tsunami Palu
5,000 Feared Missing as Search for Indonesia Quake Victims Continues
Editor : Ismail Gani
Translator : Novita Cahyadi

PUBLISHED: Minggu, 07 Oktober 2018 , 22:24:00 WIB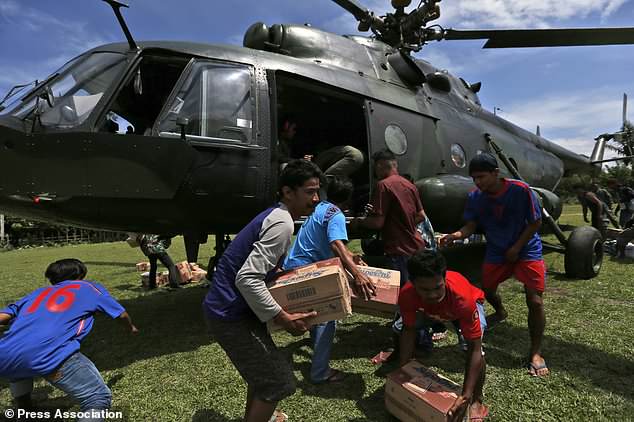 Foto: Press Associaton/MailOnline
JUMLAH korban tewas akibat gempa dan tsunami yang menghantam Palu, Sigi dan Donggala di Provinsi Sulawesi Tengah mencapai 1.700 korban tewas, sementara yang hilang diperkirakan 5.000 orang.
Badan Nasional Penanggulangan Bencana (BNPB) mengatakan jumlah korban tewas meningkat menjadi 1.763 orang, sebagian besar di Palu.
Juru bicara BNPB Sutopo Purwo Nugroho mengatakan, seharusnya lebih banyak jenazah dapat segera dikubur, terutama di kawasan Petobo dan Balaroa, Palu, di mana lebih dari 3.000 rumah rusak atau tenggelam ke dalam lumpur yang dalam ketika gempa 28 September menyebabkan tanah amblas.
Dia mengatakan: "Berdasarkan laporan dari kepala desa di Balaroa dan Petobo, sekitar 5.000 orang belum ditemukan. Para pekerja kami di lapangan mencoba memastikan hal ini."
Sutopo mengatakan upaya untuk mengevakuasi jenazah yang terbenam di lumpur, semakin sulit dan beberapa orang diperkirakan telah diangkat dan diselamatkan atau dievakuasi.
Lebih dari 8.000 warga yang terluka telah diterbangkan atau eksodus keluar dari Palu, sementara yang lain mungkin menempuh perjalanan darat, katanya.
Secara resmi, Sutopo mengatakan hanya 265 orang yang dinyatakan hilang dan 152 lainnya masih terkubur di bawah lumpur dan puing-puing, sembilan hari setelah gempa bumi berkekuatan 7,5 SR dan tsunami yang kuat melanda Palu dan daerah sekitarnya.
Pemerintah menargetkan untuk mengakhiri operasi pencarian pada Kamis, hampir dua pekan setelah bencana alam, pada saat itu mereka yang tidak terhitung akan dinyatakan hilang dan dianggap tewas, kata Nugroho seperti dikutip Press Association yang dilansir MailOnline.
THE DEATH toll from the earthquake and tsunami which devastated Indonesia's Sulawesi island has topped 1,700, as officials fear another 5,000 people could be missing.
The national disaster agency said the number of dead had climbed to 1,763, mostly in Palu.
Agency spokesman Sutopo Purwo Nugroho said many more people could be buried, especially in the Palu neighbourhoods of Petobo and Balaroa, where more than 3,000 homes were damaged or sucked into deep mud when the September 28 quake caused loose soil to liquefy.
He said: "Based on reports from village chiefs in Balaroa and Petobo, some 5,000 people have not been found. Our workers on the ground are trying to confirm this."
Mr Nugroho said efforts to retrieve decomposed bodies in deep, soft mud were getting more difficult and that some people may have fled or been rescued and evacuated.
More than 8,000 either injured or vulnerable residents have been flown or shipped out of Palu, while others could have left by land, he said.
Officially, Mr Nugroho said only 265 people are confirmed missing and 152 others still buried under mud and rubble, nine days after the magnitude 7.5 earthquake and powerful tsunami hit Palu and its surrounding areas.
The government targets to end search operations by Thursday, nearly two weeks after the disaster, at which time those unaccounted for will be declared missing and considered dead, Mr Nugroho said.