22 Tewas akibat Banjir Bandang dan Longsor di Sumatera
Floods and Landslides in Indonesia Leave 22 Dead
Editor : Ismail Gani
Translator : Novita Cahyadi

PUBLISHED: Minggu, 14 Oktober 2018 , 22:46:00 WIB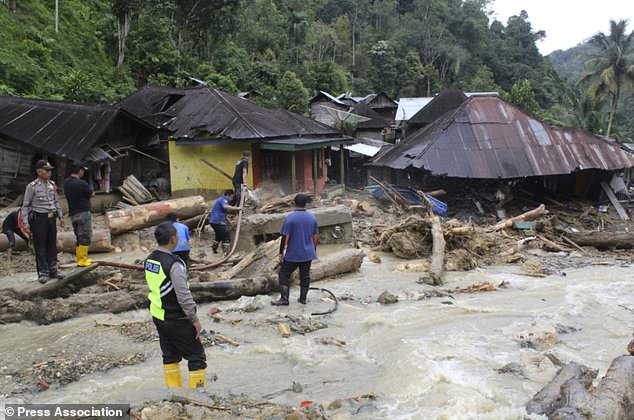 Foto: Press Associaton/MailOnline
HUJAN DERAS memicu banjir bandang dan tanah longsor di Sumatera Utara, menewaskan sedikitnya 22 orang - sebagian besar anak-anak di sekolah, dan 15 orang lainnya dinyatakan hilang.
Banjir bandang dengan lumpur dan puing-puing dari tanah longsor melanda Kabupaten Mandailing Natal di provinsi Sumatra Utara dan menghancurkan sebuah sekolah di Desa Muara Saladi, di mana 21 anak-anak disapu banjir pada Jumat sore, Kapolres Mandailing Natal AKBP Irsan Sinuhaji.
Dia mengatakan tim pencari dan penyelamat dari SAR mengevakuasi jasad 11 siswa sekolah dari lumpur dan puing-puing beberapa jam kemudian.
Juru bicara Badan Nasional Penanggulangan Bencana (BNPB) Sutopo Purwo Nugroho mengatakan tim penyelamat sedang mencari 10 anak lain yang masih hilang.
Sebuah video yang diperoleh oleh The Associated Press menunjukkan keluarga korban menangis setelah mendapati jasad dari orang yang mereka cintai tergeletak diam di klinik kesehatan, ditutupi selimut.
Sutopo mengatakan dua jenazah ditemukan Sabtu pagi dari sebuah mobil yang hanyut akibat banjir di Mandailing Natal, di mana 17 rumah ambruk dan lima rumah hanyut.
Ratusan rumah lainnya dibanjiri hingga dua meter, sementara tanah longsor terjadi di delapan wilayah di wilayah itu.
Empat warga desa tewas setelah tanah longsor menimpa 29 rumah dan membanjiri sekitar 100 bangunan di kabupaten Sibolga, kata Sutopo.
Dia mengatakan banjir bandang juga menghancurkan beberapa desa di Kabupaten Tanah Datar, Provinsi Sumatra Barat, menewaskan empat orang, termasuk dua anak, dan tiga orang hilang masih dinyatakan hilang.
Tanah longsor dan banjir di Kabupaten Pasaman Barat menewaskan seorang penduduk dan mengakibatkandua orang hilang setelah 500 rumah terendam dan tiga jembatan ambruk.
Kedua provinsi, Sumatera Utara dan Sumatera Barat menyatakan periode bantuan darurat selama sepekan karena ratusan korban yang ketakutan mengungsi dari rumah mereka di perbukitan ke lokasi yang lebih aman, dikhawatirkan akan terjadi tanah longsor susulan akibat hujan terus turun, kata Sutopo, seraya menambahkan bahwa puluhan orang yang cedera dilarikan ke rumah sakit terdekat dan klinik terdekat seperti dikutip Press Association yang dilansir MailOnline.
TORRENTIAL rains have triggered flash floods and landslides on the Indonesian island of Sumatra, killing at least 22 people – mostly children at a school, and leaving 15 others missing, officials said.
A flash flood with mud and debris from landslides struck Mandailing Natal district in North Sumatra province and smashed an Islamic school in Muara Saladi village, where 21 children were swept away on Friday afternoon, said local police chief Irsan Sinuhaji.
He said rescuers retrieved the bodies of 11 children from mud and rubble hours later.
The National Disaster Mitigation Agency's spokesman, Sutopo Purwo Nugroho, said rescuers were searching for 10 other children still missing.
A video obtained by The Associated Press showed relatives crying besides their loved ones at a health clinic where the bodies of the children were lying, covered with blankets.
Mr Nugroho said two bodies were found early on Saturday from a car washed away by floods in Mandailing Natal, where 17 houses collapsed and five were swept away.
Hundreds of other homes were flooded up to two metres high, while landslides occurred in eight areas of the region.
Four villagers were killed after landslides hit 29 houses and flooded about 100 buildings in neighboring Sibolga district, Mr Nugroho said.
He said flash floods also smashed several villages in West Sumatra province's Tanah Datar district, killing four people, including two children, and leaving three missing.
Landslides and flooding in West Pasaman district killed a villager and left two missing after 500 houses flooded and three bridges collapsed.
Both North and West Sumatra provinces declared a week-long emergency relief period as hundreds of terrified survivors fled their hillside homes to safer ground, fearing more of the mountainside would collapse under continuing rain, Mr Nugroho said, adding that dozens of injured people were rushed to nearby hospitals and clinics.
Seasonal downpours cause frequent landslides and floods each year in Indonesia, a chain of 17,000 islands where millions of people live in mountainous areas or near fertile flood plains.