Empat Tewas akibat Gempa Bumi Banten Jumat Malam
Four Dead, Several Injured after Powerful Quake Rocks Indonesia
Editor : Ismail Gani
Translator : Novita Cahyadi

PUBLISHED: Sabtu, 03 Agustus 2019 , 22:50:00 WIB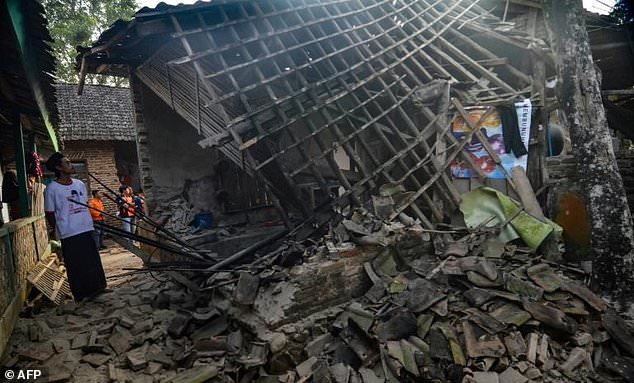 Empat orang lagi terluka dan lebih dari 200 bangunan rusak, dan sekitar 13 rumah hancur [Foto: AFP/MailOnline]
EMPAT TEWAS dan beberapa orang terluka setelah gempa bumi bawah laut yang dahsyat mengguncang pulau Jawa yang berpenduduk padat di Indonesia, memicu peringatan tsunami singkat, kata Badan Nasional Penanggulangan Bencana [BNPB], Sabtu.
Gempa berkekuatan 6,9 pada Jumat malam memaksa penduduk mengungsi ke tempat yang lebih tinggi, begitu pula dengan warga Jakarta yang berlarian keluar rumah untuk menyelamatkan diri.
Seorang pejabat dari BNPB memperingatkan gempa itu dapat memicu tsunami setinggi tiga meter, tetapi peringatan itu dicabut beberapa jam kemudian.
Tiga orang tewas karena serangan jantung ketika gempa kuat mengguncang wilayah itu, kata juru bicara BNPB Agus Wibowo pada Sabtu.
Korban tewas lainnya setelah mencoba melarikan diri dari rumahnya ketika guncangan gempa terjadi, katanya.
Empat orang lagi terluka dan lebih dari 200 bangunan rusak, dan sekitar 13 rumah hancur, tambahnya.
Lebih dari 1.000 orang, yang sebelumnya dievakuasi ke tempat penampungan sementara, pulang ke rumah setelah pihak berwenang meyakinkan mereka bahwa hal itu aman untuk dilakukan, kata Agus Wibowo.
"Ada suara gemuruh - itu terdengar seperti pesawat di atas kepala - dan saya sangat takut sehingga berlarian mengungsi," kata Isah yang berusia 69 tahun, yang seperti banyak orang Indonesia menggunakan satu nama, di tempat penampungan evakuasi di Pandeglang, Provinsi Banten di ujung barat daya Jawa.
Pada Desember, daerah itu dilanda tsunami yang memicu gunung berapi yang menewaskan lebih dari 400 orang.
Indonesia sering mengalami aktivitas seismik dan vulkanik karena posisinya di "Cincin Api" Pasifik, tempat lempeng tektonik bertabrakan.
Tahun lalu, gempa berkekuatan 7,5 dan tsunami berikutnya di Palu di Provinsi Sulawesi Tengah menewaskan lebih dari 2.200 orang, dengan ribuan lainnya dinyatakan hilang.
Pada 26 Desember 2004, gempa bumi dahsyat berkekuatan 9,1 melanda pantai Sumatra dan memicu tsunami yang menewaskan 220.000 di seluruh wilayah Samudra Hindia, termasuk sekitar 170.000 di Indonesia seperti dikutip AFP yang dilansir MailOnline.
FOUR PEOPLE died and several were injured after a powerful undersea earthquake rocked Indonesia's heavily populated Java island, triggering a brief tsunami warning, the national disaster agency said Saturday.
The 6.9 magnitude quake on Friday evening sent residents fleeing to higher ground, while many in the capital Jakarta ran into the streets.
An official from Indonesia's national disaster agency warned the quake could generate a tsunami as high as three metres (10 feet), but the alert was lifted several hours later.
Three people died of heart attacks as the strong quake rocked the region, agency spokesman Agus Wibowo said on Saturday.
Another person fell to his death while trying to flee his house when the jolt happened, he said.
Four more people were injured and more than 200 buildings were damaged, with some 13 houses destroyed, he added.
Over 1,000 people, who had earlier evacuated to temporary shelters, returned home after authorities convinced them it was safe to do so, Wibowo said.
"There was thundering noise -- it sounded like a plane overhead -- and I was just so scared that I ran," said 69-year-old Isah, who like many Indonesians goes by one name, at an evacuation shelter in Pandeglang at the southwest end of Java.
In December, the area was hit by a volcano-sparked tsunami that killed over 400 people.
Indonesia experiences frequent seismic and volcanic activity due to its position on the Pacific "Ring of Fire", where tectonic plates collide.
Last year, a 7.5-magnitude quake and a subsequent tsunami in Palu on Sulawesi island killed more than 2,200 people, with another thousand declared missing.
On December 26, 2004, a devastating 9.1-magnitude earthquake struck off the coast of Sumatra and triggered a tsunami that killed 220,000 across the Indian Ocean region, including around 170,000 in Indonesia.