Berakhir 15 Juli, Seleksi Calon Anggota DJSN 2019 - 2024
Candidate Selection for Members of Indonesian Social Security Council was Opened
Reporter : Gusmiati Waris
Editor : Cahyani Harzi
Translator : Dhelia Gani

PUBLISHED: Selasa, 02 Juli 2019 , 22:05:00 WIB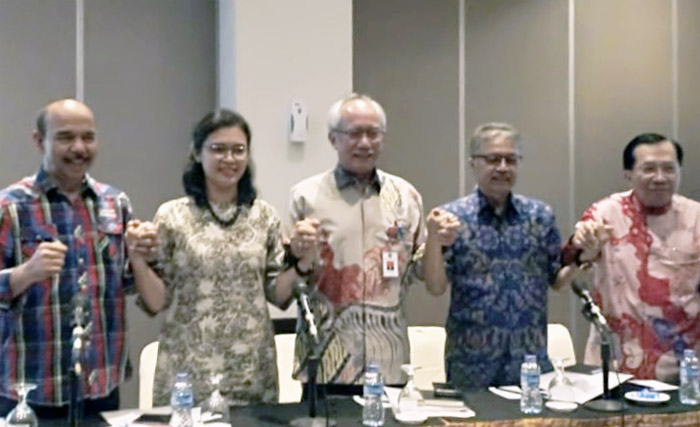 Pansel DJSN 2019 - 2024 [Foto: B2B/Mya]
Jakarta [B2B] - Seleksi tujuh calon anggota Dewan Jaminan Sosial Nasional (DJSN) periode 2019 - 2024 akan berakhir 15 Juli setelah pendaftarannya dibuka oleh Pemerintah RI pada 26 Juni 2019, menyusul akan berakhirnya masa bakti DJSN periode 2014 - 2019 per 19 Oktober 2019. DJSN adalah lembaga independen yang dibentuk untuk membantu Presiden RI dengan fungsi dan tugas merumuskan kebijakan umum dan sinkronisasi penyelenggara Sistem Jaminan Sosial Nasional [SJSN].
"Seleksi calon anggota DJSN dibuka mulai 26 Juni, diawali pengumuman dan pendaftaran yang akan berakhir 15 Juli 2019," kata Tubagus Achmad Choesni selaku Ketua Panitia Seleksi Calon Anggota DJSN 2019 - 2024 kepada pers di Jakarta, Selasa [2/7].
Tubagus menambahkan Presiden RI Joko Widodo telah menetapkan Keputusan Presiden [Kepres] No 60/P/2019 tentang Penetapan Pembentukan Panitia Seleksi Calon Anggota DJSN periode 2019 - 2024 yang berjumlah tujuh orang, dengan komposisi terdiri atas lima orang dari unsur pemerintahan dan dua orang dari unsur masyarakat.
Menurutnya, panitia seleksi DJSN mengundang seluruh warga negara Indonesia [WNI] yang memiliki kompetensi tentang jaminan sosial untuk mendaftarkan diri. Calon anggota terdiri atas unsur pemerintahan, tokoh atau ahli, unsur organisasi pemberi kerja dan unsur organisasi pekerja.
Pengumuman resmi dan formulir pendaftaran dapat diunduh melalui laman resmi http://www.djsn.do.id. Sesuai UU No 40/2004 tentang persyaratan pendaftar calon anggota dengan usia minimal 40 tahun dan maksimal 60 tahun terhitung 19 Oktober 2019.
Proses pendaftaran, seleksi dan kriteria calon anggota DJSN, untuk unsur tokoh/ahli diajukan kepada panitia seleksi [Pansel] di Lantai 2 Balai Besar Pelatihan Kesehatan (BBPK) Jl Hang Jebat Raya F3, Kebayoran Baru, Jakarta Selatan. Sementara dari unsur organisasi pekerja/buruh melalui Kementerian Ketenagakerjaan cq Dirjen Pembinaan Hubungan Industrial dan Jaminan Sosial di Lantai 8 Blok A Gedung Kementerian Ketenagakerjaan Jl Jenderal Gatot Subroto Kav 51, Jakarta Selatan.
Tahapan seleksi untuk ´administrasi´ pada 16 - 18 Juli, tahapan selanjutnya ´pengumuman dan tanggapan masyarakat´ dijadwalkan pada 23 Juli hingga 7 Agustus. Seleksi tertulis pada 25 Agustus, dilanjutkan penilaian pada 1 - 2 Agustus diakhiri wawancara pada 16, 19 dan 20 Agustus 2019.
Anggota Pansel, Angger P Yuwono menyoroti tentang tantangan anggota DJSN periode ke depan akan lebih berat dengan kompleksitas masalah penyelenggaraan SJSN, sehingga peran strategis DJSN sangat dibutuhkan.
"Melihat perkembangan BPJS Kesehatan dan Ketenagakerjaan saat ini dibutuhkan peranakan DJSN yang strategis untuk sinkronisasi program dengan kebijakan, sehingga pelaksanaan SJSN bisa lebih baik," kata Angger P Yuwono.
Jakarta [B2B] - Selection of candidates for members of the National Social Security Council [DJSN] the period 2019 - 2024 will end July 15 after the registration is opened by the Indonesian government on June 26, 2019. The DJSN is an independent institution formed to assist the President of Indonesia regarding general policy and synchronize implementation of the National Social Security System [SJSN].