Yanto Awerkion Divonis 10 Bulan Penjara karena Petisi Papua Merdeka
Papua Activist Gets 10 Months Jail for Independence Petition
Editor : Ismail Gani
Translator : Novita Cahyadi

PUBLISHED: Jum'at, 16 Maret 2018 , 23:00:00 WIB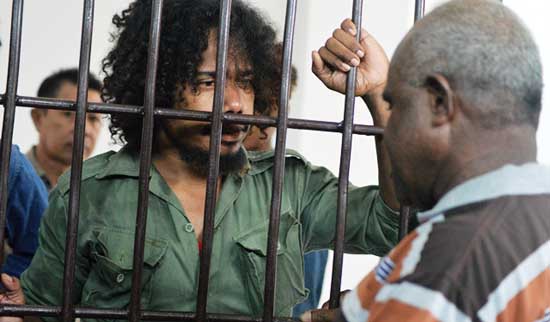 Yanto Awerkion (Foto: istimewa)
PENGADILAN NEGERI di Mimika menetapkan seorang aktivis Papua dengan vonis penjara 10 bulan penjara setelah didakwa melakukan tindakan separatis dengan melakukan penggalangan petisi untuk mendorong referendum kemerdekaan untuk Papua.

Yanto Awerkion ditangkap pada akhir Mei di Timika dekat pertambangan emas dan tembaga milik AS, Freeport yang menurutnya ditentang oleh warga Papua. Dia akan segera dibebaskan dalam beberapa pekan karena hukuman penjara potong masa tahanan.

Yanto, wakil ketua dari Komite Nasional Papua Barat wilayah Timika dijatuhi hukuman pada Senin di Pengadilan Negeri Timika.

Pria berusia 28 tahun itu ditangkap setelah berbicara dalam sebuah pertemuan di mana dia mengumumkan bahwa petisi tersebut telah ditandatangani oleh ratusan ribu orang Papua.

Pemenjaraannya menjadi subyek kritik internasional setelah para pendukung hak asasi manusia (HAM) melaporkan bahwa kesehatannya telah memburuk karena kondisi makanan dan penjara yang tidak memadai.

Papua, bekas koloni Belanda yang kaya mineral di bagian barat New Guinea.

Sumber daya mineral di wilayah ini telah dieksploitasi selama beberapa dekade oleh perusahaan pertambangan A.S. Freeport, namun penduduk asli Papua kurang mendapat manfaat dari pertambangan raksasa tersebut.

Yanto di tahan sejak bulan Mei 2017 saat melakukan ibadah bersama sejumlah aktivis Komite Nasional Papua Barat dalam rangkaian penggalangan petisi manual Rakyat West Papua wilayah Bomberai, di Timika seperti dikutip Associated Press yang dilansir MailOnline.
AN INDONESIAN court has found a Papuan activist guilty of treason and sentenced him to 10 months in prison for promoting a petition calling for a referendum on independence for the region.

Yanto Awerkion was arrested last May in Timika near the U.S.-owned Grasberg gold and copper mine that´s a lightning rod for Papuan grievances. He will be released within weeks because of time served.

Awerkion, the deputy chairman of the Timika chapter of the West Papua National Committee, was sentenced on Monday at the Timika District Court.

The 28-year-old was arrested after speaking at a meeting where he announced the petition had been signed by hundreds of thousands of Papuans.

His imprisonment was the subject of international criticism after rights advocates reported his heath had deteriorated due to inadequate food and poor jail conditions.

Papua, a mineral-rich former Dutch colony on the western part of New Guinea, was annexed by Indonesia in 1962, sparking a simmering insurgency.

The region´s mineral resources have been exploited for decades by U.S. mining company Freeport, but indigenous Papuans have benefited little and are poorer, sicker and more likely to die young than people elsewhere in Indonesia.

Organizers of the petition said it was submitted to the U.N. decolonization committee in September. But the head of the committee at that time, Rafael Ramirez, denied receiving any petition and said Papua was not part of the committee´s mandate.