Jokowi Minta Jajarannya Terus Waspada Varian Baru Covid-19
Jokowi Warns Cabinet to Be Alert New Variants of Covid-19
Editor : Kemal A Praghotsa
Translator : Novita Cahyadi

PUBLISHED: Senin, 06 September 2021 , 23:16:00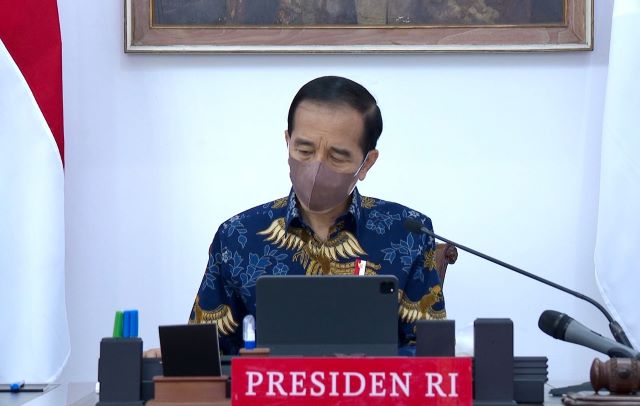 RAPAT TERBATAS: Presiden Joko Widodo menyampaikan bahwa virus Covid-19 dapat dikendalikan, namun tidak mungkin hilang sepenuhnya, melalui konferensi video. [Foto: Istimewa]
PRESIDEN RI Joko Widodo [Jokowi] menyampaikan sejumlah arahan yang perlu menjadi perhatian dalam rapat terbatas terkait evaluasi aturan Pemberlakuan Pembatasan Kegiatan Masyarakat [PPKM] bersama jajarannya melalui konferensi video di Istana Merdeka, Jakarta, [6/9].
Pertama, Jokowi meminta kepada jajarannya untuk membangun komunikasi yang baik dengan masyarakat terkait pandemi Covid-19 untuk menghindari adanya euforia yang berlebihan. Ia menekankan bahwa virus ini bisa dikendalikan, namun tidak mungkin hilang sepenuhnya.
"Masyarakat harus sadar bahwa Covid selalu mengintip. Varian delta selalu mengintip kita. Begitu lengah, bisa naik lagi," kata Jokowi.
Selain itu, Jokowi juga melihat bahwa kasus harian Covid-19 selama tiga hari kemarin mengalami penurunan. Tak hanya kasus harian, angka keterisian tempat tidur atau bed occupancy rate [BOR] secara nasional juga turun ke angka 20 persen.
Meski demikian, Jokowi tetap meminta jajarannya untuk melakukan evaluasi secara menyeluruh terkait perkembangan kasus Covid-19 di daerah. Hal tersebut penting dilakukan agar kasus Covid-19 dapat segera ditangani dan penyebaran kasus dapat terus ditekan.
"Ini kalau kita terus lakukan pekerjaan-pekerjaan kita secara konsisten, saya yakin insyaallah di akhir September kita sudah akan berada di angka di bawah 100 ribu [kasus]," lanjutnya.
Sedangkan terkait dengan varian baru, varian Mu, Presiden mengimbau para menteri terkait, khususnya Menteri Perhubungan untuk memperhatikan secara detail dan terus waspada terhadap varian tersebut.
"Jangan sampai ini merusak capaian yang sudah kita lakukan," tandasnya.
PRESIDENT Joko Widodo [Jokowi] conveyed a number of directives that needed attention in a limited meeting regarding the evaluation of the rules for the Implementation of Restrictions on Community Activities [PPKM] with his staff through a video conference at the Merdeka Palace, Jakarta, [6/9].