Ribuan Warga Aceh Peringati 15 Tahun Bencana Tsunami di Mata Dunia
Thousands in Indonesia Mark 15th Anniversary of Tsunami with Prayers
Editor : Ismail Gani
Translator : Novita Cahyadi

PUBLISHED: Jum'at, 27 Desember 2019 , 23:21:00 WIB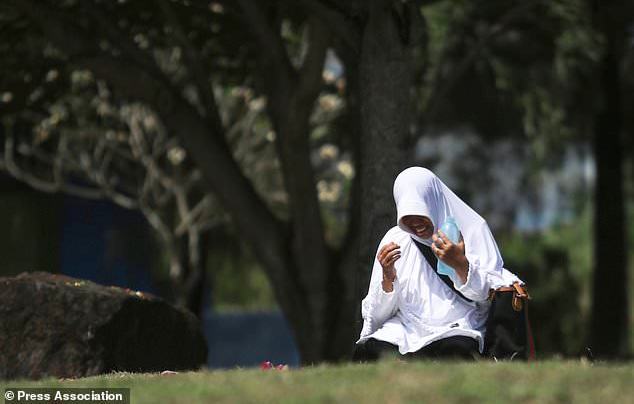 Sejumlah kerabat korban tewas dan para pemimpin agama dan masyarakat meletakkan bunga pada pemakaman massal korban tsunami di ibukota provinsi, Banda Aceh [Foto: MailOnline]
RIBUAN ORANG berkumpul untuk berdoa di Provinsi Aceh pada Kamis, untuk mengikuti peringatan 15 Tahun Tsunami Aceh, salah satu bencana alam terburuk dalam sejarah modern.
Gelombang tsunami menewaskan sekitar 230.000 orang di sejumlah negara di Asia Tenggara hingga ke Afrika Timur.
Provinsi Aceh di Indonesia, yang paling dekat dengan pusat gempa bumi, yang pertama dihantam tsunami dengan dampak kerusakan terparah.
Lebih dari 170.000 orang meninggal di Indonesia, sekitar tiga perempat dari total korban tewas.
"Tidak ada kata-kata yang dapat menggambarkan perasaan kami ketika kami menangis melihat ribuan mayat tergeletak di tanah ini 15 tahun lalu," kata penjabat Gubernur Aceh Nova Iriansyah pada upacara di Sigli, Kabupaten Pidie.
"Dan sekarang, kita dapat melihat bagaimana orang-orang di Aceh dapat mengatasi penderitaan dan bangkit kembali, berkat bantuan dari semua orang Indonesia dan dari orang-orang di seluruh dunia."
Para korban yang selamat dan yang lainnya menghadiri upacara keagamaan dan upacara peringatan.
Sejumlah kerabat korban tewas dan para pemimpin agama dan masyarakat meletakkan bunga pada pemakaman massal korban tsunami di ibukota provinsi, Banda Aceh.
Toko-toko dan kantor-kantor tutup, kapal tidak diizinkan berlayar, dan bendera dikibarkan setengah tiang di seluruh Aceh pada Kamis dan Jumat.
Indonesia yang rawan bencana, sebuah kepulauan yang luas dengan lebih dari 17.000 pulau yang dihuni 260 juta penduduk, terletak di sepanjang "Cincin Api", busur gunung berapi dan garis patahan di Cekungan Pasifik.
Peringatan pada Kamis berlangsung empat hari setelah peringatan tsunami Selat Sunda tahun lalu, yang mengikuti letusan dan runtuhnya sebagian gunung berapi Anak Krakatau.
Tsunami itu menghantam wilayah pesisir Banten di pulau utama Indonesia di Jawa dan bagian dari pulau Sumatra selatan, yang menewaskan lebih dari 400 orang dan 14.000 lainnya terluka, seperti dikutip Press Association yang dilansir MailOnline.
THOUSANDS of people knelt in prayer in Indonesia's Aceh province on Thursday at ceremonies marking the 15th anniversary of the Indian Ocean tsunami, one of modern history's worst natural disasters.
The massive tsunami on December 26 2004 was triggered by a magnitude 9.1 earthquake off Sumatra island.
The giant wall of water killed about 230,000 people in a dozen countries as far away as East Africa.
Indonesia's Aceh province, which was closest to the earthquake, was hit first and hardest.
More than 170,000 people died in Indonesia alone, about three-quarters of the overall death toll.
"No words can describe our feelings when we tearfully saw thousands of corpses lying on this ground 15 years ago," acting Aceh Governor Nova Iriansyah said at a ceremony in Sigli, a town in Pidie district.
"And now, we can see how people in Aceh were able to overcome suffering and rise again, thanks to assistance from all Indonesians and from people all over the world."
Weeping survivors and others attended religious services and memorial ceremonies.
Relatives of the dead and religious and community leaders laid flowers at mass graves of tsunami victims in the provincial capital, Banda Aceh.
Shops and offices were closed, boats were not allowed to sail, and flags were flown at half-mast throughout Aceh on Thursday and Friday.
Disaster-prone Indonesia, a vast archipelago of more than 17,000 islands that is home to 260 million people, lies along the "Ring of Fire", an arc of volcanoes and fault lines in the Pacific Basin.
Thursday's commemoration came four days after the anniversary of last year's Sunda Strait tsunami, which followed the eruption and partial collapse of the Anak Krakatau volcano.
That tsunami struck coastal regions of Banten on Indonesia's main island of Java and parts of southern Sumatra island, leaving more than 400 people dead and 14,000 injured.