Banjir Bandang Jayapura, Jenazah Korban tak Dikenal Dimakamkan Massal
Indonesia Buries Unidentified Papua Flood Victims in Mass Grave
Editor : Ismail Gani
Translator : Novita Cahyadi

PUBLISHED: Rabu, 27 Maret 2019 , 23:36:00 WIB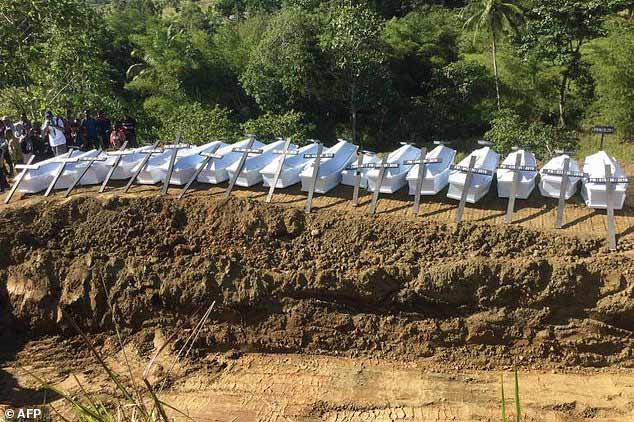 Foto: AFP/MailOnline
JENAZAH tak dikenal dari korban banjir bandang dan tanah longsor di Jayapura, Papua dimakamkan di pemakaman massal pada Rabu, sementara puluhan korban lain masih dinyatakan hilang hampir dua pekan setelah bencana.
Korban tewas resmi mencapai 112, tetapi lebih dari 90 orang belum diketahui setelah hujan lebat melanda wilayah Papua, memicu tanah longsor dan banjir bandang.
Sekitar 20 korban yang belum diidentifikasi dimasukkan ke dalam peti mati bernomor dan kemudian dimakamkan di dekat kota Sentani yang terdampak bencana.
Sampel DNA mereka telah dikirim ke pihak berwenang di kepolisian.
"Jika nanti ada anggota keluarga yang datang untuk melaporkan kerabat yang hilang, kami akan mengambil DNA mereka dan jika cocok, jenazah (akan) digali dan diberikan kepada kerabat korban," kata Ramon Amiman, kepala unit medis Polda Papua kepada AFP.
Bencana alam 16 Maret menyebabkan hampir 1.000 orang terluka sementara lebih dari 11.000 orang diungsikan ke tempat penampungan sementara, dengan ribuan lainnya masih tinggal di tenda-tenda darurat.
Pemerintah sebelumnya mengumumkan keadaan darurat dua pekan setelah bencana menghancurkan rumah-rumah dan bangunan-bangunan lain dan memblokir jalan.
Di satu kompleks perumahan saja, sekitar 60 rumah hanyut.
"Kerusakannya luar biasa," kata Giri Wijayantoro, wakil bupati Jayapura, Papua.
"Kami masih dalam keadaan darurat sehingga kami fokus mencari korban yang hilang."
Banjir biasa terjadi di Indonesia, terutama selama musim hujan yang berlangsung dari Oktober hingga April.
Pada bulan Januari, banjir dan tanah longsor menewaskan sedikitnya 70 orang di pulau Sulawesi, sementara awal bulan ini ratusan di provinsi Jawa Barat terpaksa dievakuasi ketika hujan lebat memicu banjir hebat.
Kepulauan Asia Tenggara dari sekitar 17.000 pulau adalah salah satu negara paling rawan bencana di Bumi, mengangkangi Cincin Api Pasifik, tempat lempeng tektonik bertabrakan.
Gempa bumi dan letusan gunung berapi sering terjadi. Pada bulan Desember, bagian barat pulau Jawa dihantam oleh tsunami yang dipicu oleh gunung berapi mematikan yang menewaskan sekitar 400 orang.
Juga tahun lalu, kota Palu di Sulawesi Tengah diguncang oleh bencana gempa-tsunami yang menewaskan ribuan orang, sementara ratusan lainnya tewas dalam serangkaian gempa yang melanda pulau liburan Lombok, di sebelah Bali seperti dikutip AFP yang dilansir MailOnline.
UNIDENTIFIED victims of deadly flash floods and landslides in Indonesia were buried in a mass grave Wednesday, with dozens still missing nearly two weeks after the disaster.
The official death toll stands at 112, but over 90 more people are unaccounted for after torrential rains pounded Indonesia's Papua region, triggering landslides and flash floods.
Some 20 victims who have yet to be identified were placed in numbered coffins and then buried near the hard-hit town of Sentani.
Their DNA samples have been sent to the national police headquarters, authorities said.
"If later on there's a family member who comes to report a missing relative, we will take their DNA and if it matches, the body (will) be exhumed and given to the relatives," Ramon Amiman, head of the medical unit at the Papua police, told AFP.
The March 16 disaster left nearly 1,000 injured while more than 11,000 people were evacuated to temporary shelters, with thousands still living in makeshift tents.
The government earlier announced a two-week state of emergency after the disaster destroyed homes and other buildings and blocked roads.
In one residential complex alone, some 60 homes were swept away.
"The destruction is enormous," said Giri Wijayantoro, vice regent of Papua's capital Jayapura.
"We're still in the state of emergency so we're focusing on searching for the missing victims."
Flooding is common in Indonesia, especially during the rainy season which runs from October to April.
In January, floods and landslides killed at least 70 people on Sulawesi island, while earlier this month hundreds in West Java province were forced to evacuate when torrential rains triggered severe flooding.
The Southeast Asian archipelago of some 17,000 islands is one of the most disaster-prone nations on Earth, straddling the Pacific Ring of Fire, where tectonic plates collide.
Earthquakes and volcanic eruptions are common. In December, the western part of Java island was slammed by a deadly volcano-triggered tsunami that killed about 400 people.
Also last year, the city of Palu in Sulawesi was rocked by a quake-tsunami disaster that killed thousands, while hundreds of others died in a series of quakes that hit the holiday island of Lombok, next to Bali.