373 Tewas, 128 masih Hilang, 1.500 Cedera Akibat Tsunami Selat Sunda
Death Toll from Indonesian Tsunami Rises to 373, with 128 Still Missing and 1,500 Injured
Editor : Ismail Gani
Translator : Novita Cahyadi

PUBLISHED: Senin, 24 Desember 2018 , 23:45:00 WIB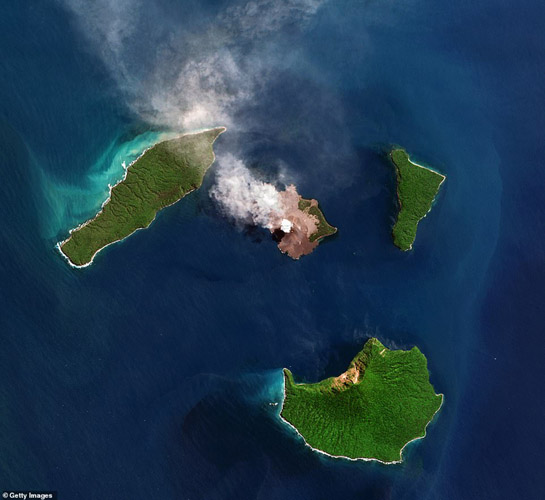 Gunung Anak Krakatau dilihat dari udara di ketinggian 365 meter (Foto: MailOnline)
KORBAN Tsunami Selat Sunda diminta waspada pada tsunami susulan yang datang tiba-tiba dipicu oleh longsor bawah tanah masif oleh gunung berapi ´Anak Krakatau´ dan korban tewas meningkat menjadi 373.
Warga terdampak bencana tsunami diingatkan untuk menjauhi pantai dan mengungsi ke tempat lebih tinggi di tengah kekhawatiran datangnya tsunami susulan.
Badan Metrologi Klimatologi dan Geofisika (BMKG) mengonfirmasi longsor di bawah laut dari gunung berapi di tengah Selat Sunda telah memicu gelombang setinggi tiga meter yang menghantam pantai di ujung selatan Pulau Sumatera dan ujung barat Pulau Jawa pada Sabtu malam.
"Rekomendasi dari BMKG adalah bahwa warga dilarang melakukan kegiatan di pantai dan diminta menjauhi pantai untuk sementara waktu," kata Sutopo Purwo NugrohO, Juru Bicara Badan Nasional Penanggulangan Bencana (BNPB).
Dia memperingatkan bahwa korban tewas akibat bencana hari Sabtu ´akan terus meningkat´ sebagai penyelamat, menggunakan mesin berat dan tangan kosong mereka, mencari melalui puing-puing setelah tsunami.
Setidaknya 1.000 orang terluka dan hampir 12.000 penduduk pantai diungsikan secara paksa ke tempat yang lebih tinggi, dengan peringatan gelombang pasang diperpanjang hingga Rabu seperti dilansir MailOnline.
INDONESIA is on fresh alert today amid warnings another tsunami could strike as the death toll from a huge wave sparked by the ´Child of Krakatoa´ volcano climbed to 373.
Officials have warned people living near Anak Krakatau to stay away from beaches because of constant eruptions at the mountain.
Indonesia´s meteorological agency confirmed the underwater collapse of part of the volcano had caused a deadly wave 10ft high that hit popular beaches of southern Sumatra and the western tip of Java late on Saturday.
´Recommendations from [the] Meteorology, Climatology and Geophysical Agency are that people should not carry out activities on the beach and stay away from the coast for a while,´ said Sutopo Purwo Nugroh, from the country´s National Disaster Management Agency.
He warned that the death toll from Saturday´s disaster ´will continue to rise´ as rescuers, using heavy machinery and their bare hands, search through debris in the wake of the tsunami.
At least 1,000 people were injured and nearly 12,000 coastal residents forcibly evacuated to higher ground, with a high-tide warning extended to Wednesday.