BNPB Nyatakan Letusan Sinabung di Akhir 2017 yang Terbesar Tahun Ini
Indonesia Volcano in `Biggest` Eruption this Year
Editor : Ismail Gani
Translator : Novita Cahyadi

PUBLISHED: Sabtu, 30 Desember 2017 , 23:46:00 WIB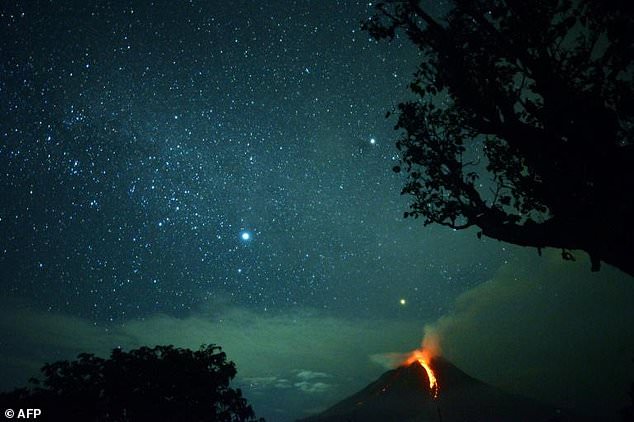 Foto: AFP/MailOnline
PEKAN INI gunung berapi Sinabung di Sumatera Utara mengalami letusan terbesarnya tahun ini, memuntahkan awan panas dan hujan abu.
Gunung berapi yang kembali aktif pada 2010 setelah empat abad dalam keadaan ´terlelap´, telah meletus secara berkala sejak 2015, sehingga memaksa lebih dari 3.000 kepala keluarga (KK) harus mengungsi.
Letusan hari Rabu "merupakan letusan terbesar tahun ini, mengingat jangkauan arus piroklastik dan luas area yang ditutupi oleh abu vulkanik", kata Nata Nail dari Badan Nasional Penanggulangan Bencana (BNPB) Sumut.
Ribuan orang terkena hujan abu vulkanik di Kabupaten Karo namun tidak ada yang terluka parah karena zona berbahaya tersebut telah dikosongkan sebelumnya, kata seorang juru bicara badan mitigasi bencana Indonesia dari BNPB Sutopo Purwo Nugroho.
Letusan tersebut mengirimkan abu vulkanik ke lereng Sinabung, menghancurkan tanaman dan memaksa para petani setempat menghentikan aktivitas pertaniannya untuk sementara.
Pada Mei tahun lalu tujuh orang tewas setelah Sinabung meletus, sementara letusan Februari 2014 menyebabkan 16 orang tewas.
Gunung berapi Indonesia lainnya, Gunung Agung di Bali, juga telah bergemuruh sejak September, yang memaksa evakuasi 140.000 warga yang tinggal di lereng gunung dan dan mendorong penutupan bandara internasional Ngurah Rai di Denpasar.
Indonesia, wilayah vulkanik paling aktif di dunia, terletak di "Cincin Api" Pasifik di mana lempeng tektonik bertabrakan, menyebabkan aktivitas vulkanik dan seismik yang sering terjadi seperti dikutip AFP yang dilansir MailOnline.
INDONESIA´S Mount Sinabung volcano experienced its biggest eruption of the year this week, spewing clouds of gas and showering ash into the sky, a local official said Friday.
The volcano, which roared back to life in 2010 after four centuries of silence, has been erupting steadily since 2015, displacing more than 3,000 families.
Wednesday´s eruption "was the biggest eruption this year, given the reach of the pyroclastic flow and the size of the area covered by the ashes", local disaster agency chief Nata Nail told AFP.
Thousands were affected by the shower of volcanic ashes on the island of Sumatra but no one was severely injured because the dangerous zone was vacated earlier, Sutopo Purwo Nugroho, a spokesman for Indonesia´s disaster mitigation agency, said.
The eruption sent volanic ash down Sinabung´s slopes, destroying crops and causing misery to hundreds of farmers.
In May last year seven people were killed when Sinabung erupted, while a February 2014 eruption left 16 people dead.
Another Indonesian volcano, Mount Agung on the tourist paradise of Bali, has also been rumbling since September, forcing the evacuation of 140,000 people living nearby and prompting the closure of the island´s international airport.
Indonesia, the world´s most active volcanic region, lies on the Pacific "Ring of Fire" where tectonic plates collide, causing frequent volcanic and seismic activities.