Temui Menteri Desa, Warga Papua Minta Pemerintah RI Lanjutkan PPDM
Indonesian Govt Supports Development of Underdeveloped Villages in Papua
Reporter : Gusmiati Waris
Editor : Cahyani Harzi
Translator : Dhelia Gani

PUBLISHED: Kamis, 01 November 2018 , 23:47:00 WIB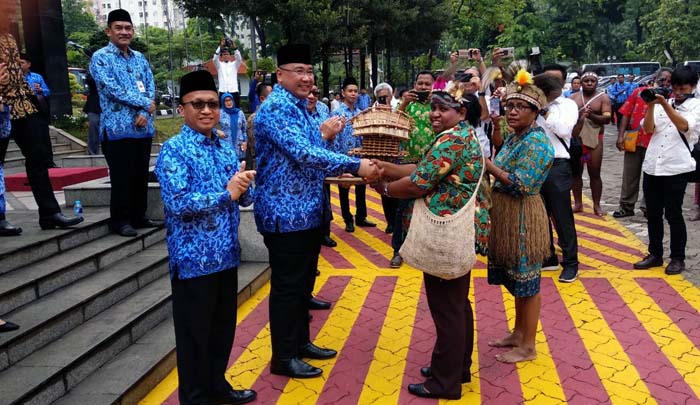 13 KABUPATEN: Menteri Desa PDTT Eko Putro Sandjojo (ke-2 kiri) menerima cenderamata dari perwakilan warga Papua usai upacara Hari Sumpah Pemuda di kantor Kemendesa (Foto: Humas Kemendes PDTT)
Jakarta (B2B) - Sedikitnya 262 warga dari 13 kabupaten di Provinsi Papua dan Papua Barat mengharapkan Pemerintah RI melanjutkan Program Pembangunan Desa Mandiri (PPDM) untuk mendukung peningkatan kesejahteraan masyarakat Papua melalui pengembangan desa mandiri pada kampung-kampung di Papua, yang sangat berat tantangan sosial dan kondisi alamnya.
Hal itu mereka sampaikan kepada Menteri Desa PDTT, Eko Putro Sandjojo usai peringatan Hari Sumpah Pemuda di kantor Kemendes, Jakarta, belum lama ini, di sela kegiatan Lokakarya Evaluasi Akhir Tahun PPDM.
"Pemerintah berharap kampung-kampung di Papua dan Papua Barat dapat mencontoh dan saling belajar dengan beberapa desa yang sudah mandiri karena mampu mengelola Dana Desa dengan baik," kata Mendes Eko PS seraya menyajikan cuplikan beberapa video pendek tentang ´desa mandiri´ di Papua.
Sehari sebelumnya, Dirjen Pembangunan dan Pemberdayaan Masyarakat Kemendesa PDTT, Madjid Taufik Madjid membuka lokakarya PPDM yang diikuti para pendamping PPDM di Papua, pejabat pemerintah provinsi, dan satuan kerja dari 13 kabupaten. Turut hadir para pejabat eselon dua dari Kemendesa, Kementerian PPN/Bappenas, Kementerian Dalam Negeri, Pengelola Kas Negara, Badan Pengawasan Keuangan dan Pembangunan (BPKP), dan perwakilan lembaga donor International Fund for Agriculture Development (IFAD) di Indonesia.
"Tahun depan, PPDM akan diteruskan di Papua melalui anggaran dari Kemendesa PDTT," kata Dirjen Madjid.
Tujuan utama PPDM menjalankan salah satu misi utama dari Kemendesa yakni mendampingi masyarakat di desa/kampung, termasuk memberdayakan perangkat kampung, untuk dapat lebih mandiri dan sejahtera, berbasis potensi yang dimiliki masyarakatnya.
Menurut Dirjen Madjid, PPDM merupakan salah satu upaya Kemendesa PDTT melakukan terobosan dalam pemberdayaan dan partisipasi masyarakat, sekaligus inovasi untuk pembangunan manusia, mengatasi kesenjangan antar daerah, serta menumbuhkan daya saing wilayah.
"PPDM sangat menekankan pentingnya upaya-upaya yang lebih mendasar, terutama dalam pemberdayaan masyarakat desa di kawasan pesisir dan penguatan aparatur kampung demi kesejahteraan para petani dan nelayan," katanya.
Tantangannya, bukan hanya pemberdayaan hingga bantuan teknis kepada masyarakat dan aparat kampung di Papua, tapi juga di hilir program agar pemasaran komoditas unggulan para petani/nelayan yang didampingi PPDM dapat berdampak pada mata pencarian dan kesejahteraan.
Jakarta (B2B) - At least 262 residents of Papua dan West Papua province expects Indonesian government continue the Development Program of Underdeveloped Villages or the PPDM to improve welfare of the Papuan by developing independent villages, according to the ministry´s senior official.
It was they say to the Development of Disadvantaged Villages Minister Eko Putro Sandjojo here recently.
"The government expects the villages in Papua and West Papua to follow the example of villages that are already independent, because the village development funds from the government are well managed," said Minister Sandjojo.
The previous day, Director General of Development and Community Empowerment, Madjid Taufik Madjid
"Next year, the PPDM will be continued in Papua through the ministry´s budget," said Director General Madjid.
The main objective of the PPDM is to carry out ministry´s main mission to assist village communities including empowering village officials to be independent and prosperous based on community potential.
According to Mr Madjid, the PPDM is one of the ministry´s policies for empowerment and community participation, as well as innovation for human development, overcoming regional inequalities, and fostering regional competitiveness.
"The PPDM emphasizes the importance of basic efforts, especially empowerment of rural communities in coastal areas, and strengthening village officials for the welfare of farmers and fishermen," he said.
The challenge, not only empowerment to technical assistance to the community and village officials in Papua, but also the downstream program so that marketing of agricultural commodities supported by PPDM has a positive impact on the welfare of rural communities.