Gerhana Matahari `Cincin Api` Pukau Jutaan Warga Asia plus Indonesia
Crowds in Asia Marvel at `Ring of Fire´ Solar Eclipse
Editor : Ismail Gani
Translator : Novita Cahyadi

PUBLISHED: Jum'at, 27 Desember 2019 , 23:48:00 WIB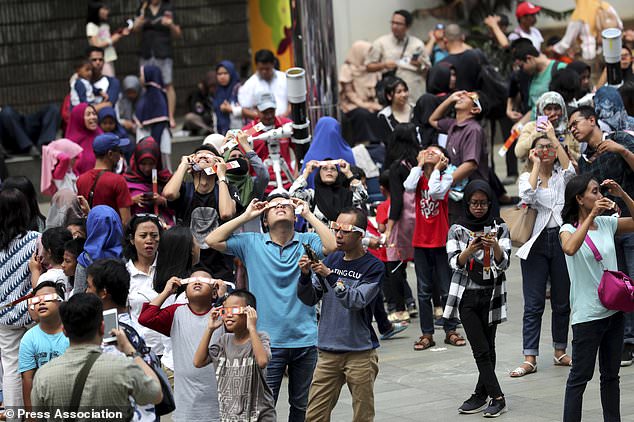 Pihak berwenang di Indonesia menyediakan teleskop dan ratusan kacamata khusus untuk melindungi mata para peminat atraksi luar biasa di langit tersebut [Foto2: Press Association/MailOnline]
JUTAAN WARGA di kawasan Asia selatan termasuk Asia tenggara dan khususnya Indonesia menatap langit dengan takjub pada Kamis, saat berlangsungnya gerhana matahari 'cincin api'.
Gerhana berlangsung ketika cincin luar tipis Matahari masih terlihat, dapat dilihat di sepanjang jalan yang membentang dari India dan Pakistan ke Thailand dan Indonesia.
Pihak berwenang di Indonesia menyediakan teleskop dan ratusan kacamata khusus untuk melindungi mata para peminat atraksi luar biasa di langit tersebut.
Ribuan orang memandangi langit dan bersorak serta bertepuk tangan saat matahari berubah menjadi bola gelap selama lebih dari dua menit, dengan singkat mengubah siang menjadi gelap seperti di malam hari. Ratusan orang lainnya berdoa di masjid-masjid terdekat.
"Sungguh menakjubkan melihat cincin api ketika matahari menghilang perlahan," kata Firman Syahrizal, seorang warga Sinabang di provinsi Banda Aceh, Indonesia, yang menyaksikan gerhana bersama keluarganya.
Gerhana matahari annular sebelumnya terjadi pada Februari 2017 juga terlihat di sebagian Indonesia seperti dikutip Press Association yang dilansir MailOnline.
PEOPLE IN A SWATHE of southern Asia gazed at the sky in wonder on Thursday at a "ring of fire" solar eclipse.
The so-called annular eclipse, in which a thin outer ring of the Sun is still visible, could be seen along a path stretching from India and Pakistan to Thailand and Indonesia.
Authorities in Indonesia provided telescopes and hundreds of special glasses to protect viewers' eyes.
Thousands of people gazed at the sky and cheered and clapped as the sun transformed into a dark orb for more than two minutes, briefly plunging the sky into darkness. Hundreds of others prayed at nearby mosques.
"How amazing to see the ring of fire when the sun disappeared slowly," said Firman Syahrizal, a resident of Sinabang in Indonesia's Banda Aceh province, who witnessed the eclipse with his family.
The previous annular solar eclipse in February 2017 was also visible over a slice of Indonesia.