Menhub Budi Karya Sumadi Positif Corona jadi Sorotan Dunia
Indonesian Minister Tests Positive for Coronavirus
Editor : Ismail Gani
Translator : Novita Cahyadi

PUBLISHED: Minggu, 15 Maret 2020 , 23:59:00 WIB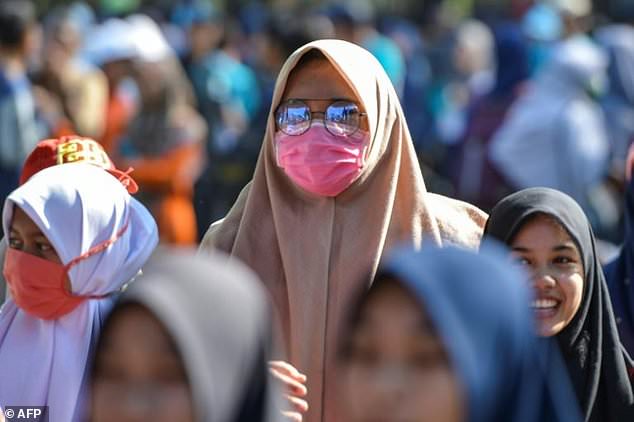 Foto: AFP/MailOnline
MENTERI Perhubungan RI Budi Karya Sumadi menjalani perawatan intensif setelah dinyatakan positif terpapar virus Corona, menyusul instruksi Gubernur DKI Anis Baswedan pada Sabtu untuk menutup sekolah dan tempat-tempat wisata selama dua pekan untuk mengantisipasi penyebaran virus Corona.
Menteri Perhubungan Budi Karya Sumadi menjalani perawatan intensif di rumah sakit militer di Jakarta, RS Gatot Subroto, kata Menteri Sekretaris Negara Pratikno.
Seorang juru bicara rumah sakit mengatakan Menhub Budi Karya Sumadi mengalami kesulitan bernafas tetapi kondisinya membaik.
Mensesneg Pratikno mengatakan Sumadi terlibat dalam upaya mitigasi virus, terutama evakuasi orang Indonesia dari episentrum wabah, dan Presiden RI Joko Widodo telah meminta tes dilakukan pada menteri lain.
Kasus-kasus virus di Indonesia, negara terpadat keempat di dunia, telah melonjak dari nihil dua pekan lalu menjadi 96, dengan lima kematian, menurut juru bicara pemerintah Achmad Yurianto.
Dia juga mengatakan virus telah menyebar di luar Jabodetabek ke Bandung di Jawa Barat, Solo di Jawa Tengah, Manado di Sulawesi Utara, Pontianak di Kalimantan Barat, serta tempat liburan Yogyakarta dan Bali.
Menyusul peningkatan tersebut, pemerintah Indonesia pada Sabtu membentuk satuan tugas mitigasi COVID-19.
Gubernur Jakarta Anies Baswedan mengumumkan bahwa sekolah akan ditutup selama dua minggu mulai Senin, dan memerintahkan penutupan tempat wisata milik Pemprov DKI Jakarta seperti Kebun Binatang Ragunan dan Taman Impian Jaya Ancol.
Dia menekankan bahwa Jakarta tidak akan ditutup tetapi mendesak orang-orang "untuk bertanggung jawab" dan menyerukan jarak sosial jika memungkinkan.
Demikian pula, Pemkot Solo, Jawa Tengah, Jumat mengumumkan bahwa sekolah-sekolah dan tempat-tempat wisata akan ditutup setelah seorang pasien coronavirus meninggal di wilayah tersebut.
Organisasi Kesehatan Dunia [WHO] mengatakan pihaknya sangat prihatin dengan negara-negara berisiko tinggi dengan sistem kesehatan yang lebih lemah, yang mungkin tidak memiliki fasilitas untuk mengidentifikasi kasus seperti dikutip AFP yang dilansir MailOnline.
Sehari setelah menyatakan wabah koronavirus menjadi pandemi minggu ini, kepala WHO Tedros Adhanom Ghebreyesus menelepon Presiden Jokowi dan keduanya sepakat untuk "meningkatkan kerja sama."
INDONESIA'S transport minister is in intensive care after testing positive for the novel coronavirus, an official said Saturday, as schools and tourist attractions were ordered to close over the health threat.
Transportation Minister Budi Karya Sumadi was receiving treatment at an army hospital in Jakarta, according to State Secretary Pratikno.
A hospital spokesman said Sumadi was encountering difficulty breathing but that his condition was improving.
Pratikno said Sumadi was involved in virus mitigation efforts, particularly the evacuation of Indonesians from epicenters of the outbreak, and that President Joko Widodo had called for tests to be carried out on other ministers.
Cases of the virus in Indonesia, the world's fourth most populous country, have jumped from zero two weeks ago to 96, with five deaths, according to government spokesperson Achmad Yurianto.
He also said the virus has spread outside Greater Jakarta to Bandung in West Java, Solo in Central Java, Manado in North Sulawesi, Pontianak in West Kalimantan, as well as holiday havens Yogyakarta and Bali.
Following the increase, the government on Saturday established a task force on COVID-19 mitigation.
Jakarta's Governor Anies Baswedan announced that schools would close for two weeks starting Monday, and ordered the closure of city-owned tourist attractions, such as Ragunan Zoo and Ancol beach.
He emphasized that Jakarta would not be locked down but urged people "to be responsible" and called for social distancing when possible.
Similarly, the administration of Solo, Central Java, Friday announced that schools and tourist attractions would close after a coronavirus patient died in the region.
The World Health Organization has said it is particularly concerned about high-risk nations with weaker health systems, which who may lack the facilities to identify cases.
A day after declaring the coronavirus outbreak to be pandemic this week, WHO chief Tedros Adhanom Ghebreyesus called Indonesia's president Widodo and both agreed to "scale up cooperation."